Woods College Associate Dean Aleksandar Tomic in conversation with Travelers EVP and chief technology and operations officer Mojgan Lefebvre following her keynote address. (Photos by Caroline Alden)

More than 100 thought leaders from business, academic, and government sectors convened at Boston College on April 20 for the inaugural Analytics and Industry Symposium hosted by the Woods College of Advancing Studies.
The event, held in Yawkey Center Murray Room, focused on the use of analytics across various business areas, with emphasis on bridging analytic and non-analytic fields.
"This was a great day full of valuable conversations and candid insights about the role and integration of analytics in the world," said Aleksandar Tomic, associate dean for strategy, innovation, and technology at the Woods College, and director of its master's programs in applied economics and applied analytics, which sponsored the event.

The M.S. in Applied Economics program prepares students to evaluate policies and programs, develop forecasts, understand consumer behavior, and analyze market efforts, all with an emphasis on ethical decision-making. Among the top 20 economics master's programs in the U.S. in terms of enrollment, the MSAE recently was named the nation's third best online M.S. program in the field—after those at Johns Hopkins and Purdue universities—by education resource group University Headquarters.
The success of the MSAE spurred the Woods College's launch in 2022 of the M.S. in Applied Analytics, to provide students with a comprehensive focus on all aspects of data analysis, as well as grounding in machine learning and artificial intelligence.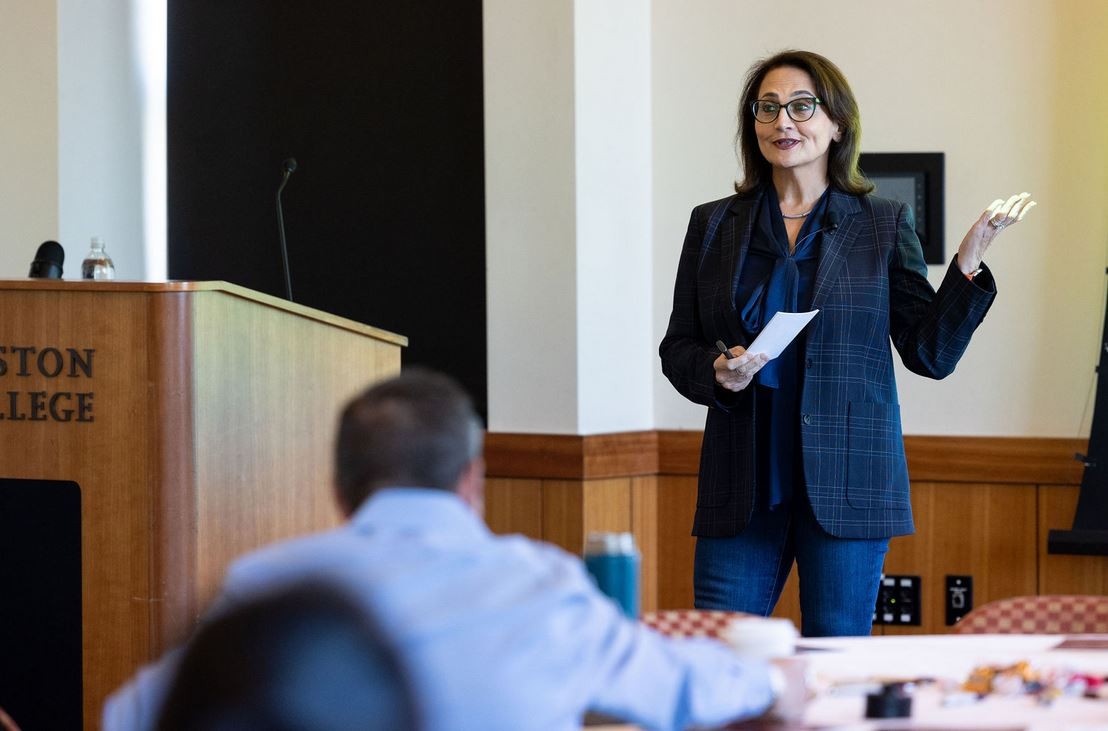 At the symposium, Mojgan Lefebvre, executive vice president and chief technology and operations officer for Travelers, delivered the keynote address, which was followed by a "fireside chat" on a wide range of topics from her career, from insights on how tech is changing the insurance industry to how to help women thrive in a primarily male-dominated industry.
"Technology organizations have evolved; we are no longer in the 'back-office' focused on being reactive," said Lefebvre, who was named to Forbes' first CIO Next List of 50 Innovative Technology Leaders. "We are driving outcomes that help fuel the business and the work we are doing is an integral part of the company's strategy."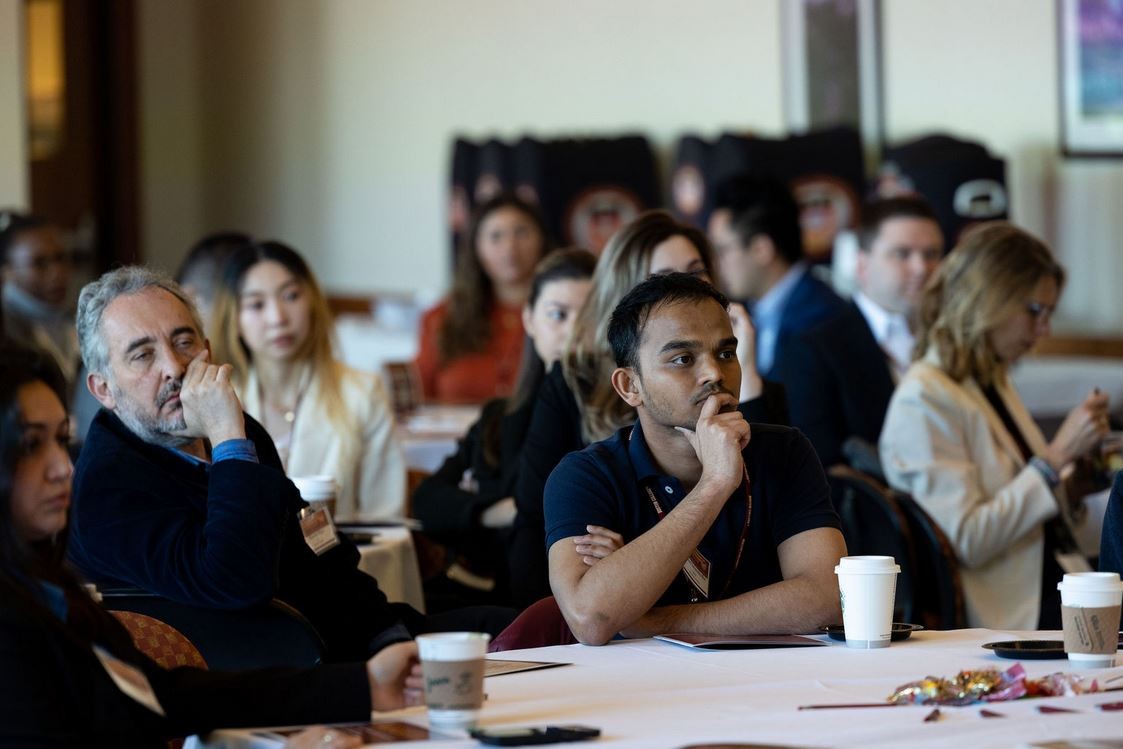 Discussions on the importance of analytics in three distinct areas—enterprise, policy, and social good—followed.
Panelists addressing the use of analytics for enterprise included Kirsten Stone, head of quantitative manager research at BNY Mellon; Andrew Sherwin, vice president of business strategy and operations for the Boston Celtics; and Michael Jester, leader of the Data as a Product Principal team at 7-Eleven.
The speakers presented real-world examples of analytics employed not only in the service of better organizational outcomes, but chiefly to improve the experience of customers and stakeholders across a wide range of scenarios—from wildfire victims seeking to process insurance claims to Celtics fans trying to buy a ticket to 7-Eleven customers located in "food desert" areas of the U.S., Tomic said.
Next, Nechama Katan, director of data science insights at Pfizer, discussed analytics for policy in a conversation with Lawrence Fulton, visiting professor of the practice of applied analytics at the Woods College.
Katan spoke of improvements in the use of data analysis in clinical trials, and of the role analytics played in helping to change Department of Defense policy regarding women medics in combat.

(L-R) Laura J. Steinberg of BC Schiller Institute, Michael Baicker of EY-Parthenon, Stephen Lawrence of Vanguard, and Greg Tully of PwC discussed analytics for social good.
The use of analytics for social good—particularly as related to environmental, social, and governance (ESG) investing, diversity, and climate risk—was the topic of the final panel, moderated by Laura J. Steinberg, Seidner Family Executive Director of Boston College's Schiller Institute for Integrated Science and Society. Participants included Stephen Lawrence, head of indexing research at Vanguard, Michael Baicker, director of ESG data at EY-Parthenon, and Greg Tully, director, climate risk and resilience data science at PwC.
"It's important to stress the role of analytics in inherently non-quantitative fields like ESG and diversity," Tomic said. "A common theme in the discussion was the need to integrate analytics more deeply into the work of non-analytic stakeholders, as well as to be able to communicate analytic findings for maximum impact."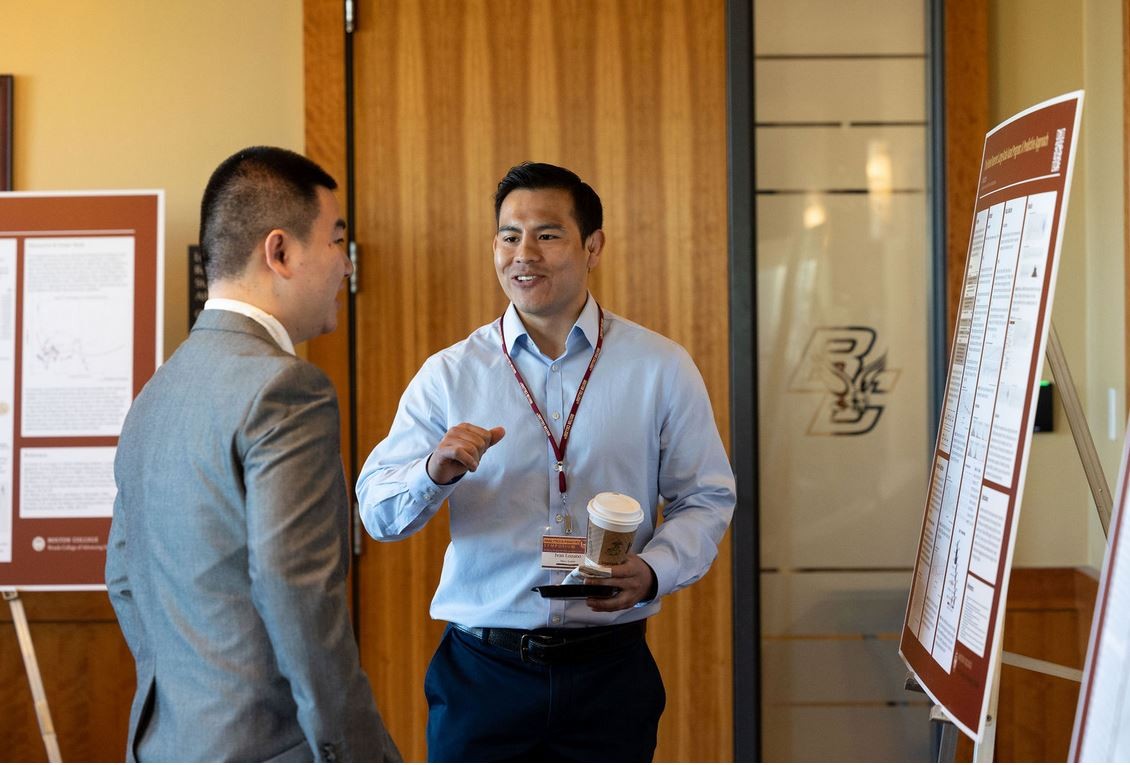 The event was capped by a research showcase featuring poster presentations by students and alumni of the Woods College graduate programs in applied economics and applied analytics. Participants included Damon Gray, Anthony Cirino, Han (Kinsey) Zhang, Kurtie Kellner, Nicholas Wofford, Rachel Zhou, Ivan Lozano, Sofia Earle, Zhentao Wen, Marty Harrison, Matthew Colantonio, and Nicholas Rita.
"I am so pleased that our students were able to showcase their work to attendees at this forum," said Tomic. "I could not be prouder of their work and the compliments received about it."
Students' profiles and posters are available for view here.
Patricia Delaney | University Communications | May 2023