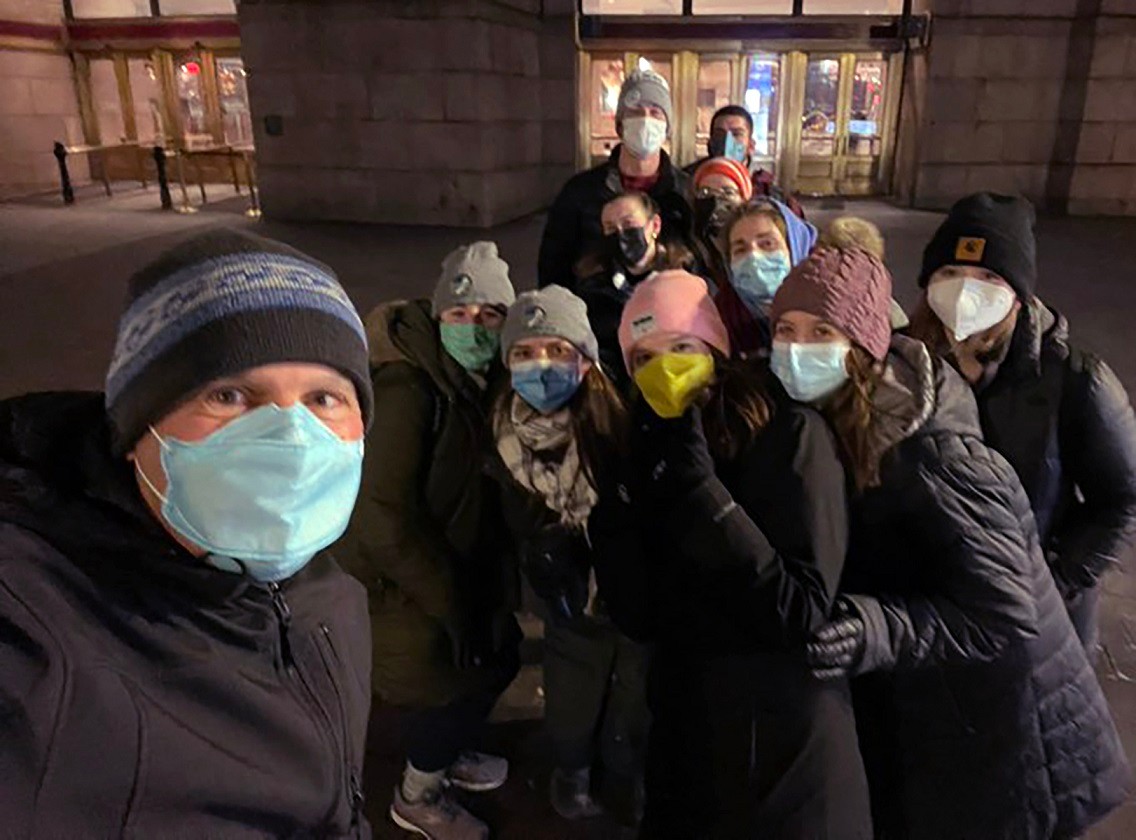 On a cold night in February, PULSE program instructor David Manzo '77 led a team of volunteers through the streets and alleys of Boston's Chinatown and South Cove neighborhoods as part of the city's annual homeless census. The counting of people in Boston experiencing homelessness, and inviting them to get shelter, is volunteer service Manzo has done for some 15 years, usually with a cadre of Boston College students and alumni by his side.

"I am always impressed by BC students' willingness to stretch themselves," said Manzo, who has been teaching in the University's PULSE program since 1980. "The homeless census has moments that are uncomfortable and eye-opening. The BC students are attentive, responsive, and loving."

He estimates that in total more than 100 BC students have volunteered with him for the homeless census canvassing.

During the overnight of February 23-24, with the temperature below freezing, Manzo and his team encountered eight people experiencing homelessness. He recalled that one year his team engaged with as many as 17.

"The students find it very powerful," said Manzo, who was aided this year by seniors Elisa Ganzon, Joe McGrane, Haley Grieco-Page, Alexandra Pastrana, Emily Trebour, Vanessa Chatfield; juniors Erin Kiley and Gerald Mastellone; and alumni Clare Ryan and Victoria Pouille.

Mandated by the United States Department of Housing and Urban Development, the homeless census is a count of people living on the streets, in shelters, and in transitional housing programs. It helps Boston shape its policies on addressing homelessness.

Compared to most other large cities in the U.S., Boston has one of the lowest percentages of unsheltered homeless. Manzo credits that to the efforts of city officials in partnership with nonprofit organizations such as Pine Street Inn, Rosie's Place, and St. Francis House.
Taking part in the census was a rewarding experience, according to McGrane, an economics and theology major from Minnesota. "We had a good conversation with a couple who had a dog. We encountered a man who was deaf and someone on the team knew sign language, so that was great. There was a lot of dignity in the exchange."

For Manzo's students, the lessons from the personal encounters with those experiencing homelessness stretch well beyond the one night of the census.

Jim Greene, Boston's assistant director for street homelessness initiatives who has been part of the homeless census for more than three decades, annually speaks to the students in Manzo's Values in Social Services and Health Care class. After the census, Manzo and his students spend time reflecting on the encounters and discussing the systemic causes of homelessness, such as lack of affordable housing and mental health issues.

McGrane was a student in Manzo's Boston: An Urban Analysis course. He also has taken two other PULSE electives. "The PULSE classes have been by far my favorite classes at BC. They have changed my world view," he said.

McGrane served as an intern at Haley House, a longtime PULSE community partner. After graduation, he will embark on a year of service through Chicago-based Amate House, a young adult service and leadership development program grounded in social justice, faith, and community.

Manzo says that through the witness of people like Greene, BC students can see how a vocation of public service can become a career. "Some will go into leadership areas where they can be part of the solution to homelessness, but all will have had a first-hand experience of putting the values of BC—'men and women for others'—into action."

Kathleen Sullivan | University Communications | March 2022