Photos by Caitlin Cunningham
Boston College School of Social Work part-time faculty member Maryanne Loughry, R.S.M., was teaching a course on migration and social policy in Washington, D.C. on August 15 when the news broke: after months of escalating violence, the Taliban had seized control of Kabul, marking the official collapse of the Afghan government and erasing 20 years of social and economic progress in the war-torn country. 
Almost immediately, scenes of chaos and desperation were broadcast from the Kabul airport as Afghan citizens risked their lives to flee the country. In the days that followed, thousands of men, women, and children boarded planes bound for military bases across the U.S., including the McCoy Air Force Base in Wisconsin, where Loughry had joined an emergency team formed by the U.S. Catholic Bishops Migration and Refugee Service.
"It was literally a humanitarian emergency," recalled Sister Loughry, who was recruited to volunteer because of her background working with refugees. "We had no idea how many were arriving or who they were. When I arrived, the first 800 people had come to the base that day, and by the time I left, there were 13,000."
For three weeks, Sister Loughry ran a morale and wellness center within the base, where women and children could safely congregate and play. She and the other volunteers distributed donated clothing and supplies—many refugees had arrived with only the clothing on their backs—and offered legal assistance, but the needs of the population quickly exceeded their limited resources. 
"It was a very tough time for the population," said Sister Loughry. "Many adults were overwhelmed, first by having survived and then by the system—What do I do now? How long am I going to be here?"
As Sister Loughry worked on the ground, her colleagues back at the Heights, led by Vice Provost for Global Engagement James Keenan, S.J., were discussing another way to assist. In order to build new lives in the U.S., a majority of the Afghan refugees would need to secure employment. They wondered: would someone with an academic or humanitarian background be interested in working at Boston College?
Through her contacts, Sister Loughry learned that a young Afghan man named Farhad Sharifi was staying at Camp Atterbury in Indiana, just seven hours away from Fort McCoy. Sharifi was fluent in English and had a master's degree in social work from St. Joseph's College in Bangalore, India. Prior to his evacuation, he worked for an international non-governmental organization supporting the education of girls in Afghanistan. Sister Loughry arranged to speak to him.
'Uprooted and betrayed'
When he heard from Sister Loughry for the first time, Sharifi was in the midst of navigating one of the most difficult transitions of his life. Thirty-three years old, he had been living in the city of Herat with his parents and younger brother before the government collapsed, working with internally displaced people to provide education, local leadership, and capacity-building programs. His job responsibilities included field-work in remote villages, where he risked kidnapping and violent attack by the Taliban.
"I had times when I needed to look over my shoulder to see if someone was following me," he recalled. 
Fearing persecution, Sharifi and his colleagues left Herat the day before the city fell, and were among the thousands standing outside the Kabul airport in the days following the August 15 takeover. Sharifi slept on the pavement outside the airport gates for several nights, awakening frequently to the sound of gunshots being fired into the air by Taliban guards. On August 23, he was granted access to the airport and boarded a plane bound for the United Arab Emirates. On September 11, he arrived at Camp Atterbury, where he would live for the next three months. 
Looking back, Sharifi believes he had no choice but to leave Afghanistan, a fact that weighs heavily on him. 
"When you don't have any control over what's happening in your life, it is always stressful," he said. "Like many other evacuees, I feel uprooted, betrayed, and oppressed all at the same time. We in the Afghan community, especially the youth and the new generation, feel like we've been thrown back more than 100 years, like everything that was meaningful has been lost and what remains is only hope for many of us." 
Building a new life
For a month after their first phone call, Sister Loughry and Sharifi spoke daily by phone, hammering out a plan to bring Sharifi to BC. School of Social Work Dean Gautam Yadama had offered Sharifi a position in the Research Program on Children and Adversity, but there were other details to consider.
"There was the job but also the logistics of housing and clothing and food and donations," said Sister Loughry. "I was immensely supported by the BC system—everybody played a role once I pulled them in. People were constantly ringing me up saying, 'I can do this,' or 'We can do that.'"
St. Ignatius Parish in Chestnut Hill also provided extensive support, stepping in to coordinate donations of necessities for Sharifi through its longstanding ARRUPE program (Assisting Resettlement of Refugees Using Parish Energies). Staff and parish volunteers worked to arrange coverage for Sharifi's rent and utility payments and provide food cards until his first paycheck arrived. 
On December 3, Sister Loughry and a host family from Chestnut Hill met Sharifi at Logan Airport. He was carrying a single backpack of possessions, ready to start a new life.  
"I'll never forget that moment," said Sister Loughry. "He trusted us to get on that plane and come to Boston. That would have overwhelmed anybody, I think, but he was able to do it."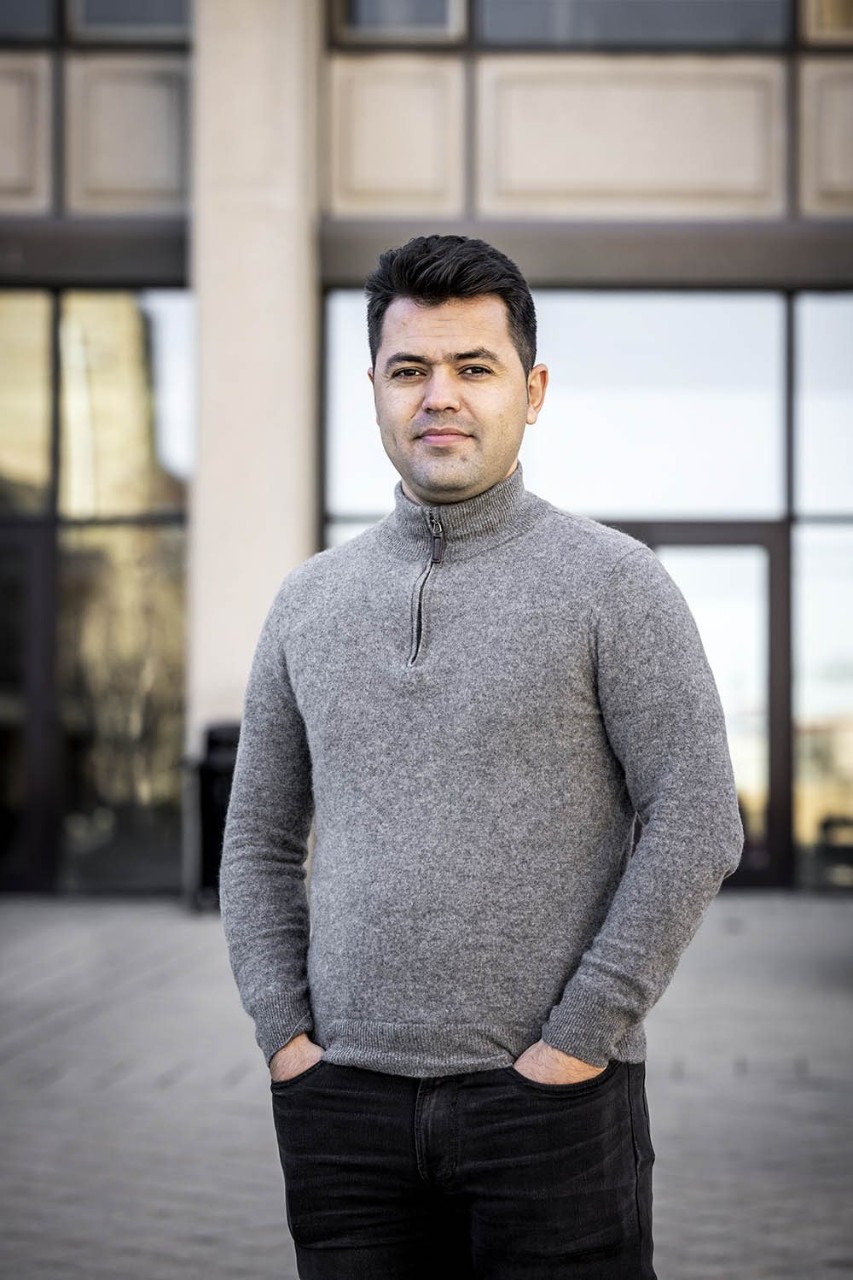 Since arriving at BC, Sharifi has thrown himself into his work as a way to keep his mind busy. In his new position, he's helping to adapt programs designed for specific refugee populations so they can be used to help Afghan refugees. 

"It's similar to my job in Afghanistan in that I'm in the social work realm and I'm getting to work with families and communities," he said. "I'm learning a lot."
Outside of his job, Sharifi hopes he can be a resource to members of the wider BC community interested in hearing his story and learning about the political and cultural landscape of Afghanistan. On February 2, he'll join Sister Loughry and Fr. Keenan for his first public event: "On Refugee Work and Afghanistan: An interview with Farhad Sharifi." (Members of the BC community can attend the event in person or via Zoom.)
Becoming a refugee himself has given Sharifi a deeper understanding of the experiences of other displaced people, and made him even more determined to work to ensure that all humans are free from oppression. While he misses his family back home, he remains hopeful for the future, at BC and beyond.  
"Sometimes, when my Afghan colleagues and friends text me about the situation [at home] and the imposed limitations on the already limited freedom they had, I feel numb," he said. "But what I'm certain about is that hardship has made us stronger and more resilient to our environment. We will rise again and prosper and do our part to make this world a better place." 
Alix Hackett | University Communications / January 2022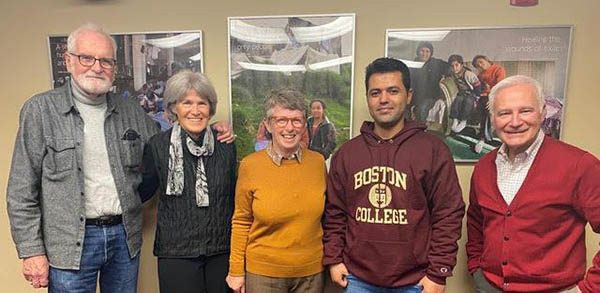 Farhad Sharifi on the day of his arrival in Boston, at the St. Ignatius Parish office.