Lena Park '11 has loved the game of baseball for as long as she can remember. She grew up playing the sport, dreaming of someday becoming the first woman to play in the majors, and entered high school excited to try out for the varsity team.
"I walked up to my biology teacher, who was also the baseball coach, and he looked at me and laughed and said, 'Oh, we don't let girls try out for baseball,'" she recalled. "When you're 14 you don't really think about how you're going to fight this, you just think, 'Ok, I guess those are the rules.'"
But Park continued to play baseball, joining a men's league where she was a catcher and middle infielder throughout high school and her four years as an English and sociology major at Boston College. And now she's working with the nonprofit organization Baseball for All to make sure other young girls have the opportunity to play the sport they love—at every level.
Begun in 2015 by Justine Siegal, the first woman to ever coach for an MLB team, Baseball for All's mission is straightforward: to give girls the chance to play baseball without the pressure to stop playing a "boy's sport" or switch to softball to better their chances at a college scholarship. The organization works with high school girls to encourage and empower them to try out for college "men's" teams, while partnering with women at colleges across the country to jumpstart women's club teams. If enough club teams are formed, women's baseball has a better chance of becoming an NCAA Emerging Sport, said Park.
Progress since Park joined the organization five years ago has been promising, with girls' baseball teams cropping up across the country and hundreds of players turning out to compete at Baseball for All tournaments. Last year, more female athletes played on college baseball teams than ever before, and Baseball for All alumna Kelse Whitmore became the first woman to play in the Atlantic League, an official professional partner league of Major League Baseball.
"It's been pretty explosive in the past five years," said Park. "The growth has been incredible."
In August, Park helped organize Baseball for All's latest successful event: a two-day women's baseball invitational at Boston College where 24 talented high school players from across North America (and one from Australia) showed off their skills in front of seven college coaches. Spread across the Harrington Athletics Village, the players participated in a college-style workout: taking batting practice, doing infield and outfield drills, running timed sprints, and throwing bullpen sessions before splitting into teams for two nine-inning games. On Saturday, they took a break to hear from a panel of current and former female collegiate athletes about their experiences playing baseball at the college level.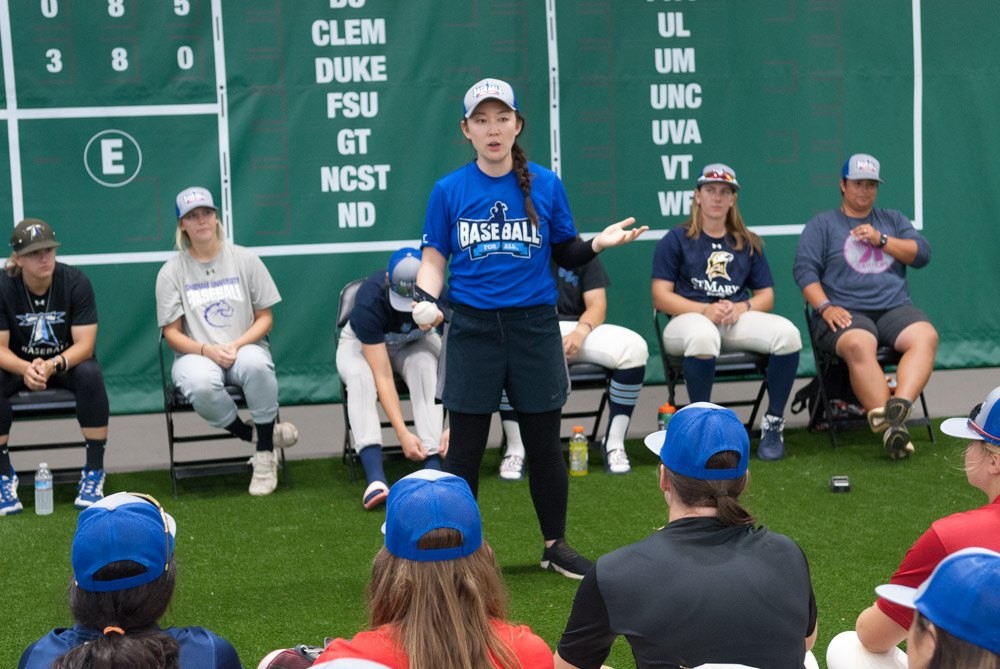 "What's amazing to hear is all of these college baseball players' stories. Not one of them are the same in terms of how they got the opportunity to play college baseball," said Park. "I hope that helped impress upon the young players that there isn't one specific path—if you really want to play, college baseball is a real option and there are different ways for you to go about it and find opportunities for you to do so."
The players also received advice and encouragement from college coaches in attendance, including Boston College Head Baseball Coach Mike Gambino and Assistant Coach Greg Sullivan, both of whom were impressed by the caliber of play they observed.
"One small piece of advice I gave them was to see themselves as ballplayers first and not listen to all the other noise that can distract them from that," said Gambino. "It was clear they love the game and it was clear that they are ballplayers—don't forget that."
For female players hoping to someday compete at the college level, being hosted by a Division I program and utilizing its state-of-the-art facilities was an exhilarating experience, said Park.
"It helps legitimize what these girls are hoping to accomplish," she said, "and it shows that an institution like Boston College has their back, which is a really powerful message to send."
The support helps combat the many barriers still facing female baseball players: societal stigmas surrounding gender and sports persist, although Park finds that the loudest opposition often comes from adults, not other players; and talented girls are often told that switching to softball will be their only chance at a college scholarship, even though the sport is, in many ways, fundamentally different from the one they love ("if they're pitchers, those skills just do not translate," said Park). For girls who play on a "boy's team," there's also the feeling of isolation that comes with being the only female player on the roster.
Park remembers the challenge of having to choose between softball and baseball at age 12, and making a pros and cons list to help her decide what to do. She hopes her work with Baseball for All will make it easier for girls to pursue their passion today, but she doesn't regret her own experience, or the hurdles she faced.
"I got to play the game that I love for a long time, and it taught me a lot about adversity, how to manage failure, how to carry yourself in male-dominated environments, and how to consider yourself an equal in those spaces—not just someone who is lucky to be there," she said. "Those are things that have carried on through a lot of other aspects of my life, and I couldn't be more grateful to baseball for giving them to me."
Alix Hackett | University Communications | October 2022