Image: Erika Erika Varga | Pixabay
Be bold and get cold for Special Olympics Massachusetts!

That rallying cry—which launched Boston College's inaugural collegiate Polar Plunge fundraiser—drew 74 registered participants and eight teams to brave ice-cold water on a raw and rainy day in support of a good cause.

Participants plunged into a 9,000 gallon above-ground pool set up for the event outside of the Margot Connell Recreation Center. Many of the hardy souls—among them BC students, parents, staff and their family members, athletic teams, and others in the community—wore colorful and imaginative costumes as is the tradition in Polar Plunges held across the state, with related prize categories.
Though the event was held on April Fool's Day, the event—which also included music, refreshments, and fun—was no joke. Hosted by the Boston College Police Department in conjunction with Special Olympics Boston College and the Law Enforcement Torch Run/Special Olympics Massachusetts, the plunge raised nearly $24,000, exceeding its original goal.

BCPD Detective Kevin Christopher, who spearheaded the initiative, called the event "a huge success." A longtime staff advisor to the SOBC student organization, which has some 75 members, he credited "the support and partnership from many Boston College departments across campus and the students, faculty, staff, and members of the BC community as a whole who contributed in a variety of ways—especially those who raised the funds that they did, and braved the freezing water."

"We couldn't have done it without them all," Christopher said of the plungers. The BCPD "Frozen Flatfoots" team plunged into the water in their police uniforms, adorned with donut life preservers, but the team decked out as yellow ducks took the costume prize.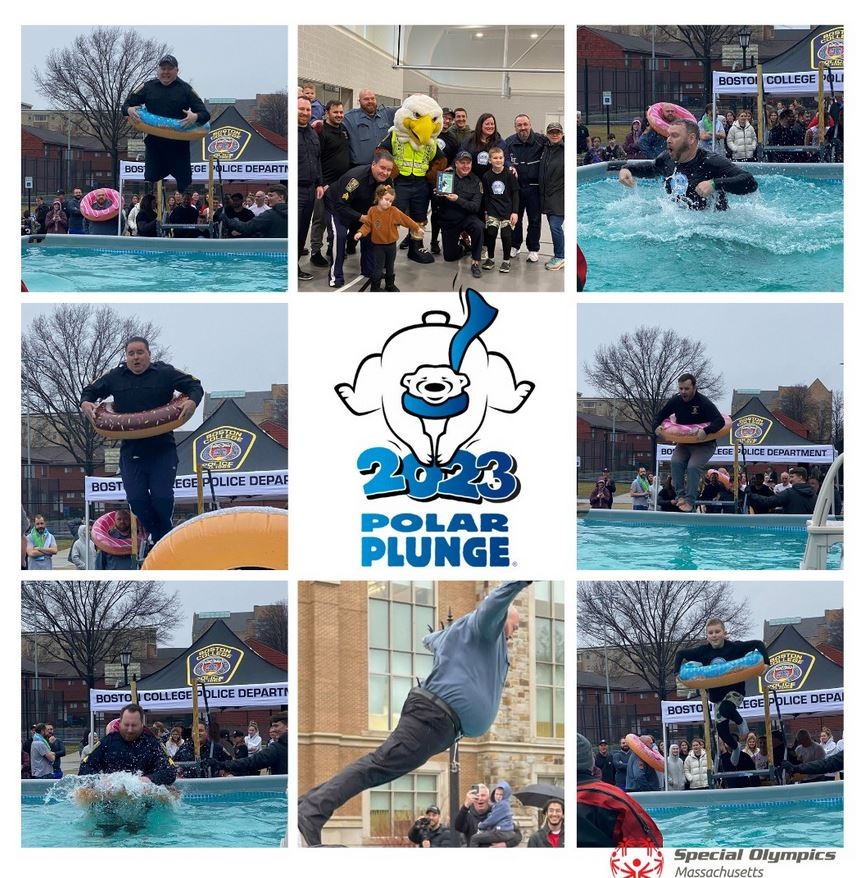 Every year, Special Olympics Massachusetts' supporters gather together to plunge—whether into oceans, lakes, or pools. Polar Plunge proceeds directly support year-round sports training and competition for Massachusetts athletes with intellectual disabilities. Each participant in the campus event committed to raising at least $100 to support the 14,000 Special Olympics athletes throughout the state; those who met the $100 goal earned an official Boston College Plunge tee shirt. The funds help provide athletes with opportunities to participate in sports training and competion programs that help them live longer, healthier lives, organizers say.

Boston College has a long history with the Special Olympics, Christopher said, noting that BCPD has hosted the final leg of the LETR Cruiser convoy annually for the last few of decades. "When I started participating in this event over 20 years ago, the convoy only had about 25 police vehicles in the parade. Last year we topped over 250 police vehicles. LETR continues to grow each year, as does the money that we raise for Special Olympics."

"We managed to raise [a total of] $864,654 in polar plunges alone," Christopher said. The BC event was the last plunge of the season.

"We hope this will be the beginning of many more polar plunges and other LETR/Special Olympics events on the Boston College campus," he said. "We are planning to host a Truck Pull and a Glowball DodgeBall competition. These events are very important to all of our athletes and the programs they are involved in. It's what allows these programs to continue and grow as we do as an organization."

The Special Olympics movement uses sports as a catalyst to promote inclusion for people with intellectual disabilities in all areas of life. For more information, visit the Special Olympics Massachusetts website.


Rosanne Pellegrini | University Communications | April 2023