A dedication ceremony on September 25 hosted by Boston College and the Massachusetts Water Resources Authority celebrated the opening of Pine Tree Preserve, a previously inaccessible four-acre parcel of land next to the Margot Connell Recreation Center and adjacent to the Chestnut Hill Reservoir.

Boston College President William P. Leahy, S.J., and MWRA Executive Director Frederick Laskey addressed state administrators, elected officials, local residents, and BC community members who gathered for the ceremony at the top of newly opened public space.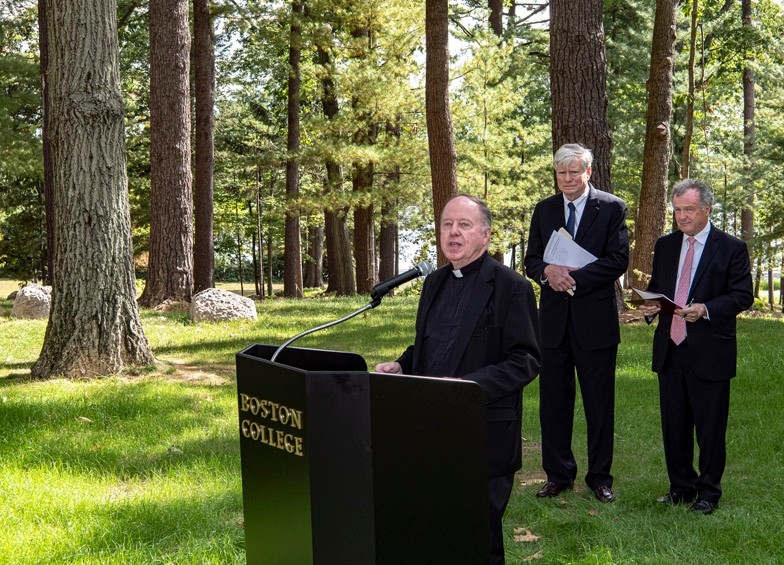 "This is a place that will be increasingly special for all of us at Boston College and in our surrounding neighborhood," said Fr. Leahy in his remarks. "It is a moment where we see the benefits of an effective partnership between BC and the MWRA. I believe all of us will enjoy this space for years to come."

"I'm proud of everyone who worked on this project, and am especially grateful to Fr. Leahy for his incredible leadership and vision," said MWRA Executive Director Frederick Laskey in his remarks. "This is a beautiful place that will be enjoyed by all members of the community."

In addition to Boston College and the MWRA, others recognized for their contributions to the project included Representative Kevin Honan, District City Councilor Mark Ciommo, the McCourt Construction Company, Stephen Stimson Associates Landscape Architects, Brighton community activist Eva Webster, and members of the Boston College, Allston-Brighton Community Task Force.

The site, located on Thomas More Road in Chestnut Hill and owned by the Commonwealth of Massachusetts, had been enclosed by fencing for the past 50 years.  It now features pedestrian walkways, park benches, lighting, and a beautiful view of the reservoir and surrounding area.
Video by Ravi Jain | University Communications


The agreement to open Pine Tree Preserve resulted from conversations between the MWRA, which has sought to open enclosed parcels of state land to the public in recent years, and Boston College, which had long viewed the fenced-in woodlands as an underutilized resource.

Under the agreement, BC funded the improvements and will oversee maintenance of the property, while the MWRA will retain ownership.

Christine Balquist | University Communications | September 2019