Paul Gallivan, a retired maintenance worker for Boston College Athletics—and driver of the BC Zamboni machine—known for the artistry of his line painting on Alumni Stadium, Conte Forum, and other campus playing surfaces, died on April 15. He was 72.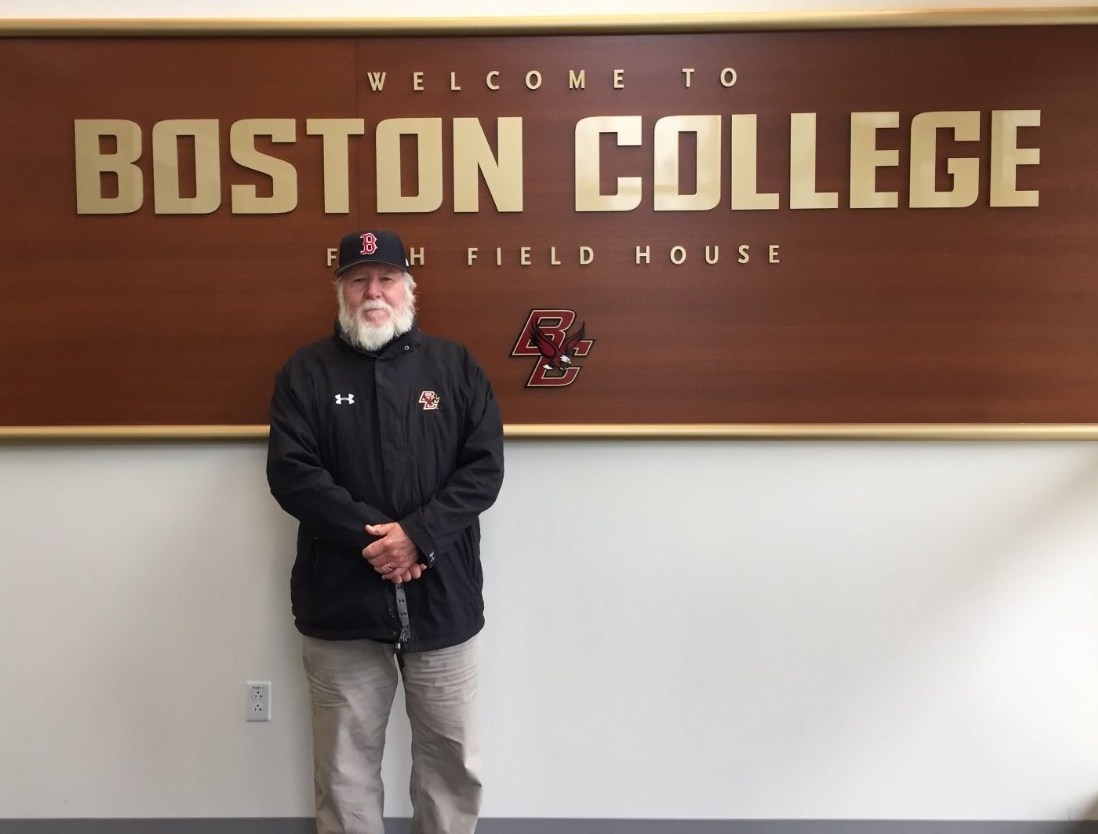 Mr. Gallivan had already led a rewarding career when he arrived at BC in 1992. A heralded athlete in football, baseball, and hockey at Boston's Christopher Columbus High School, Mr. Gallivan went on to play football at Northeastern University and Boston State College, making enough of an impression to earn a tryout as a kicker with the NFL's Atlanta Falcons; he then played a season with the minor league New England Colonials. He also had a long career in amateur baseball, playing in Boston's Park and Intercity leagues.

But Mr. Gallivan wound up taking another route to making sports his vocation.

Attending the Butera School of Art in Boston, he learned the craft of line painting for athletic surfaces and other purposes: field markings, hockey lines, logos, signs for businesses, and pin striping on trucks. He worked for Northeastern, UMass-Boston, and Harvard, and for a Texas-based artificial turf company, traveling the country lining playing fields and painting logos. He even was hired to create a football field at the house of New England Patriots owner Robert Kraft, for the family's Thanksgiving Day game.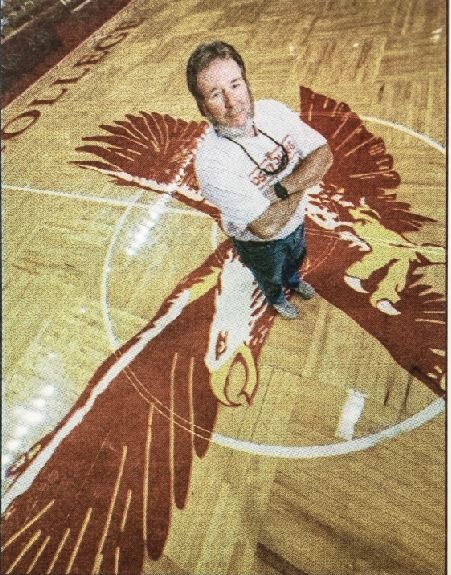 At BC, noted a 1999 Boston College Chronicle story, Mr. Gallivan was "the man to call when you need the yard lines marked on a football field, or a giant Eagle logo painted on a basketball court or hockey rink." He would use a specially made 24-by-19-foot stencil to paint the Eagle logo, a job that could take about six hours on the hockey rink, and up to eight hours on the basketball court, the story noted. Before the yard lines were made a permanent feature of the Alumni Stadium field, he and crewmates painted the surface by hand, using straightedges, stencils, and cross-field cables to guide the line-marking machine.

One of his more unusual projects at BC was painting a medieval prayer labyrinth, first on the lawn of Burns Library (a permanent labyrinth was constructed on the Burns lawn in 2003 in memory of BC 9/11 victims) and then on a lawn near Hovey House.

 "I had to walk the thing 10 or 15 times before I painted it," Mr. Gallivan told the Chronicle. "The turns have to be precise and if you measure wrong, you end up in the wrong place. I was trying to make sure I did my math right."

Mr. Gallivan also achieved a modest but noteworthy celebrity status as driver of the Conte Forum Kelley Rink Zamboni machine. In a 2005 interview with The Heights, he recounted how in the midst of a game he removed a wayward slice of pie that had ended up out on the ice: "No biggie. But I mean, the students were pointing to it, and I was heading there anyway so I figured 'Let's just get this cleaned up.' I went down the ice, and fixed it, but the students loved it. They all started cheering so I gave them one of these [waving his hand like the pope in front of a crowd]. I guess you could say that's when it started."

In 2010, after BC men's hockey won its second national championship in three years, Mr. Gallivan drove the Zamboni in the victory parade across campus.

Mr. Gallivan said he found satisfaction in his work. "You look back on what you've done and think, 'That looks pretty nice,"' he told the Chronicle. "And when they win, it's even better."

Mr. Gallivan retired in 2020. Two years before, he had been inducted into the Winthrop High School Athletic Hall of Fame for providing "Excellent Service" to the Winthrop fields and rink.

 He is survived by his children: Erin, Zachary, and Christa Simmel; five grandchildren; and several nieces, nephews, cousins, and extended family.  He was predeceased by his wife, Laura—whom he met during the Blizzard of 1978—his parents, brothers James, Joseph, and John, and sister Jean.

A funeral Mass has taken place. The family asks that, in lieu of flowers, donations be made to CompassionateCareALS (ccals.org) or Mr. Gallivan's GoFundMe page.

University Communications | April 2023