Bryan Jones (Caitlin Cunningham)

Bryan Jones, the director of summer session and academic services in the Woods College of Advancing Studies, has been named University Registrar, effective October 1. He will succeed Mary French, who is retiring from BC after 28 years of dedicated service.
Prior to joining the Woods College, Jones served as registrar at Roxbury Community College and as associate registrar at Harvard University. He also worked in enrollment and academic services at the University of Miami, where he earned bachelor's and master's degrees.
In announcing the appointment, Vice Provost for Enrollment Management John Mahoney said Jones possessed the skills and experience needed to assume the leadership of the Registrar's Office at an important time in the University's history.
"Bryan gained rich experience in the registrar and enrollment analytics offices at a diverse array of institutions that include the University of Miami, Harvard University, and Roxbury Community College," said Mahoney.
"He has been active in AACRAO (American Association of Collegiate Registrars and Admission Officers), which connects him to key issues and challenges facing the profession. Having worked in the Woods College of Advancing Studies since 2021, he also has an excellent connection to BC, which he looks to build upon in his new role."
Jones said he was eager to begin his new position as University Registrar, and to take on major challenges such as the implementation of Eagle Apps.
"I am very excited and honored to be named the new University Registrar at Boston College," said Jones. "Mary French and her team have done an exceptional job, and I look forward to continuing that momentum."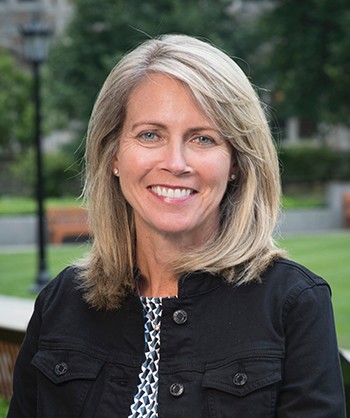 Mahoney also offered praise for Mary French, who will be stepping down at the end of the month.  
"I hired Mary 28 years ago to work in Undergraduate Admission where she advanced to lead the Office of Transfer Admission," said Mahoney. "Along with Jennifer Mack and the Student Services Information Systems team, Mary and her team have steered Boston College through the Eagle Apps Enrollment implementation over the past four years. Her intelligence, drive, and endless equanimity have been appreciated by faculty, administrators, and students. I am grateful for her professionalism and her friendship."
Located in the Office of Student Services in Lyons Hall, the Registrar's Office provides record-keeping services central to the University's functioning, and wide-ranging support to students, parents, alumni, faculty, and administrators through registration, reporting, transcripts, classroom assessment, and classroom and test scheduling. The office also assists employers seeking degree verification and alumni who request copies of their transcripts.
"I welcome Bryan to Student Services and Enrollment Management," said Mahoney.  "We look forward to his leadership in this important University role."


University Communications | September 2022