Grant Gosselin, who in five years as director of undergraduate admission has helped Boston College achieve remarkable success in recruitment and enrollment despite the COVID-19 pandemic, has been appointed as dean of undergraduate admission and financial aid, effective June 1.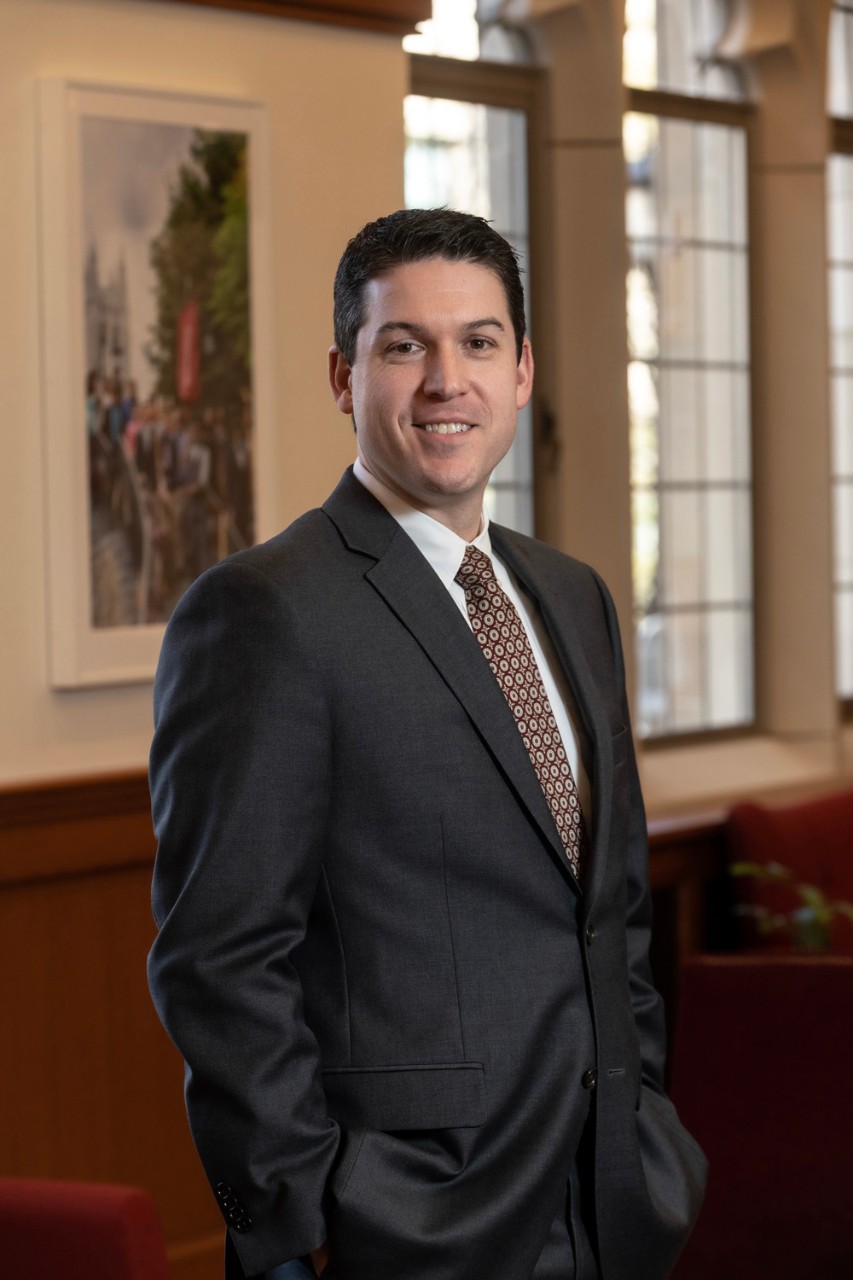 In his new position, Gosselin will continue oversight of the University's Office of Undergraduate Admission while working closely with the Office of Financial Aid administration and staff. He also will play a key role in shaping strategies and objectives for BC's undergraduate recruitment and enrollment.
"I am excited to accept the job as dean of undergraduate admission and financial aid," said Gosselin, a 1997 graduate of the Carroll School of Management, a 2002 graduate of the Lynch School of Education and Human Development, and parent of a current BC undergraduate. "I have tremendous respect for the talented people in the offices of Undergraduate Admission and Financial Aid, who are leaders in their respective fields, and look forward to building on our relationship.

"I'm especially pleased that, as dean, I will work on the overall vision of our undergraduate admission program, yet still provide day-to-day engagement with students and families who want to be part of BC."
Gosselin honed his expertise in undergraduate admission at BC—where he served as senior assistant director of undergraduate admission and associate director of marketing and international admission—before going on to Babson College and Wheaton College. As chief enrollment officer at both Babson and Wheaton, he set historic highs in applications and enrolled students, as well as in international student recruitment. He also implemented a new admission marketing strategy that included affordability and yield campaigns and a high school counselor communications plan.
"

Grant Gosselin has provided visionary leadership in Undergraduate Admission since he returned to the University five years ago. Through a historically tumultuous time, he has played an indispensable role in the introduction and successful implementation of Early Decision and he engineered our important partnership with QuestBridge. I very much look forward to having Grant join the Council of Deans where we will all benefit from his commitment to our students and BC's distinctive mission.

"
Since returning to BC in 2018, Gosselin has been instrumental in a host of impressive achievements in undergraduate admission: In the last five years, undergraduate applications have risen 20 percent, the admit rate has dropped from 28 to 15 percent, and this year's yield rate projects to exceed 40 percent, a new record for BC. Such data are indicators of an elite, selective university, Gosselin noted.

A factor cited in BC's performance has been its transition in 2019 from Early Action to a binding Early Decision program, offering applicants two opportunities to designate Boston College as their top choice university. In the last two admission cycles, more than half of enrolled students applied to BC via ED.

"Early Decision has dramatically reshaped the way we identify top talent," said Gosselin. "It has enabled those high school students who view BC as their top choice to identify themselves to us. These students tend to be an excellent fit for BC. They understand the University's mission and culture, and they're ready to hit the ground running."

But ED might not have had the impact it did, he added, if not for the resourcefulness and hard work of his Undergraduate Admission colleagues during the height of the COVID pandemic, when most of the office's programming for prospective and admitted students had to shift to a virtual format.

"Creating—and maintaining—that rapport with students and their families is such a vital part of the admission process, and our staff did a superb job under trying circumstances during the pandemic."Gosselin points to an array of other recent developments that have helped BC realize its undergraduate recruitment and enrollment aims, notably the University's partnership with QuestBridge, a highly respected non-profit program that helps high-achieving, low-income students gain admission and scholarships to the country's top-ranked colleges and universities. Since joining the program for the 2020-2021 admission cycle, BC has enrolled more than 300 students through QuestBridge.

"

When I enrolled at Boston College as an undergraduate, the care, guidance, and support I received from the Admission and Financial Aid staffs had a significant influence on my college choice. As BC has evolved over the years, the commitment, dedication, and professionalism demonstrated by members of these staffs continues to set the gold standard in our field.

"
Provost and Dean of Faculties David Quigley praised Gosselin's record as director of Undergraduate Admission. "A proud Boston College graduate and now parent, Grant Gosselin has provided visionary leadership in Undergraduate Admission since he returned to the University five years ago.  Through a historically tumultuous time, he has played an indispensable role in the introduction and successful implementation of Early Decision and he engineered our important partnership with QuestBridge.  I very much look forward to having Grant join the Council of Deans where we will all benefit from his commitment to our students and BC's distinctive mission."

BC faces the same challenges confronting higher education institutions throughout the United States, Gosselin said, such as a decreasing college-age population as well as the often-contentious national debate about the value of a college education. However, he added, "BC is well positioned to continue its success, in that we are one of only 21 private universities that practices need-blind admission and is able to meet the full demonstrated financial need of the students we admit. This ensures that a Boston College education remains attainable to those earning admission, regardless of their financial means. Furthermore, we are blessed to have state-of-the-art campus resources to assist us in attracting the world's top students."  

Recently added programs, initiatives, and facilities—like the Human-Centered Engineering program, the Global Public Health major, and the Schiller Institute for Integrated Science and Society—show BC to be a forward-thinking, 21st-century university, said Gosselin. But it is BC's commitment to its heritage as a Jesuit, Catholic institution that continues to make an impression on prospective students and their families.

"Boston College provides students with a formative education to prepare them for their careers," he said. "Through the University Core Curriculum, we inspire them to think not just of what career they might like to pursue, but the role they want to play in the world."
Gosselin expressed his appreciation for retiring Vice Provost for Enrollment Management John L. Mahoney, who as Gosselin's predecessor as director and later dean of undergraduate admission provided invaluable insight.

"It has been an honor to work alongside John earlier in my career and throughout these past five years," said Gosselin. "He leaves a lasting legacy on our organization and our profession. I look forward to mentoring the next generation of leaders in admission and financial aid, as John mentored me and so many others throughout his career.

"When I enrolled at Boston College as an undergraduate, the care, guidance, and support I received from the Admission and Financial Aid staffs had a significant influence on my college choice. As BC has evolved over the years, the commitment, dedication, and professionalism demonstrated by members of these staffs continues to set the gold standard in our field. The important work we do in support of our students shapes the Boston College community in meaningful ways. In this new role, I am grateful for the opportunity to work with our colleagues in both of these offices."
Sean Smith | University Communications | May 2023