Inside the trunk of Kristina Rex's car is an outfit for any situation.
Jeans and sneakers? Check. Dress and high heels? Packed. After all, in her job as an on-air reporter for WBZ-TV, she never knows where the day will take her.  
"Sometimes you're literally walking through mud and storm devastation and other days you're eating with the most important politicians in the state," she explained. "You have to be prepared for anything at any given time."
For television journalists in the fast-paced Boston market, every day brings something new. Whether it's a medical breakthrough, a Game 7 victory, or a city-wide manhunt, on-air reporters are at the scene, broadcasting live to thousands of viewers across the state. The pace can be grueling, and the deadlines always loom.
"It's the kind of career where a typical day isn't really a thing," said Rex '15, "but that's why I like it. There are lots of opportunities for desk jobs, but I don't really like routines—I thrive on high-stress, fast-paced situations."
"I think we're all slightly adrenaline junkies," joked Louisa Moller '09, a colleague of Rex's at WBZ.
Rex and Moller are part of an impressive contingent of former Eagles who have sacrificed daily consistency for a career in television news. These six female graduates of the Morrissey College of Arts and Sciences have parlayed their liberal arts degrees into on-air positions at every major news station in the city, reporting and anchoring newscasts for WCVB Channel 5, WHDH 7News, Boston 25 News, and WBZ-TV.
Each has a story to tell of how her BC experience shaped her career path, and helped her thrive in one of the most competitive and demanding markets in the country.
Paula Ebben '89
Reporter and Anchor, WBZ-TV
"When I was a teenager, my mother would always say, 'Oh, you have a nose for news,'" recalled Paula Ebben '89. "And I remember thinking, that's what I want to do, because it looked to me as though those TV news people were always where everything was happening. Whatever was worth talking about, they were there."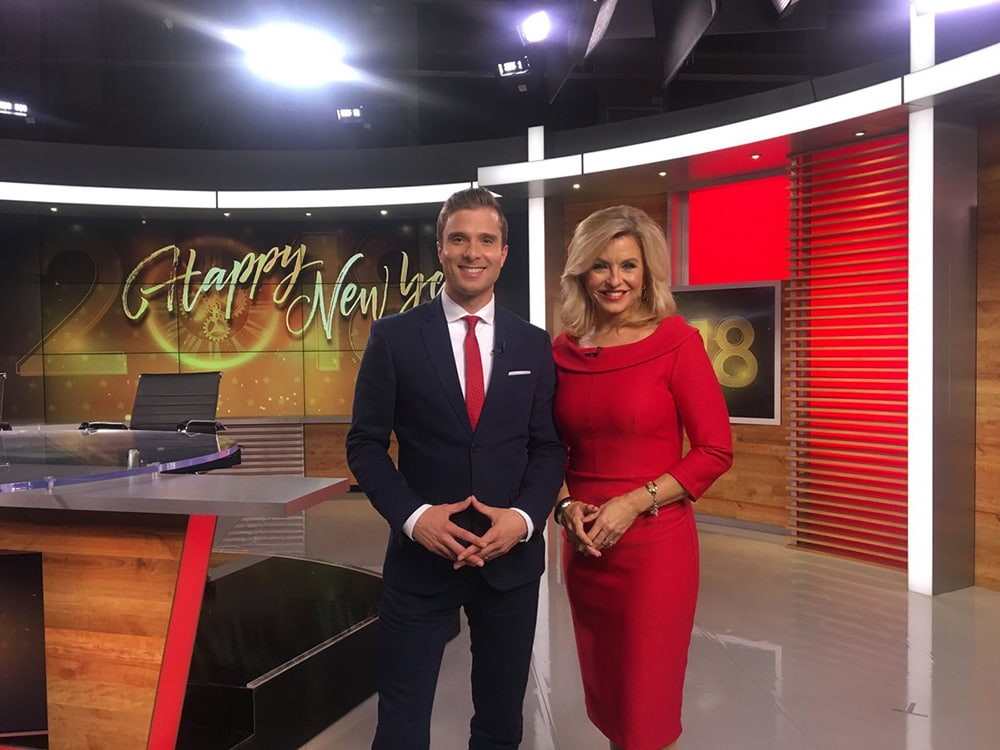 Several decades later, Ebben is living her teenage dream, co-anchoring WBZ-TV's two evening newscasts while also contributing breaking news reporting and education coverage for the "Eye on Education" series. In her 15 years at the station, Ebben has reported from major news events around the world, including the Democratic and Republican National Conventions, the 2011 Royal Wedding, and Pope Francis's first U.S. visit.
Some of her proudest moments in the newsroom have also been the most difficult. In 2013, Ebben and her team kept Bostonians informed after two homemade bombs were detonated at the marathon finish line, prompting a city-wide manhunt. The team was later awarded a Columbia DuPont Award and a Peabody Award, two of the industry's highest honors.
"One of the aspects of our coverage that was mentioned was that from the beginning, without any sensationalism or overly dramatic presentation, we were giving people the facts," Ebben said. "That made me really proud. You want to know when something really horrific is happening to your neighbors that you're getting it right."
A native of Shrewsbury, Mass., Ebben is the youngest of 11 siblings, and the sixth person in her family to attend Boston College. Her father, a member of the Class of '43, was a strong proponent of a liberal arts education, which Ebben credits with preparing her well for her current role.
"All the subjects one studies at BC—including philosophy, theology, sociology—those are all tools a journalist needs in order to, at a moment's notice, explain to a viewer what a story is all about, what it means, and why they should care," she said. "I can't think of a better use for a liberal arts education."
Nicole Oliverio '03
Reporter and Anchor, Boston 25 News
Most of her viewers are still asleep when Nicole Oliverio '03 starts her 3 a.m. shift as a reporter and anchor for Boston 25 News. By the time the 4 a.m. newscast airs, she's live on location and up to speed on overnight developments to major stories or early morning breaking news.
A Massachusetts native, Oliverio joined the Boston 25 News team in January after 11 years at WHDH 7News and stints at stations in Mississippi, Vermont, and Fort Myers, Florida. In each position, Oliverio sought out stories that helped others—a segment she produced on an elderly man's skyrocketing water bill led a Florida water company to adjust the accounts of an entire neighborhood.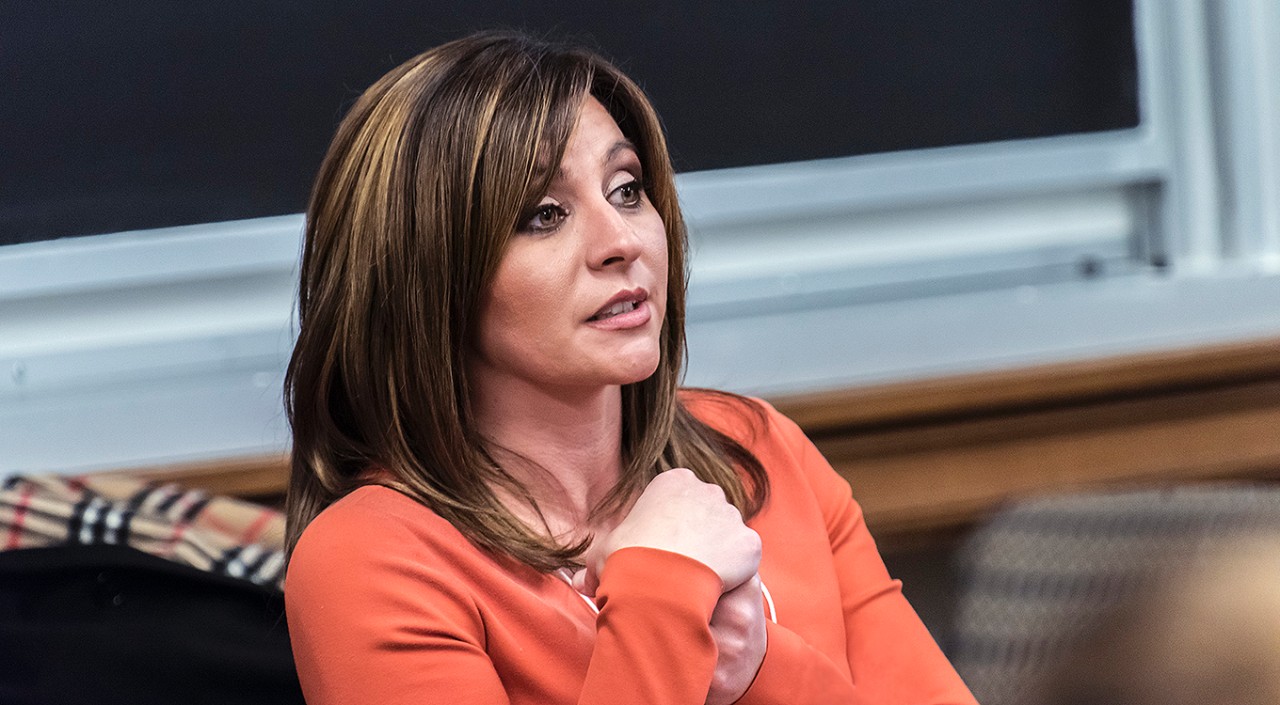 "I try to take BC's Jesuit teachings with me when we're reporting stories—helping those who are less fortunate, finding stories we can highlight that will help somebody," she said. "It's not every day, but I'm always on the lookout for those types of stories."
Oliverio, who double-majored in communications and Political Science, credits an internship with BC faculty member Joe Bergantino with helping her discover a passion for broadcast journalism. Then an investigative reporter at WBZ-TV, Bergantino introduced Oliverio to the behind-the-scenes workings of televised news.
"It was right when the Catholic Church abuse scandal broke, so I was busy doing research, getting information, making calls, going to press conferences," Oliverio recalled. "I felt like I really had a great hands-on experience from that."
An internship with Boston 25 News followed, and "from there it just snowballed," Oliverio said. She was hired for her first broadcast reporting gig the summer after graduation.
Sixteen years later, Oliverio is happy in her career, with one exception.
"Snowstorms. I've been very fortunate, I have been afforded opportunities that had I not been in this position I never would have had. But when I'm working storm coverage and trying to change my clothes and I'm soaking wet I think, 'who's still watching?'" she joked.
Jennifer Eagan '06
Reporter and Anchor, WCVB Channel 5
Early in her career, Jennifer Eagan '06 discovered the true meaning of learning on the job. In addition to being a reporter for Charter TV3, a small cable station in Worcester, Mass., she was also the photographer and editor for every story she covered.
"Before my first day as a one-man-band reporter I had never turned on a camera," she recalled. "They gave me a tripod and said, 'Go out in the parking lot and figure out how to use this.'"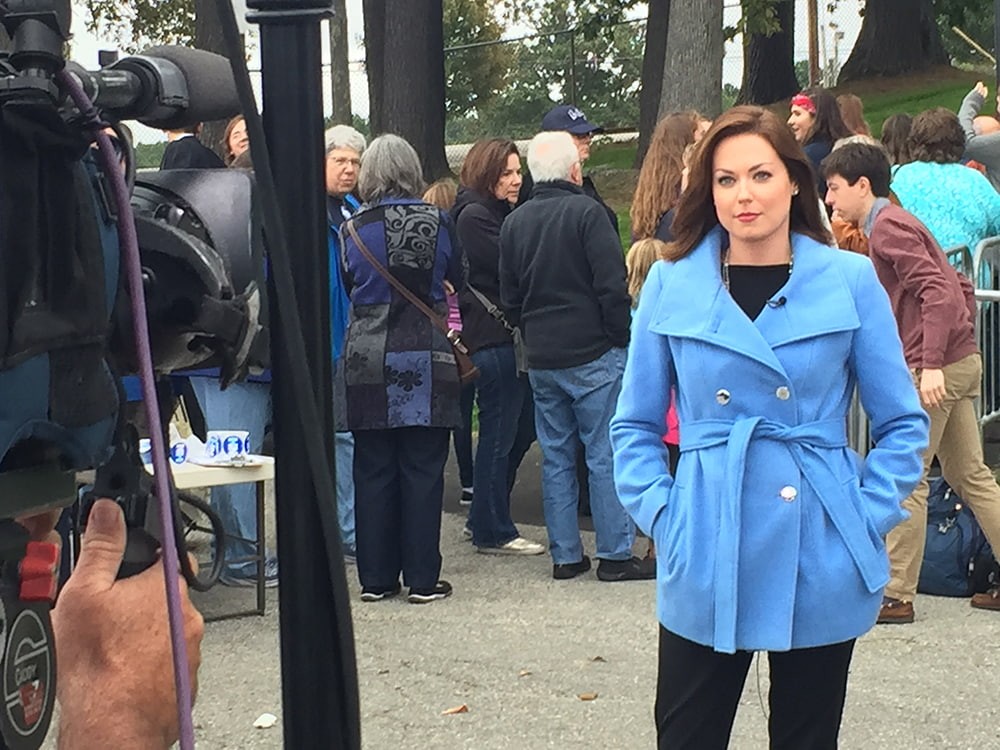 Eagan was up for the challenge, lugging equipment all over Central Massachusetts as she single-handedly covered major stories like the ice storm of 2008. A few years later, she graduated to reporter roles at New England Cable News and WHDH 7News, and then moved over to Channel 5 in 2018. The only equipment she's responsible for operating now is a microphone.
A typical work day for Eagan lasts 8 or 9 hours, but she estimates only 10 to 15 minutes is spent inside Channel 5's Needham headquarters. The rest is spent following the story, wherever it takes her. The station's production truck serves as her office, dressing room, and, if there's time, cafeteria.  
"The clock is ticking from the moment you get an assignment," she said. "You walk out the door and you think, 'how am I going to put this together?' but at the end of the day, you and your photographer make it happen."
A former English major during her BC days, Eagan describes her liberal arts education as nurturing an intellectual curiosity that has served her well in the industry.
"Stations are always looking for reporters to pitch ideas," she said. "A lot of news centers around crime, but if you are more curious about things in the world, like history, you'll end up seeking out other types of stories, and I think that just adds to the vibrancy of the newscast."
Kerry Kavanaugh '00
Reporter and Anchor, Boston 25 News
Last fall, Boston 25 News anchor and reporter Kerry Kavanaugh '00 interviewed a panel of six undocumented immigrants for an emotional half-hour special entitled "Daring to Dream." Her goal? To introduce the public to the "Dreamers"—individuals who were brought to the U.S. as children—whose status has become part of a bitter national debate over immigration policy.
"We talk a lot about this group of people—should they be able to stay or should they have to leave—but when do you ever sit down and hear from them?" Kavanaugh said. "They were very brave, a lot of them were speaking out for the first time."
Kavanaugh spent months researching and reporting for the special, speaking to immigration experts and critics of the Deferred Action for Childhood Arrivals (DACA) program, which currently protects Dreamers from deportation and allows them to work and go to school. The extra work added to Kavanaugh's daily responsibilities, which include reporting on local stories and anchoring the weekday 4 p.m. newscast.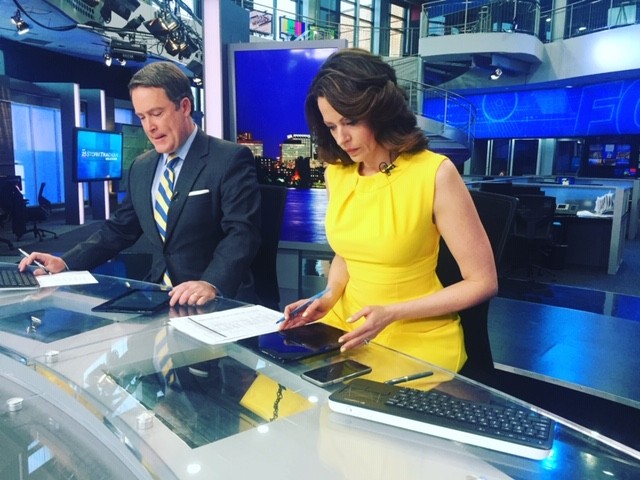 "It was a labor of love," she acknowledged. "Not every day is going to be a deep dive, but when you can give someone an opportunity to give some perspective, that's what I feel our main role can be as journalists."
As a communications major at BC, Kavanaugh held internships at WBZ-TV and KISS 108, a local radio station. Both were equally valuable in helping her feel confident about a career path in television, she said.
"Some of the best internships are the ones that tell you what you don't want to do," she said. "Getting out there and doing it as opposed to talking about it in a classroom was enormously helpful for me."
Before landing at Boston 25 News, Kavanaugh reported for stations in Montana, Iowa, Florida, and Georgia. The topic of immigration kept resurfacing, at one point sending her to Villachuato, Mexico to interview recently deported factory workers.
"[I wanted to find out] what is their story? Why are they risking so much to leave this place?," she recalled. "These are opportunities to shed light on things that maybe others didn't know."
Louisa Moller '09
General Assignment Reporter, WBZ-TV
On December 14, 2012, millions of Americans turned on their televisions as a horrific mass shooting unfolded at Sandy Hook Elementary School. Viewers in Connecticut watched as Louisa Moller '09 reported live from Newtown, where the casualties steadily increased to 26 children and staff. It was an emotional day for everyone, but Moller kept her composure as the cameras rolled.
"It's tough to explain what it feels like, it's almost mechanical," she recalled. "You do your job and then you get home and you grasp what you just talked about. It's surreal."
As a reporter for WBZ-TV, most of Moller's assignments take place in the greater Boston area, but she's always on the lookout for a national story with local significance. In 2016, she worked with the Quincy Police Department to investigate local massage parlors suspected of engaging in human sex trafficking.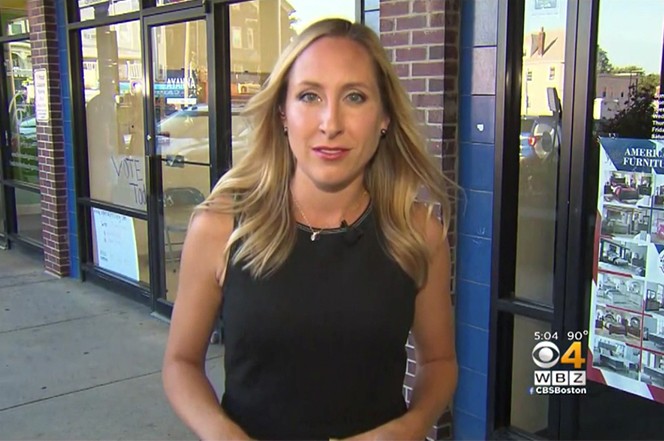 "We wanted to show people locally that, if you think human trafficking doesn't impact you, it actually does," she said. "I think people in the Boston area are hungry for that kind of story—something a little more in depth."
In college, Moller performed with the a cappella group, The Bostonians, and took classes in everything from ethics to law. After an internship at WPRI in Providence, Rhode Island, she set her sights on a broadcast career.
"I immediately caught the bug," she said. "It is just so fun to research and immerse yourself in someone else's life or story."
Sometimes, that person turns out to be famed Civil War Colonel Robert Gould Shaw, whose long-lost sword was discovered in the North Shore attic of his descendents. Moller covered the piece from outside the Massachusetts State House, where a bronze statue depicting Shaw and the African-American regiment he led still stands.
"It's one of my favorite stories," said Moller. "To listen to the Massachusetts Historical Society talk about this sword and what it symbolized was so fascinating. I'm not a historian but for that day, I wanted to be."
Kristina Rex '15
General Assignment Reporter, WBZ-TV
When Kristina Rex '15 arrived at Boston College in 2011, her academic and career goals were still up in the air. She took courses in identity politics and gender studies and at one point, considered becoming a math major.
"I had too many interests and didn't know how to whittle them down," she recalled.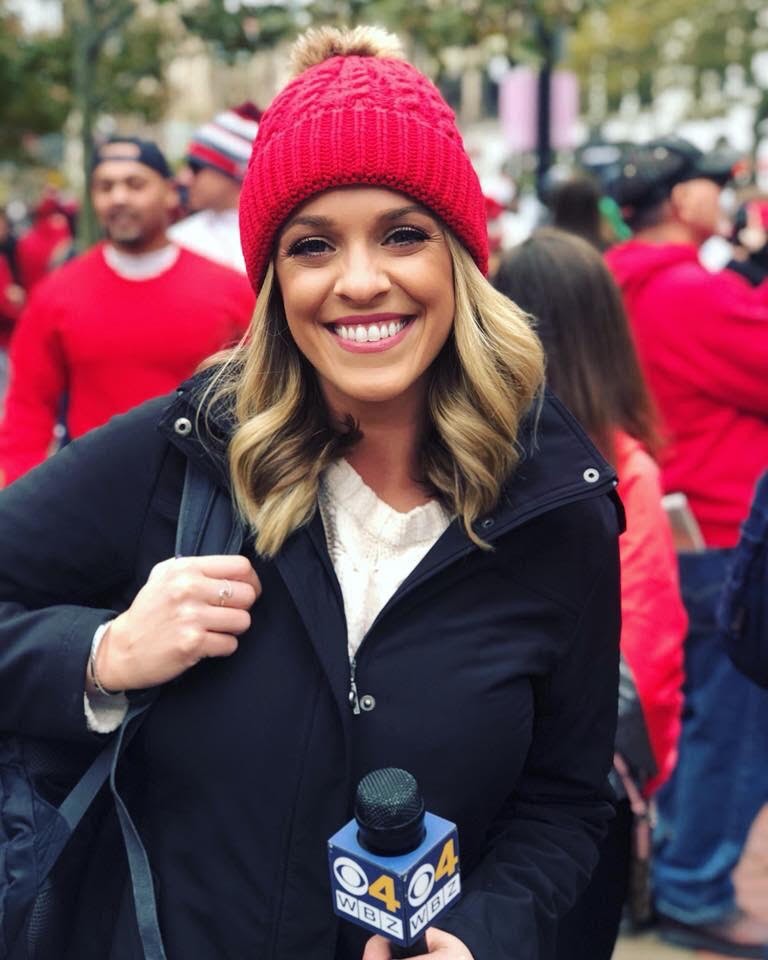 While she eventually decided to major in communications, Rex credits a wide range of courses with helping her develop research and critical thinking skills she relies on today. In particular, classes in the social sciences have shaped how she relates to her interview subjects.
"I've worked in rural Maine and I've worked in Boston and those are two very different places in terms of people," she said. "I think that kind of background knowledge has helped me empathize with people and get to know them and understand where they're coming from, which is essential to telling stories."
In some ways, writing and reporting a story is similar to researching an academic paper, but with much shorter deadlines. In the fast-paced Boston market, most of Rex's stories are assigned and aired on the same day.
"I'm basically a speed researcher," she said. "At BC, I wrote three 25-page term papers my senior year. Those research skills and being able to think on my feet help me every day."
Since joining WBZ-TV last August, Rex has been a regular in BC classrooms, where she offers candid advice to students considering using their liberal arts degrees in the broadcasting world. Her first piece of advice? Be willing to relocate, and work harder than you ever thought possible. The second: develop a thick skin.
"You have to be strong in your convictions and trust your gut, this is not a field where you can be shy," she said. "This whole field is about constantly pushing and making sure you're getting the best stories and the best opportunities. It's not glamorous but it's unlike any other job."
—Alix Hackett | University Communications | April 2019