Luke Kuechly '15 with senior Avery Olsen'22 and juniors Lubens Benjamin and Gianna Russi at the Project Life Movement drive on campus.
On the day before the Boston College football team wore its special red bandanna-trimmed uniforms versus Virginia Tech to honor late 9/11 hero Welles Crowther '99, former BC and NFL star Luke Kuechly '15 returned to campus to press forward on his own life-saving mission.

Kuechly, an ambassador for the Project Life Movement, was recruiting BC students to join the global registry of potential bone marrow and stem cell donors. The three-time All-Pro Carolina Panthers linebacker urged the many healthy passersby to sign up and swab their cheek, the modest but critical first step toward possibly serving as a match for an ill patient suffering with leukemia, lymphoma, or sickle cell disease.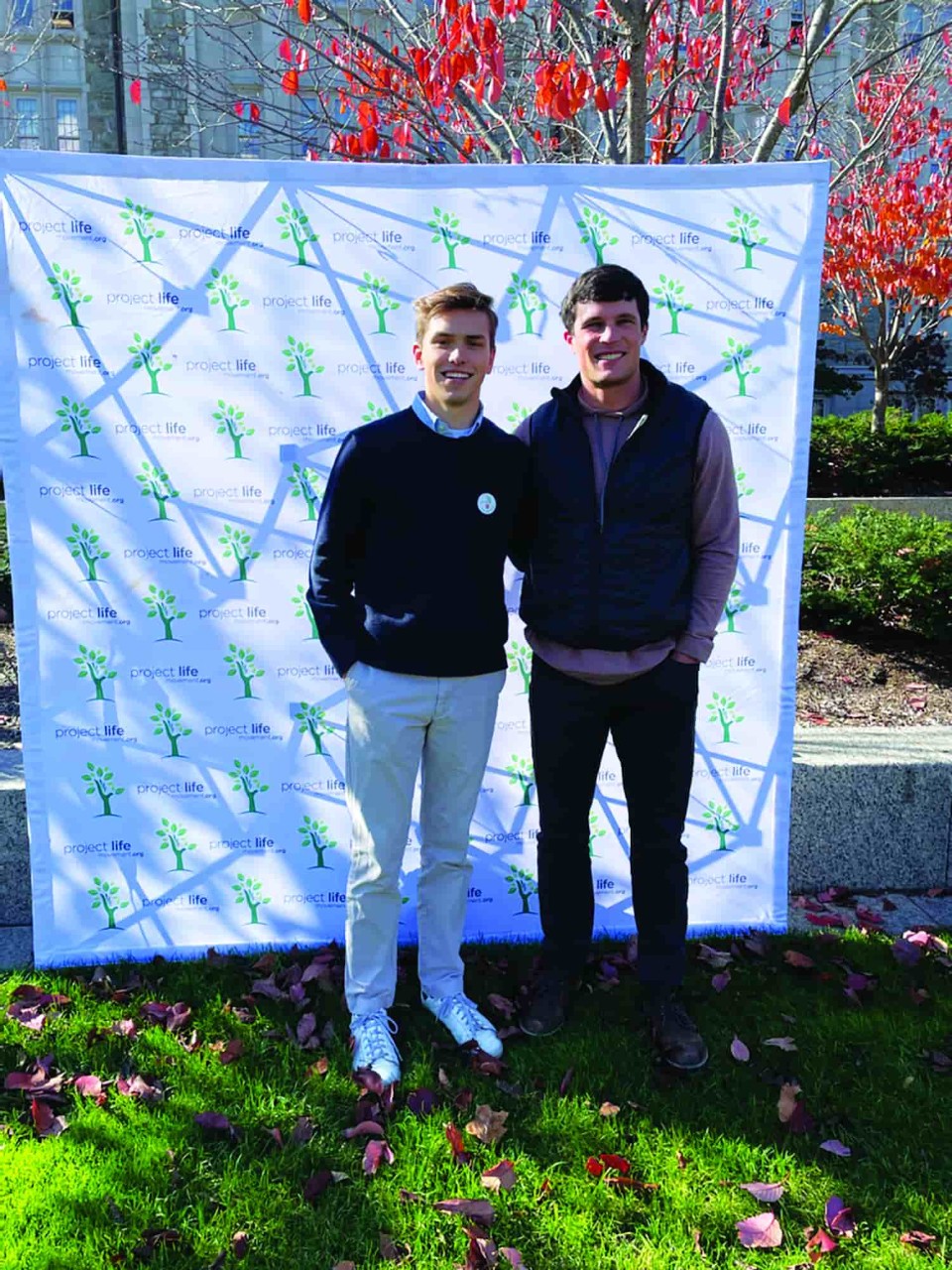 "It's something so easy, so simple to do, and it can save people's lives," said Kuechly in 2016, when BC last hosted a PLM registration drive. "When you meet people who have survived because they were helped by receiving bone marrow, you can really appreciate what a difference doing something like this makes."
Kuechly's passion for the project was ignited in 2013 after meeting PLM Co-chair Steve Luquire, whose 41-year-old wife died of myelodysplasia; her only match was her brother, but at age 60, the fit was not ideal. PLM is based in Charlotte, N.C., home of the Panthers.  

Joining Kuechly, who retired in 2019, was Undergraduate Government of Boston College President Jack Bracher '22, a previous registrant who worked with Kuechly to enlist students on the Global Stem Cell and Bone Marrow Registry.

Bracher told The Heights that he had been alerted that he was a match with a leukemia patient, but the patient went into remission, negating the need for a donation.

"I wanted to find a way to bring back the stem cell drive to BC's campus and register more students," Bracher said.

According to Bracher, nearly 780 individuals registered during the two-day event, with 480 swabbings on the first day, the most on any single day during a college campus recruitment drive.  

In addition to UGBC, PLM partnered with BC's Student-Athlete Advisory Committee. 

Phil Gloudemans | University Communications | November 2021