"Watching 'Murder on the Nile' is a bit like taking part in one of those murder mystery parties," Theatermania said of renowned crime writer Agatha Christie's play, which launches the Theatre Department and Robsham Theater Arts Center fall season. "This is an engaging, surprising, delightfully absurd evening of entertainment."
The campus production of "Murder on the Nile"—which is based on Christie's 1937 novel Death on the Nile—runs Oct. 10–13 on the Robsham Theater main stage, directed by Associate Professor of Theatre John Houchin.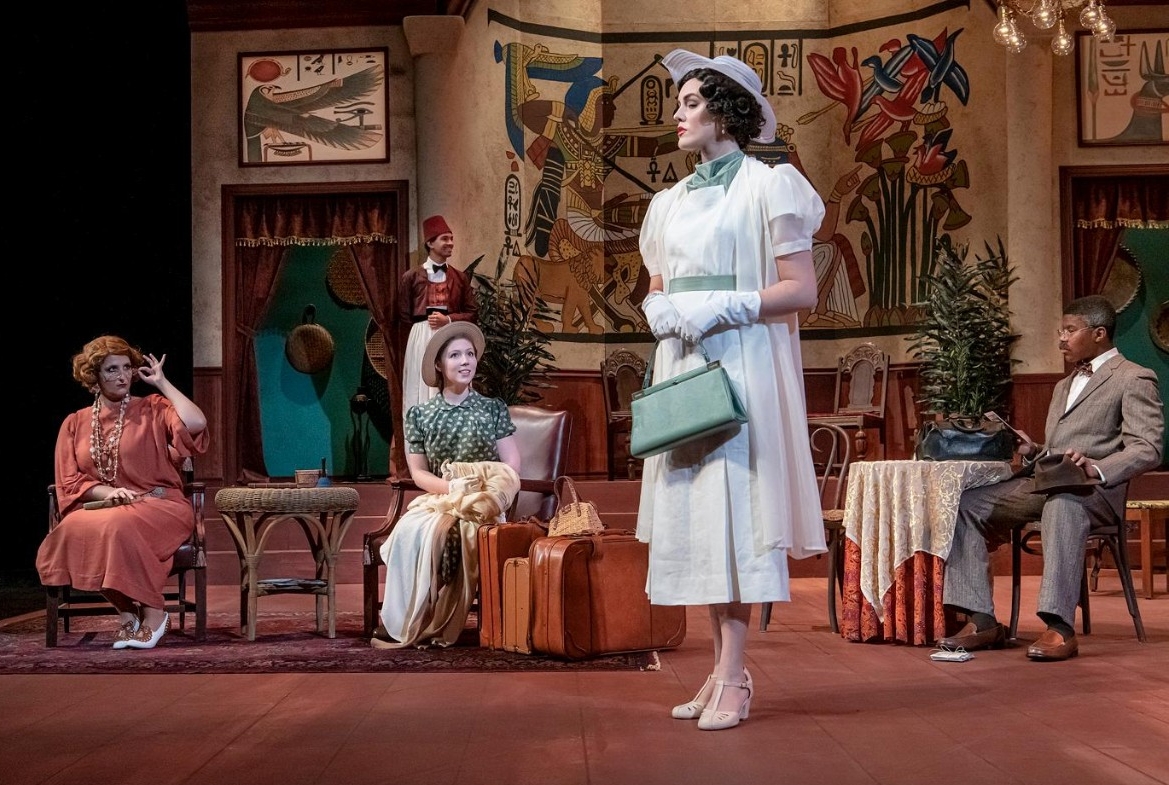 Kay Ridgeway, the play's protagonist, has led a charmed life. Blessed with beauty, enormous wealth, and a new husband, she embarks on a honeymoon voyage down the Nile. Fatal circumstances await when the idyllic surroundings are shattered by a shocking and brutal murder. The tension and claustrophobia builds, as a shocking and audacious conspiracy is laid bare.
The Theatre/Robsham season takes a comedic turn with the main stage production, "Noises Off," Nov. 21-24. Written by English playwright Michael Frayn and directed by Associate Professor of the Practice of Theatre Luke Jorgensen, it has been called "the funniest farce ever written."
"Noises Off" follows a manic menagerie of itinerant actors rehearsing a flop called "Nothing's On." Slamming doors, intrigue both on and off stage, and an errant herring all figure into the plot of this hilarious, classically comic play, organizers note.
From Nov. 14-16, the Boston College Dramatics Society will stage "Pippin" in the Bonn Studio Theater at Robsham. The musical tells the story of a young royal who wants to find passion and adventure in life. Pippin struggles with the decision of whether to settle down and pursue a peaceful life or continue to make magic with a dazzling troupe of performers. With music and lyrics by Stephen Schwartz and book by Roger O. Hinson, the BC production team includes seniors Meg Ellis (director), Conor Ancharski (music director), Bella Gervasini (choreography), and Anabel Johnson (stage manager).
Ticket prices (which include a service fee) for main stage productions are $17 for adults; $12 for students with a valid ID; $12 for BC faculty and staff members (one ticket per ID); and $12 for senior citizens. Bonn Studio productions are general admission; tickets are $12.
More information, including performance times and production teams, at the Robsham Theater website.

—University Communications | October 2019