Works by two master musicians will be celebrated at Boston College this month with Music Department concerts in tribute to Johann Sebastian Bach and Ludwig van Beethoven.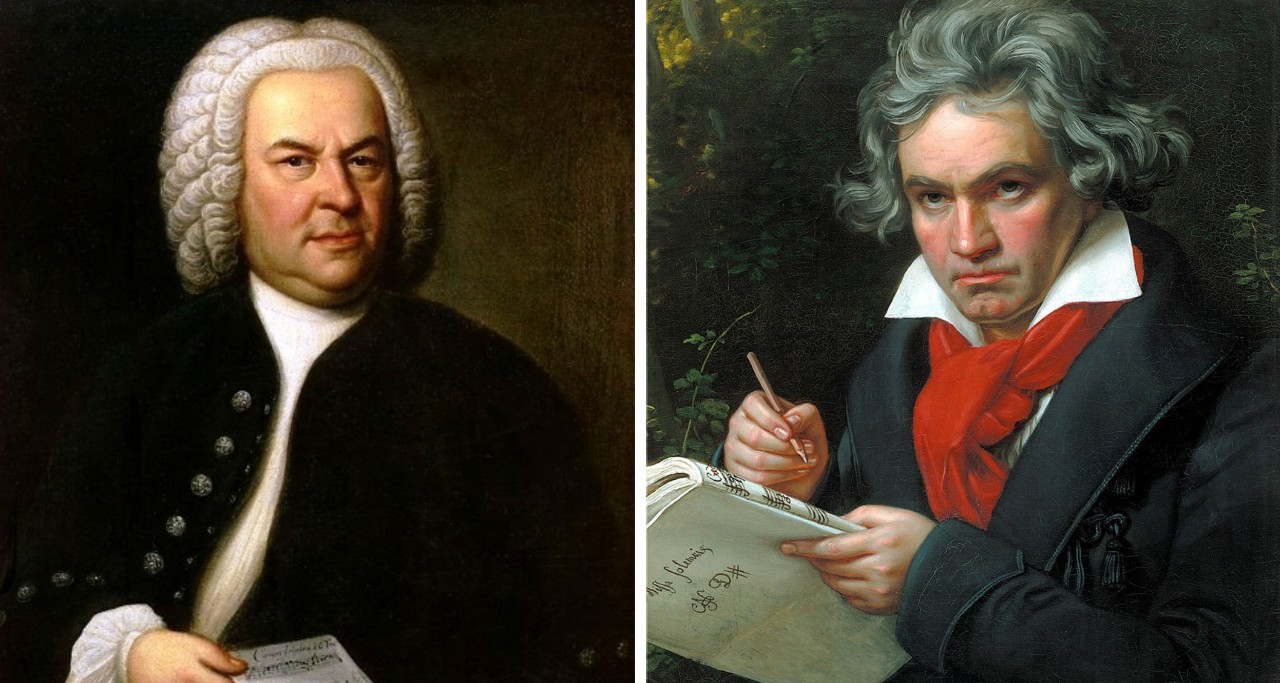 Portrait of Johann Sebastian Bach, by Elias Gottlob Haussmann, 1746; Ludwig van Beethoven by Joseph Karl Stieler, 1820.
Regarded as one of the greatest composers of all time, Bach's works will be showcased on Monday, March 21 at 7:30 p.m. The concert, which commemorates Bach's birthday in 1685 and is co-sponsored by BC's  Jesuit Community, will be held in St. Mary's Chapel. It will feature part-time faculty member Peter Watchorn—an expert on the history of the early music revival during the 20th century, whose areas of specialty include the music of Bach—on harpsichord. Na'ama Lion, well known in the Boston area as a versatile performer on historical flutes, will play baroque flute. They will perform Flute Sonatas in E minor (BWV 1030) and B minor (BWV 1034), and Gustav Leonhardt's transcription for solo harpsichord of the C major violin sonata (BWV 968).
Gasson 100 will be the venue, on Wednesday, March 23, at 7:30 p.m., for "Beethoven 250 + 2." The concert celebrates the iconic Beethoven—one of the most widely recognized and admired composers in the history of Western music—two years after his 250th birthday. The Music Department had planned a series of special events to mark the milestone, prior to the pandemic.
 "The 'Beethoven 250 + 2' is the remnant of the large celebration scheduled for 2020," according to Beethoven researcher Jeremiah McGrann, assistant chair and Music Department associate professor of the practice.
The first of those concerts, he explained, was to include Beethoven's song cycle "An die ferne Geliebte" (To the Distant Beloved) with McGrann on piano and tenor Michael Burgo, former head of music at St. Ignatius Parish and a long-time Music Department faculty member. "We have now surrounded it with other pieces, Beethoven's 'Ghost' Trio (not Beethoven's title) played by [Eastern, Slavic, and German Studies] faculty member and pianist Tony Lin, with BC undergraduates Adrian Lee (violin) and Matt McCahan (cello). Rounding out the program is Shostakovich's Cello Sonata in D minor."
While an "eclectic concert," according to McGrann, who will discuss the works at the event, "the Beethoven pieces are two of the composer's masterworks from his designated Middle Period. The Ghost Trio was written in 1808 alongside the Fifth and Sixth Symphonies and has the power, energy, and sense of evocation typical of those works. 'An die ferne Geliebte' shows Beethoven moving into a more Romantic phase by 1816."  
Though it is appropriate to mark Beethoven's birthday with a concert, "one never needs a reason to perform Beethoven," said McGrann. He noted that there is another Beethoven year in 2027, the 200th anniversary of his death.
 Masks are required at both concerts, which are open to the public, free of charge. For information: concerts@bc.edu.
Rosanne Pellegrini | University Communications | March 2022