Pescadores | Fishermen, 1950. Oil on canvas | óleo sobre lienzo, 24.3 ✕ 30.″ Col. Silvia & Emilio M. Ortiz © Fundación Mariano Rodríguez

The McMullen Museum of Art at Boston College will present the first major United States exhibition on Cuban modernist painter Mariano Rodríguez (1912–90). This retrospective features more than 140 oil paintings, watercolors, and drawings, including works from the artist's estate—which has provided unprecedented access to rarely, if ever, seen works and archives—as well as from leading museums and private collections.
Mariano: Variations on a Theme | Variaciones sobre un tema will be on display through December 5, 2021, in the McMullen Museum's Daley Family and Monan Galleries.
[Members of the BC community will receive an email invitation from the McMullen Museum to attend a Zoom lecture by the curator on  Sunday, September 12, at noon. The museum itself will be open from noon until 5 p.m. ]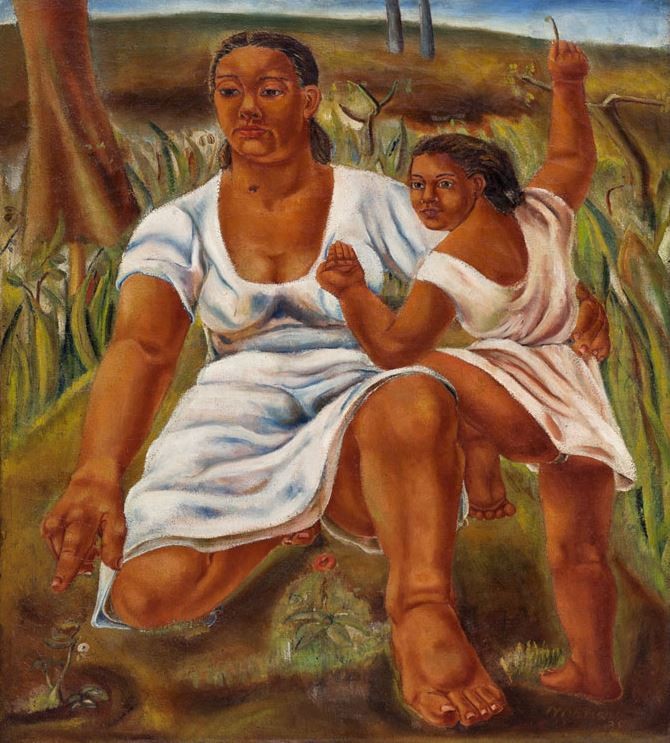 Mariano's allegiance to the Cuban Revolution limited the display of his artworks in America principally to those created before 1959, when he was a member of the Cuban avant-garde.
This exhibition widely expands the artist's known corpus, demonstrating how his dedication to lo cubano—the essence of Cuban expression—and to his evolving stylistic interests from other parts of the world repositioned him as a painter of universal consequence.
"The McMullen Museum is grateful to the Fundación Mariano Rodríguez for collaborating with us on the first retrospective in the United States devoted to the work of the preeminent Cuban artist Mariano Rodríguez," said Nancy Netzer, inaugural Robert L. and Judith T. Winston Director of the McMullen Musuem and a professor art history at Boston College.

"Mariano: Variations on a Theme | Variaciones sobre un tema continues the McMullen's Latin American Art Initiative that examines artists from this area of the world from an interdisciplinary and global perspective," she said, a venture that since 2004 has organized exhibitions on Roberto Matta, Wifredo Lam, Rafael Soriano, and Esteban Lisa.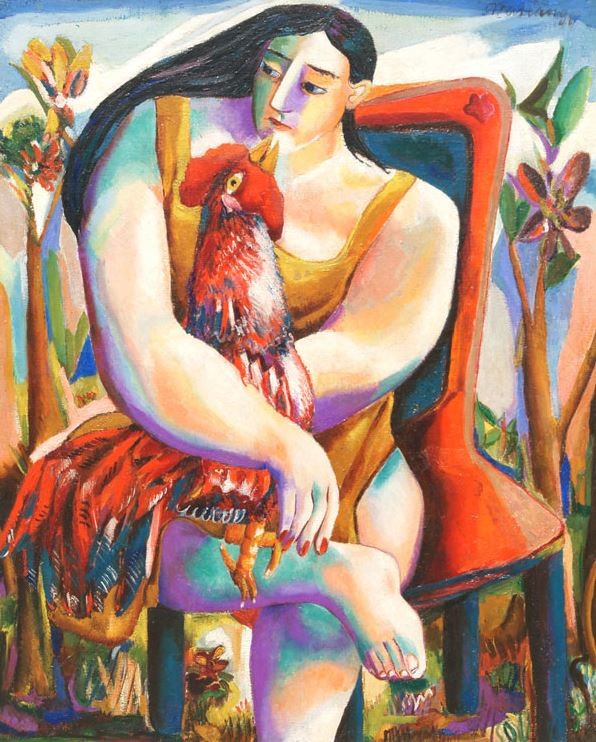 "Variations on a Theme | Variaciones sobre un tema marks Mariano's great reencounter with the North American art world and academic environment," according to Dolores and Alejandro Rodríguez, the children of Mariano Rodríguez and co-presidents of the Fundación Mariano Rodríguez, which collaborated on the exhibition. "Mariano's heirs extend their eternal gratitude to all the McMullen team." 

Mariano's career spanned six decades of the twentieth century—almost the duration of Cuban modernism.
He embarked on his peripatetic life in 1936 when he left Cuba for Mexico to study with painter Manuel Rodríguez Lozano. Mariano belonged to the second generation of Cuban modernists, who first sought to align themselves with Mexico and then to adopt themes of national Cuban identity.
Mariano's Cuban iconography focused on el gallo (the rooster), but he also embraced leitmotifs that included peasants, fruit, vegetation, and marine subjects. In exploring these national themes, Mariano forged distinctive styles that incorporated, in turn, geometric abstraction, abstract expressionism, figuration, and grotesque imagery. Through the grotesque he demonstrated virtuosity in hybridity, signaling a new postmodern orientation. Contextualizing the scope of Cuban modernism in relation to aesthetic movements in the Americas and Europe is fundamental to understanding Cuban artists' quest for creating national artistic identity on the island, according to organizers.
Exhibition sections include: Mexico: The First Stage, 1930s; The School of Paris  in New York City, 1940s; New York's Non-Objective Art, 1950s; The Black  Paintings and the Grotesque, 1960s; and Cuba: The Sensual and the
Idealistic, 1960s­–80s.
Lenders to the exhibition are the Museum of Modern Art, New York; Fundación Mariano Rodríguez, Madrid; Cernuda Arte, Miami; Latin Art Core Gallery, Miami; Pan American Art Gallery, Miami;, and many national and international private collectors, including: Ramón and Nercys Cernuda, Silvia and Emilio M. Ortiz, and Isaac and Betty Rudman.
Elizabeth Thompson Goizueta, an expert on Latin American art and Hispanic studies faculty member at Boston College, serves as the exhibition curator.
"As a scholar of Latin American and Iberian art, literature, and culture, I am thrilled to curate this retrospective on Cuban Mariano Rodríguez at the McMullen Museum of Art," she said. "The extensive talents of twentieth-century Cuban modernists warrant continued examination, and this exhibition marks the third in a series at the McMullen following Wifredo Lam and Rafael Soriano. As historically marginalized artists begin to garner attention in the Western modernist canon, the expansion of these rigid boundaries is due to inclusive dialogue. Through a  bilingual catalogue and didactics, the McMullen Museum hopes to bring Mariano's work to the broadest community possible."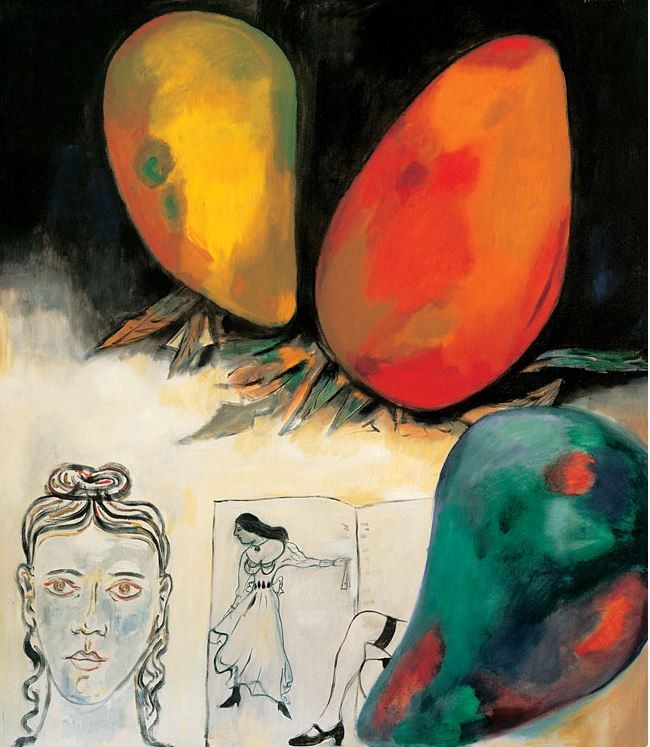 Thompson  Goizueta  edited and contributed to the accompanying catalogue that  includes essays by Alejandro de la Fuente, professor of Latin American  history at Harvard University, and Roberto Cobas Amate, curator of the  Cuban avant-garde collection at the Museo Nacional de Bellas Artes in Havana. Together, the essays consider sixty years of Mariano's career,  illuminating both his roots in traditional forms of Cuban symbolism and  his unique styles that characterize his work beyond lo cubano.
Organized by the McMullen Museum in collaboration with the Fundación Mariano  Rodríguez, the exhibition will travel to Pérez Art Museum Miami in 2022–23. Major support has been provided by Boston College, the McMullen's Latin American Art Initiative, and the Patrons of the McMullen Museum.
"For several years, the McMullen Museum of Art has been at the forefront of the confluence between the American public and important contemporary Latin American masters," according to Dolores and Alejandro Rodríguez.
"Through a series of important exhibitions, the McMullen has brought to light the indisputable existence of a continental  crossroads for twentieth-century visual arts, which provided essential  coordinates for the history of art worldwide. It is an honor for  everyone involved in the research and memory of Mariano Rodríguez's work to be able to present almost sixty years of his artistic career in such an estimable academic context."
The accompanying catalogue delves into Mariano's extraordinary career. With color images of each work in the exhibition and archival photographs from the Fundación Mariano Rodríguez, the volume examines how Mariano explored variations on themes that reappeared and evolved throughout his lifetime..
For information about the accompanying catalog, as well as virtual and in person programming and events related to the exhibition, visiting hours, and more, visit the McMullen Museum of Art website.
Rosanne Pellegrini | University Communications | September 2021