William Trost Richards (1833–1905), Snowy Cliffs, Switzerland, 1900. Watercolor on paper; William Vareika Fine Arts.
The McMullen Museum of Art at Boston College presents four innovative, exclusive exhibitions this fall, including the first monographic examination of the art of nineteenth-century landscape painter William Trost Richards in Boston; the New England debut of Simon Dinnerstein's masterpiece, The Fulbright Triptych; the gritty New York street photography of Alen MacWeeney; and seascapes and landscapes by Mary Armstrong.
The exhibitions will be on view from September 9 through December 8, 2019.
---
The first monographic examination of the art of William Trost Richards (1833–1905) in Boston, this exhibition explores the artist's career, from his earliest sketches and exemplary Pre-Raphaelite technique of the 1860s, to his late masterful seascapes and landscapes. His landscapes come to light within the context of the nineteenth century's burgeoning appreciation for the environment. The exhibition reveals how Richards' works manifest the Romantics' hieroglyphic interpretation of nature, a metaphor embraced by Ralph Waldo Emerson and Henry David Thoreau, and reflect nascent scientific discoveries of contemporary geologists who revolutionized understanding of evolution and history.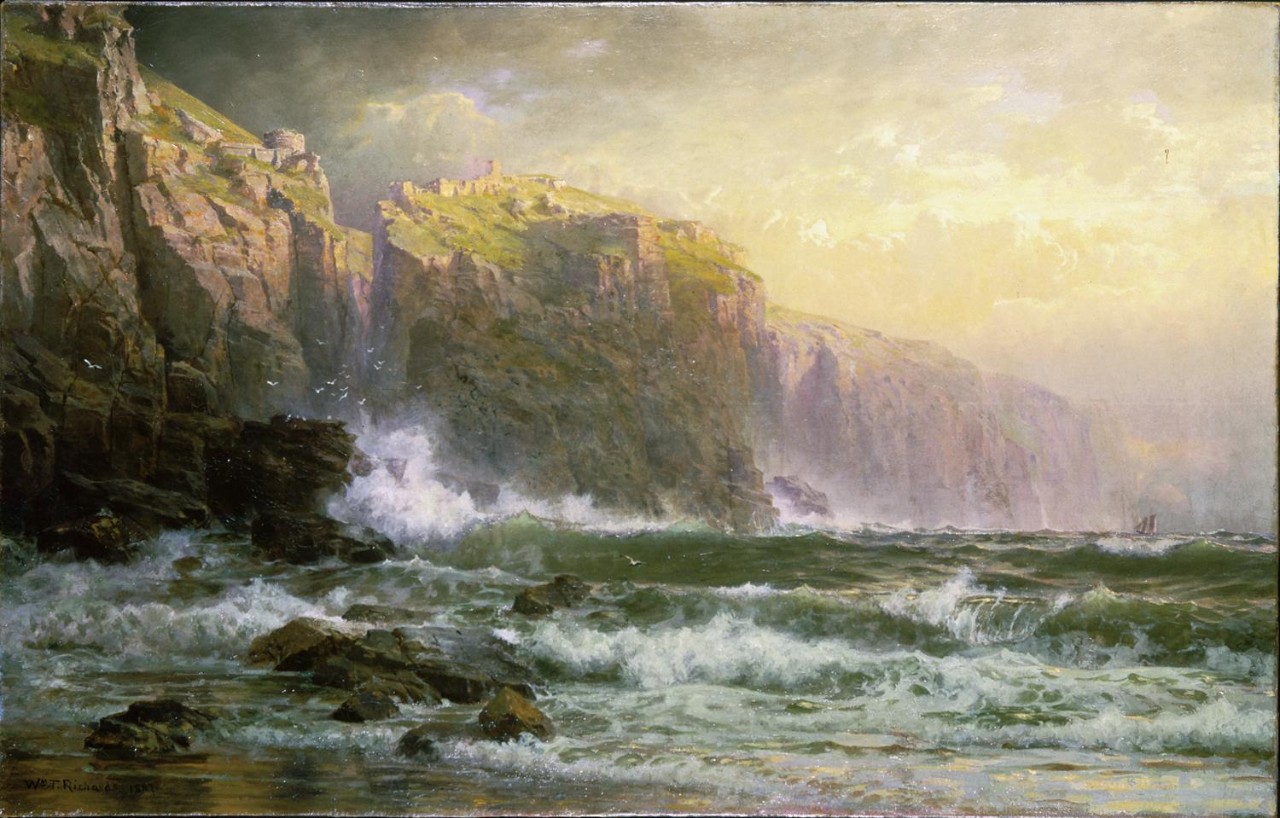 "The possibility of re-examining the career of a significant artist like William Trost Richards in an exhibition with an interdisciplinary team of outstanding scholars and spectacular loans emerges rarely," said Nancy Netzer, inaugural Robert L. and Judith T. Winston Director of the McMullen Museum of Art and a professor of art history at Boston College. "The McMullen is honored to seize this opportunity to share these great works and new discoveries with our audiences."

William Trost Richards: Hieroglyphs of Landscape features more than 190 oil paintings, watercolors, drawings, and sketchbooks, including many drawings loaned by the family of Ellen P. and Theodore Richards Conant (descendants of the artist), 20 of which are promised gifts to the McMullen. In addition to works from the McMullen Museum's collection, loans come from the Bowdoin College Museum of Art; Brooklyn Museum; Davis Museum at Wellesley College; Mark Twain House & Museum; the Metropolitan Museum of Art; Museum of Fine Arts, Boston; Nantucket Historical Association; Pennsylvania Academy of the Fine Arts; Newport Art Museum; William Vareika Fine Arts, and many private collectors.

"The art of William Trost Richards is primed for popular and critical re-evaluation," according to exhibition curator and Boston College Professor Emeritus of Art History Jeffery Howe. "This exhibition explores the different facets of his art and career, highlighting his unique contribution to the development of American art. Stimulating multidisciplinary catalogue essays combine to tell a new story about Richards and the art of landscape in American culture, and explore the ways in which nature and art convey meaning."

Richards' paintings and drawings, Howe adds, "reveal an obsessive concern to depict the external world honestly and with scrupulously observed detail, reflecting the influence of Victorian era English art critic John Ruskin. Radiant with beauty, his landscapes are increasingly relevant for their environmental implications. Richards's life and art were a lifelong quest inspired by the key question posed by Ralph Waldo Emerson (Nature, 1836): ' Every man's condition is a solution in hieroglyphic to those inquiries he would put….Let us interrogate the great apparition, that shines so peacefully around us. Let us inquire, to what end is nature?'"

Howe is editor of the exhibition's accompanying scholarly catalogue, which contains essays by Ethan F. Baxter, Rebecca Bedell, Linda S. Ferber, Howe, and James D. Wallace, who writers probe the artist's background and psychology, illuminating links between his works and the artistic, geologic, and philosophical currents of his era.

Organized by the McMullen Museum, William Trost Richards: Hieroglyphs of Landscape has been underwritten by Boston College with major support from the Patrons of the McMullen Museum and Mary Ann and Vincent Q. Giffuni.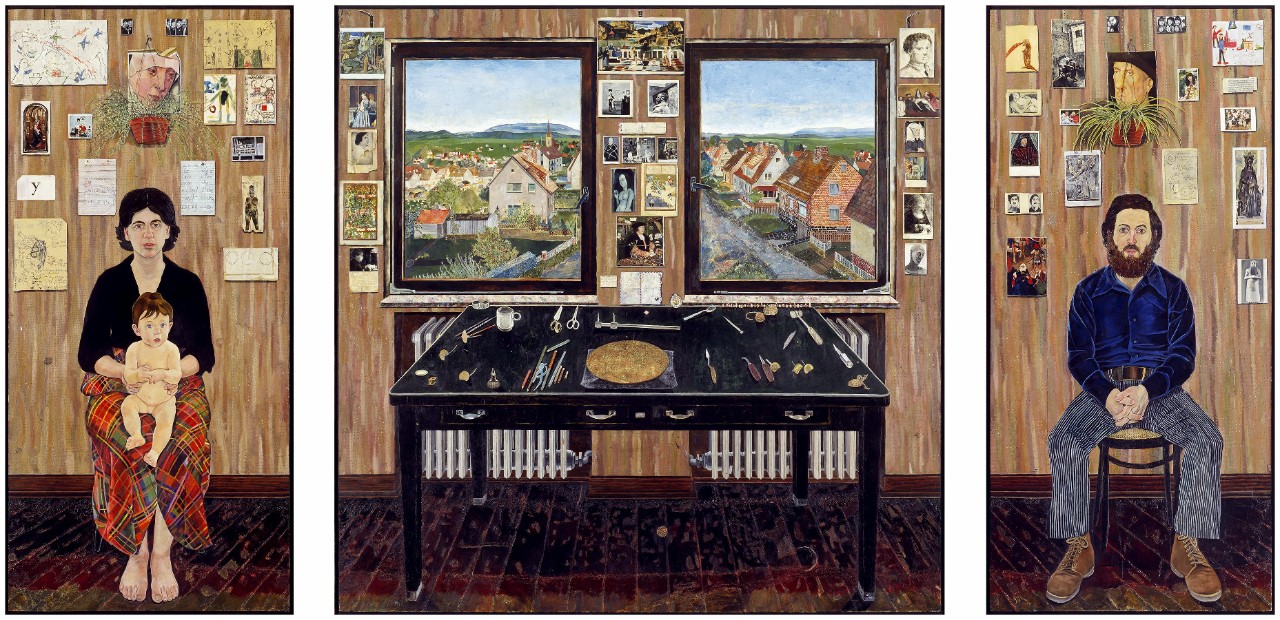 Simon Dinnerstein's The Fulbright Triptych (1971–74) was produced in an era of postwar art when minimalism, video art, and installation dominated the New York scene. At the time, figuration and even painting were out of fashion.

Dinnerstein started the monumental suite, his first foray into the medium, in 1971, while he was in Germany on Fulbright fellowship to study printmaking. Adopting the medieval sacred form of an altar-sized triptych, he substitutes secular and highly personal, idiosyncratic iconography for traditional religious subject matter. In the central panel he features an engraved plate and printmaker's tools below two windows depicting views from his studio in Kassel, Germany. The artist paints himself, his wife, and baby daughter in the side panels. He fills the walls of each panel with details of well-known Old Master paintings, drawings, prints, children's drawings, photographs, quotes, and sketches. Completed in Brooklyn in 1974, the Triptych was deemed by New York Times art critic Roberta Smith to be "a little known masterpiece of 1970s realism," in which the intersection of the personal and the historical prefigured the path that postmodernism would take a decade later.

"Thanks to our colleagues at the Palmer Museum of Art at the Pennsylvania State University, the McMullen is delighted to share Dinnerstein's renowned masterpiece for the first time with a New England audience and to allow visitors to explore the rich artistic heritage that stands behind The Fulbright Triptych's complex iconography," Netzer said.

The Fulbright Triptych is accompanied by an interactive presentation, created by Rachel M. Straughn-Navarro of the Spencer Museum of Art at the University of Kansas, which allows visitors to more fully understand the complex iconography of the work.

Its presentation at the McMullen, curated by John McCoy, has been underwritten by Boston College and supported by the Patrons of the McMullen Museum.


In conjunction with panel discussion organized last fall by BC Professor of the Practice of Photography Karl Baden, titled "When Everyone Has a Camera: Street Photography, the Right to Free Expression, and the Right to Privacy in the Internet Age," the McMullen Museum presents a selection of documentary photographs from its collection. All were made on the streets or in the subways of New York City, one of the world's capitals of the documentary genre known as street photography, one of the past century's most fundamental and pervasive forms of photographic image-making. Producing such images, for the professional artist and hobbyist alike, requires little more than a camera and a comfortable pair of shoes.

Because street photography occurs in a public space, it has been protected as a right to free expression under the First Amendment of the U.S. Constitution. The digital revolution of the past three decades, howeve--marked by social media, the ubiquitous smartphone, and high resolution, affordable surveillance cameras--has blurred the line between public and private spaces. Suspicion and resistance among the general public to being photographed by an unknown individual without permission have increased. At the same time, particularly in urban environments, the public is constantly on camera, surveilled by governmental and corporate entities, from body cams on a police officer's lapels to satellite cameras powerful enough to read license plates. It is these paradoxical issues that the panel and exhibition seek to highlight and debate.

"The McMullen Museum is pleased to present these key works from its permanent collection to encourage dialogue in anticipation of a formal discussion among experts about one of the most pressing questions of our day: free expression versus the right to privacy," Netzer said.

The first section of Alen MacWeeney and a Century of New York Street Photography features MacWeeney's rarely seen subway photographs. MacWeeney took them in the late 1970s with a small, hand-held camera, and printed them recently, through the archival inkjet process, as large-scale panoramas. However, these outsized images are not true panoramas; rather, each print is the sum of joining two photos of conventional 35 mm proportion and printing them as a single panorama. The result is a surreal blend of format and content, approximating the confinement of a subway car.

The exhibition's second section includes images by a diverse group of photographers who took pictures on New York City streets from the 1920s into the 21st century. Walker Evans was the first to create a series of candid photographs in the New York subways, which he later published in a book Many Are Called. Berenice Abbott, Aaron Siskind, Jerome Liebling, and Walter Rosenblum participated in the Photo League, a group that banded together around social causes between 1936 and 1951.

Organized by the McMullen Museum, the exhibition has been curated by Karl Baden with major support from the Patrons of the McMullen Museum.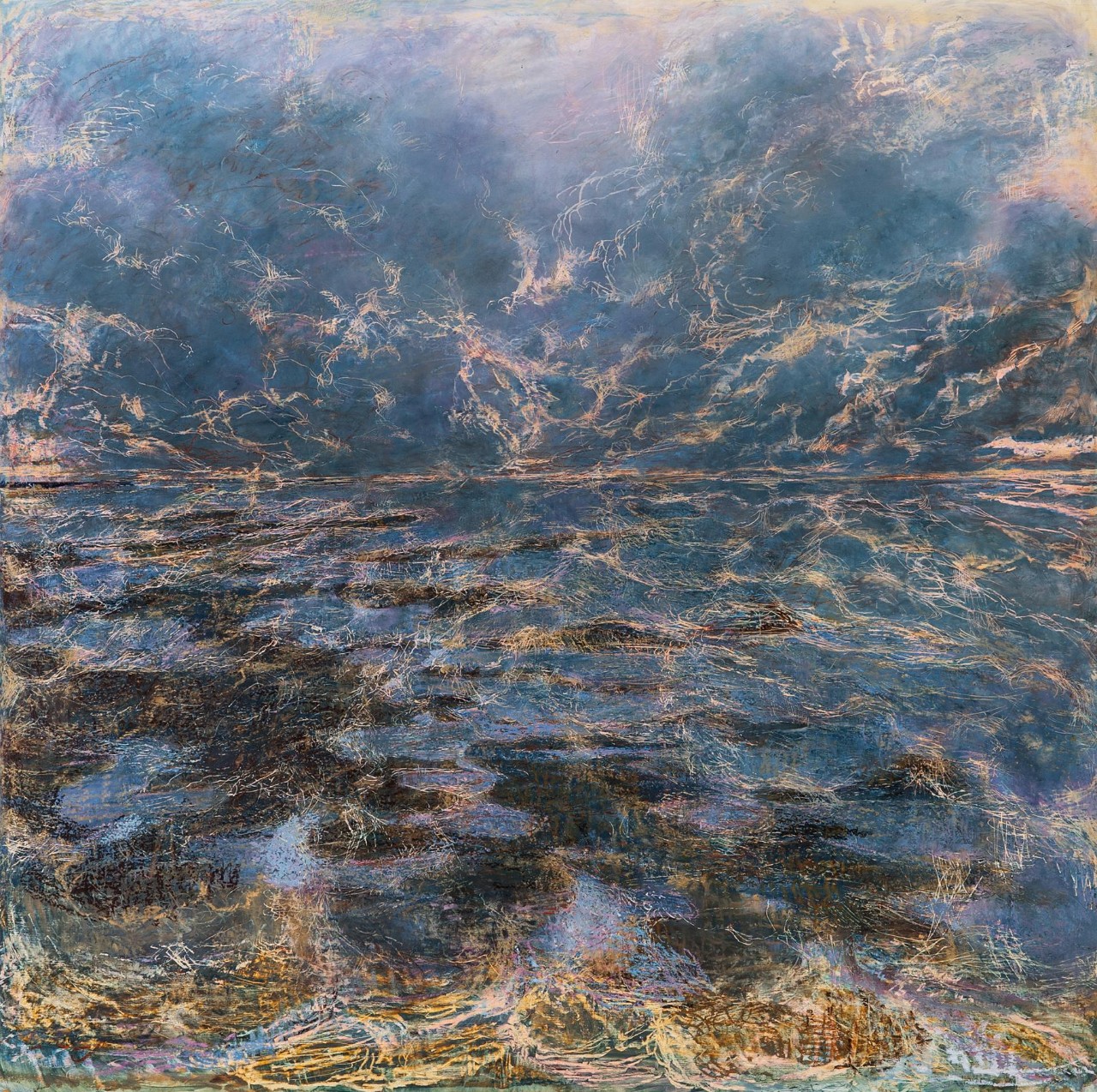 This exhibition presents 23 seascapes and landscapes, painted over the last seven years, in which nature and memory inspire Mary Armstrong's layered, complex compositions. Oil and wax depict forces of nature, both imagined and real, in the seascapes. For Armstrong—who taught painting in BC's Department of Art, Art History, and Film from 1989 to 2019—roiling currents, sunlit estuaries, and particularly rising waves are "a perfect visual metaphor for change, both desired and feared, destructive and regenerative, personal and political."
"The McMullen is pleased to present this outstanding series of recent paintings by acclaimed New England artist Mary Armstrong in dialogue with works by William Trost Richards, an American landscape painter from the nineteenth century," Netzer said.

Armstrong's desert landscapes illustrate the mountain ranges of the Anza-Borrego Desert State Park in California, where she has visited since the early 1990s. In these oil pastels, she replaces tumultuous Maine waters with swirling clouds over the Borrego Valley, capturing the shifting relationship between earth and sky.

Conditions of Faith is accompanied by ane-book with contributions from the artist and Suzette McAvoy, executive director and chief curator at the Center for Maine Contemporary Art in Rockland, Maine. Armstrong divides her time between Georgetown, Maine and Newton, Massachusetts, and exhibits throughout the United States.
The McMullen Museum will offer a wide array of exhibition-related programs and resources for diverse audiences of all ages. For more information, visit the McMullen Museum website.
Rosanne Pellegrini | University Communications | September 2019