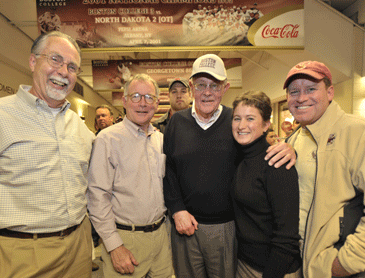 Neenan Challenge: Success and a New Goal. William B. Neenan, S.J., vice president and special assistant to the president (center), was at Conte Forum during the BC men's basketball team's victory over Duke on February 22 to meet alumni and to promote the Neenan Challenge's second phase. The challenge's first phase was a resounding succcess, bringing in more than 5,000 new donors by year-end and a $500,000 gift for financial aid. Spurred by this triumph, the anonymous donors have pledged an additional $500,000 for financial aid if BC can reach a total of 25,000 donors by May 31. Be one of the 11,500 new donors needed to meet the challenge.
Learn more about the Neenan Challenge.
Laetare Sunday: A BC Lenten Tradition

Tickets are still available for the upcoming Laetare Sunday celebration, which will feature Mass at 9:30 a.m., brunch with seating by class, and keynote speaker William B. Neenan, S.J. Join your classmates on March 22 for this special liturgical experience that connects us in a distinctive way as graduates of Boston College. Register now.
Legacy Giving:
Providing for Future Generations
Legacy gifts secure the long-term future of Boston College and allow alumni to leave a lasting impact at their alma mater. These planned gifts are part of a rich philanthropic tradition that dates back to BC's founding and are now part of a key Light the World campaign initiative—with the goal to secure a legacy gift for the University from 5,000 BC alumni, parents, and friends.
Legacy gifts are not only a sound investment in BC, they are a wise investment for donors. Many gifts provide valuable tax benefits or a secure income stream that lasts a lifetime. To learn more, visit the website or contact the Office of Gift Planning at plannedgiving@bc.edu or 888-752-6438.
Pops Tickets on Sale Today!

Tickets are on sale now for the 17th annual Pops on the Heights Scholarship Gala. This spectacular event will be held on Friday, September 25 at Conte Forum on the Boston College campus in conjunction with Parents' Weekend. This year's performance will feature conductor Keith Lockhart, soloist Bernadette Peters, the Boston Pops Esplanade Orchestra and our own University Chorale. Reserve seats today by calling 1-800-767-5591 or visiting the website.
Upcoming Alumni Events
Inside the "Dean's List" with Fr. Neenan — March 5

Alumni and friends are invited to join Fr. Neenan for a lively presentation and discussion of his "Dean's List" of 27 books—his "recommendations for an evening of good reading." To RSVP or for more information, contact alumni.classes@bc.edu. You may also register online.
"Sonnets of Shakespeare" with John L. Mahoney — March 18

Celebrate some of the finest love poetry in the world when Rattigan Professor of English Emeritus John L. Mahoney brings William Shakespeare's words to life. Professor Mahoney will read treasured verses from a selection of Shakespeare's sonnets that he recently released on a compact disc. To attend the reading, contact Julie Nuzzo, NC'74, at 617-552-4577 or julie.nuzzo@bc.edu by Friday, March 13. The event is free and will take place at 7 p.m. in Alumni House.
Alumni Association Volunteer Information Night — April 14

Discover how you can stay connected, engaged, and involved with Boston College at the Alumni Association Volunteer Information Night. Join us for hors d'oeuvres and refreshments at the Boston College Club on Tuesday, April 14, from 5:30 to 7:30 p.m. to learn about specific volunteer and leadership opportunities. For more information, contact alumni.comments@bc.edu or 617-552-4700.
Alumni National Day of Service — April 18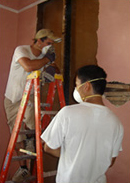 The Alumni Association's fourth annual National Day of Service promises to be the best ever in volunteer participation. More than 24 chapters led volunteer groups last year in an impressive array of worthwhile programs. This year's event will add a new wrinkle: a competitive challenge among the chapters. The Day of Service is an exciting opportunity for all alumni, parents, and friends to show once again that they are making a difference in their communities across the country. More details will follow in the weeks ahead. Visit your chapter website.
Upcoming Spirituality and Service Events
Fear, Finances, and Faith:
Alumni Lenten Evening Series at BC Club

Alumni and friends are invited to a three-person panel discussion that will probe some of the ethical issues and personal faith challenges raised by the current economic crisis. Jack Butler, S.J., director of vocations, New England Province of Jesuits, will lead the first program, and Thomas Massaro, S.J., a professor of social ethics at BC's School of Theology and Ministry, will lead the last two. The series will be held on three Wednesdays—March 11, March 25, and April 8, from 5:30 to 7:00 p.m.—and is free, though space is limited. For reservations, contact Dianne Duffin at 617-552-1171 or dianne.duffin.1@bc.edu.
Service Opportunity for Lent: Cor Unum Meal Center

Looking for a service opportunity this Lent? Join fellow alumni on Friday, March 13, to serve meals at the Cor Unum Meal Center in Lawrence, Massachusetts. The center serves food to nearly 600 people each day. The group will work from 4:00 to 7:00 p.m. To volunteer, contact Dianne Duffin at 617-552-1171 or dianne.duffin.1@bc.edu.
Wall Street Council Tribute Dinner

The 21st annual Wall Street Council Tribute Dinner on April 23 will honor Alfred F. Kelly, Jr., P '09, '11, president, American Express Company, with the President's Medal for Excellence for his exceptional personal and professional contributions to society. Over the past 20 years, the Tribute Dinner has raised more than $12 million dollars for the Presidential Scholars Program at Boston College. For more information, contact Renee LeBlanc at 617-552-2234 or Renee.Leblanc.2@bc.edu.
Voice Your Support for Fellow Eagles
2009 Awards of Excellence Nominations
The Alumni Association is accepting nominations for this year's Awards of Excellence, which will be bestowed upon four alumni. The awards include: the William V. McKenney Award, the highest honor given by the Alumni Association; the Ignatian Award, which recognizes an individual who lives the mission of "men and women for others"; the GOLD Award, given to a graduate of the last decade; and the Alumni Award for Professional Excellence. Visit the website to make your nominations.
Board of Directors: Your Alumni Leaders
Alumni are encouraged to submit nominations for the Boston College Alumni Association Board of Directors. Members of the board serve three-year terms. Please submit the name of any graduate you feel would best serve Boston College and represent its nearly 150,000 alumni. To nominate a BC grad, please complete the nomination form and e-mail it to Maggie Edmonds at maggie.edmonds@bc.edu or fax it to her at 617-552-4626.
Alumni in the News

J. Keith Motley, Ph.D.'99
Rick Canale '93 hit a marketing homerun for his company, Exotic Flowers, by sponsoring the Boston Red Sox. More
As chancellor of the University of Massachusetts Boston, J. Keith Motley, Ph.D.'99, is leading the school's transformation. More
Mary Tomer '03 writes an ad agency–sponsored blog about First Lady Michelle Obama's fashion. More
More news stories about alumni
New Travel Deals Available

The Alumni Association's travel study program offers many adventures through the spring and summer. Substantial savings are available for trips to Dordogne (PDF) and the Italian Lake District (PDF) if booked by April 6 and April 8, respectively. Discover more.
Save the Date: Reunion 2009
Make plans now to join the Reunion Weekend festivities on May 28–31. Reconnect with old friends, attend your class party, and tour the Brighton Campus. More than 5,000 alumni attended last year's celebration; don't miss out! Discover more.
Reconnect: An AHANA Celebration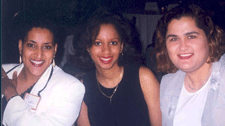 Join alumni and friends such as (from left) Tsedal Beyene, Alycia Sarjeant, and Katty Peña—all members of the Class of 1991—at the AHANA event in July.
All alumni, students, parents, and friends are welcome to take part in Reconnect, which promises to be BC's largest gathering of AHANA alumni, July 17–19. For registration information, corporate sponsorship opportunities, and all general inquiries, please contact Eva Maynard at eva.maynard.1@bc.edu.


BC Connections Event Draws Large Turnout
For more than 10 years, the BC Connections program has brought together BC women undergraduates with alumnae mentors who provide life and career guidance. On February 11, 130 alumnae and students packed the Heights Room to meet each other for the first time over dinner and to enjoy a panel discussion. This year, the program matched 103 pairs, up from 48 last year. More mentors are always needed, however. If you are interested in becoming a mentor, please contact Robert Sherwood at 617-552-3471 or robert.sherwood.1@bc.edu.