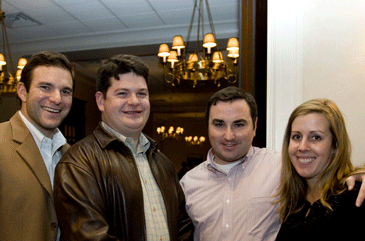 Photograph: Rose Lincoln
A GOLDen Night. More than 200 alumni and friends, including (l-r) Mike Leflar '02, Chris Wilkie '02, John Cotter '02, MBA'12, and Katherine Trainor '05, MA'10, gathered at the BC Club in downtown Boston on December 15 for a GOLD (Graduates of the Last Decade) holiday reception. In addition to celebrating the holidays with one another, attendees viewed a video about the new Light the World campaign and learned how all alumni can build a deeper connection with BC from speakers William Geary '80, campaign co-chair and chair of the Board of Trustees, and Nicole DeBlois '99, co-chair of the Maroon and GOLD young alumni initiative.
Learn more ways you can make a difference as a GOLD alumnus.
The Neenan Challenge Builds Momentum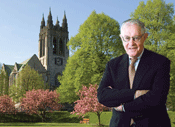 It should be no surprise to hear that such an iconic BC figure as Fr. William Neenan has rallied the BC community towards meeting the conditions of the Neenan Challenge. Since the challenge began in late November, more than 3,000 new donors have contributed. Today, BC is closing in on its goal of 5,000 new donors, which will net a $500,000 gift from generous donors towards financial aid for deserving students. Will you help Fr. Neenan and BC reach this important goal?
Give here through a secure online giving form.
Upcoming Alumni Events
Alumni Day at Men's Basketball — January 10

The Boston College Alumni Association, the Varsity Club, and the Boston Chapter invite you to Alumni Day at Men's Basketball. This special, alumni-only reception will include traditional tailgate fare, special guest speakers, an appearance by the BC cheerleaders and Baldwin, and much more! The event will include a cash bar.
The reception will be 5:00-6:30 p.m. in Power Gym, followed by BC vs. Miami at 7 p.m. in Conte Forum. The cost is $30 for the reception and game, and $20 for the game alone. Click here to purchase tickets.
Financial Workshop — January 21


For the past 20 years, alumnus Rick Shaffer has hosted The Money Show, one of the longest-running financial/investment radio programs in New England. From 6:30 to 8:00 p.m. in the new location, Robsham Theater, he will present his "Financial Rules of Thumb Workshop," a 90-minute, live presentation that covers all aspects of consumer and financial issues, and also includes an interactive question and answer period.
Admission to this workshop is free. To reserve a seat, please click here or call 617-552-4700.
Newton College Book Club — February 2

All alumni are invited to attend a Newton College Book Club meeting moderated by Professor Judith Wilt, Newton College Alumnae Chair in Western Culture, at Alumni House at 7 p.m. Join the group for an enlightening discussion of In This Republic of Suffering: Death and the American Civil War, a book by Drew Gilpin Faust, Harvard University president and social historian, that details the American struggle to comprehend the meaning of the unprecedented carnage of the Civil War.
RSVP by January 29 to Julie Nuzzo, NC'74, at 617-552-4577 or julie.nuzzo@bc.edu. Contact Julie for details about participating by conference call.
Laetare Sunday — March 22
This year marks the 58th anniversary of BC's Laetare Sunday celebration, which will feature Mass at 9:30 a.m., brunch with seating by class, and keynote speaker William Neenan, S.J. Join your classmates for Laetare Sunday—a special liturgical experience that connects us in a distinctive way as graduates of Boston College. Watch for upcoming details in the mail or on the alumni homepage.
Alumni in the News

Carolyn Dever '88
Cofounders Greg Boesel, JD'98, MBA'99, and Mark Hexamer, JD'98, MBA'99, along with Jack O'Hurley '08, are successful Internet marketers with Swaptree.com, a website allowing users to trade goods with one another. More
Carolyn Dever '88 is the new dean of the College of Arts and Science at Vanderbilt University. More
Matt Ryan '07 has been named 2008 NFL Offensive Rookie of the Year for leading the Atlanta Falcons to the playoffs. More
Craig Smith '06 is logging major minutes for the Minnesota Timberwolves since Kevin McHale took over as head coach in mid-December. More
More news stories about alumni
BC Career Center Seeks Alumni Volunteers
The Boston College Career Center is seeking assistance from successful alumni in an effort to support BC undergraduates in their job search efforts. As the country faces challenging financial times, the job market for recent graduates is, and will continue to be, increasingly competitive, say Career Center representatives.
To learn more about how to get involved and give back to the place that supported you as an undergraduate, read this letter (PDF) from the Career Center.
Making a Difference: The Alumni Career Network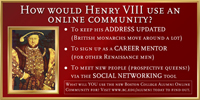 In today's difficult economic climate, there might be no better time than now to tap into the Alumni Career Network on the Alumni Online Community. You will find thousands of alumni working in a wide range of occupations available for career advice and assistance. But more are always needed and you are invited to register as a career advisor. Conversely, if you are registered as a career advisor and no longer want to be one, please log into the online community and change your status.
Log into the Alumni Online Community.
First-time users register here.
Your Eagle ID is:
New Year's Resolution: Voyage with Alumni

In the New Year, the Alumni Association's travel study program is offering an array of exciting adventures, including a journey through Europe, a walking tour of Ireland, and an exploration of Peru's treasures. Discover more.
Winter Wonderland Draws Huge Turnout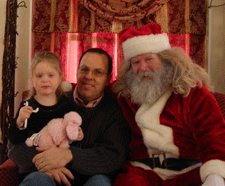 William James Mastin, Jr., MS'99, MA'06, and his daughter share a moment with Santa, one of the many entertainers at Winter Wonderland.
Winter Wonderland, the Alumni Association's marquee holiday celebration, attracted more than 1,400 alumni, family, and friends to the Newton Campus on December 13. Event-goers were treated to festivities, including a petting zoo, strolling carolers, crafts, and horse-drawn carriage rides.
View more Winter Wonderland photos.
BC Tech Council Hosts Massachusetts Governor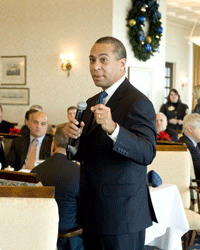 Massachusetts Governor Deval Patrick was a guest speaker at a recent Tech Council breakfast.
Established in 2001, the Boston College East Coast Technology Council aims to support BC in its endeavor to be a significant leader in the business of technology. On December 4, the Council hosted a breakfast featuring Massachusetts Governor Deval Patrick at the BC Club in downtown Boston. The event drew approximately 100 alumni and friends. Patrick discussed the importance of keeping technology companies in Massachusetts, the viability of casinos, and the key relationship between technology and education. Learn more about the Tech Council.
Reconnect: An AHANA Celebration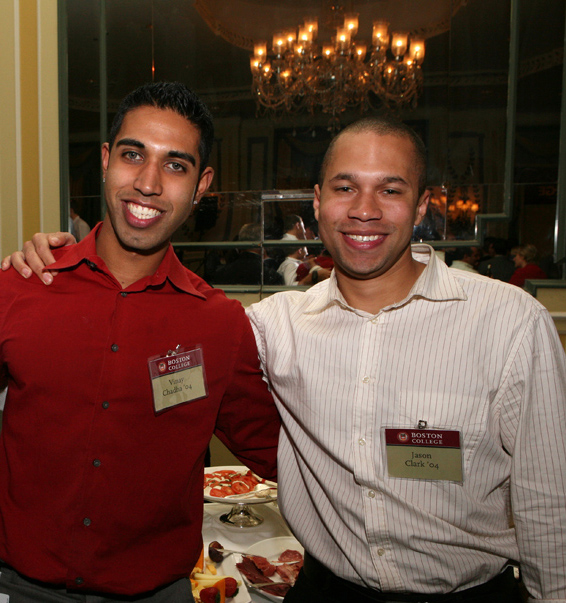 Join alumni and friends such as Vinay Chadha '04, MS'05, (left) and Jason Clark '04 at the AHANA event in July.
All alumni, students, parents, and friends are welcome to take part in Reconnect: the largest gathering of AHANA alumni, July 17–19, 2009. For registration information, corporate sponsorship opportunities, and all general inquiries, please contact Eva Maynard at maynarde@bc.edu.