Veterans Memorial Dedication. Veterans Day at BC was marked November 11 by the dedication of a memorial to the 209 alumni who lost their lives while serving in the U.S. armed forces during wartime. More than 200 veterans and others gathered on the Burns Library lawn for ceremonies that included BC military cadets reading the names of those listed on the low granite memorial; a blessing of the memorial by University President William P. Leahy, S.J.; and a speech by retired Marine Corps Gen. John J. Sheehan '62, P'97. Construction of the memorial was spurred by a committee co-chaired by Vietnam veterans Paul Delaney '66, P'99, and Paul Lufkin '64. BC Chronicle. Videos: highlights (YouTube); full event (45 minutes). Veterans Memorial website. Photos (Facebook).
Encouraging and Honoring Alumni Participation
BC alumni, fresh off meeting the Neenan Challenge that produced a record number of donors and $1 million in new financial aid funds last year, have additional opportunities to establish giving records and generate millions more for financial aid.
The same anonymous donors who provided $1 million for financial aid once gifts from 26,345 undergraduate alumni were secured last year—exceeding the 25,000 goal—have established the Alumni Participation Challenge, which runs throughout the Light the World campaign. While the campaign objective is 40,000 undergraduate alumni donors giving annually by 2015, achieving yearly targets will trigger the release of $500,000 gifts each year, reaching an overall maximum of $3 million by 2015. More
In recognition of the value of sustained support at any level, the University has established the William B. Neenan, S.J., Society, which recognizes alumni who make annual gifts of any amount in consecutive years. Charter members of the Neenan Society are those undergraduate alumni who made a gift last year and renew that commitment this year. More
Reunion 2010 Kickoffs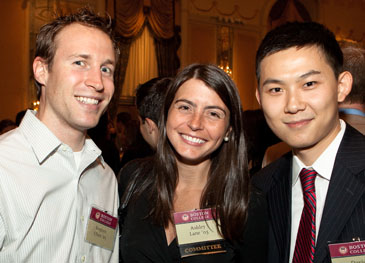 Reunion encompasses more than only a weekend at the Heights, as hundreds of alumni demonstrated at Reunion 2010 kickoff events in Boston and New York City this fall. Joining members of reunion classes at the New York City kickoff September 29 were, from left, Stephen Oben, Ashley Lane, and David Xin Li, all members of the Class of 2005.
Reunion Weekend 2010 is June 4–6. Visit the Reunion website for updates on it and related activities.
Upcoming Alumni Events
Wall Street Council Market Perspectives Panel and Networking Session — December 2
The first Boston-area market perspectives panel and networking session will be held Wednesday, December 2, 5:00 p.m., at Silver Bridge Advisors, 26th Floor, 60 State Street, Boston. Contact wsc@bc.edu for more information.
West Coast Technology Council Panel — December 3
Examine the impacts and future of social networking at a panel discussion and reception, Thursday, December 3, at the Westin Saint Francis in San Francisco. Registration begins at 6:30 p.m., panel discussion at 7:00 p.m. Learn more and register.
'Transition to a Green Economy' — December 3
Alumni in the Washington, DC-Baltimore region are invited to a panel discussion and networking event Thursday, December 3. "Transition to a Green Economy" is sponsored by the Washington, DC, and Baltimore chapters, the Alumni Association Career Services Committee, and the Boston College Energy and Environment Alumni Network. Learn more and register.
Christmas Chorale Concert and Reception — December 4

Join the Boston College Alumni Association for this joyous Christmas tradition Friday, December 4, 8:00 p.m. at Trinity Chapel on Newton Campus. Tickets are $25 per person and include a post-concert dessert reception at Alumni House. To RSVP, click here. Contact the Alumni Association at alumni.comments@bc.edu or 617-552-4700 for more information.
The Real Estate Council Symposium — December 10
A symposium on "The Real Estate Market: One Year Later" will take place Thursday, December 10, 3:00 p.m., at Robsham Theater. For more information, visit The Real Estate Council website www.bc.edu/trec.
Winter Wonderland — December 12


Join the Alumni Association for this magical holiday celebration for the whole family, Saturday, December 12, 11:00 a.m.–3:00 p.m. Festivities will include photos with Santa, stories with Mrs. Claus, holiday crafts for children, and much more. Learn more and register.
Alumni Mass with the Jesuits - December 13
The Campion Jesuit community welcomes BC alumni to attend Mass at 10 a.m., Sunday, December 13, at the Campion Center, 319 Concord Road, Weston. There will be an informal reception following Mass. Please join fellow alumni in reconnecting with Jesuits whom as students you came to know and make new acquaintances among the Campion Jesuit community. To RSVP, contact Gail Darnell at gail.darnell@bc.edu.
Alumni Day at Men's Basketball - January 16
The Boston College Alumni Association and the Varsity Club invite you to join us Saturday, January 16, for Alumni Day at Men's Basketball. This special alumni reception, which begins at 2 p.m., will precede the BC-Maryland game and will include traditional tailgate fare, cash bar, special guest speakers and appearances by the BC cheerleaders and Baldwin, and much more! Tickets for the reception and game are $35; for the reception only, $20. Click here to register.
Upcoming Spirituality and Service Events
Advent Series: "A Time for Renewal and New Things" — December 2, 9, and 16
Sponsored by the Alumni Association and The Church in the 21st Century Center (C21), the following evenings of sharing and reflection at the BC Club are open to all. All take place 5:30–7:00 p.m.

December 2: Jim Fleming, S.J., will share what's new from the results of a recent survey of BC students. Come hear what was gleaned about student life at BC today. Register online.

December 9: Todd Kenny, S.J., was recently ordained. Come hear the insights of this new priest. Register online.

December 16: John Wronski, S.J., is headmaster of Nativity Preparatory School in Boston. He will share good news about this amazing school that continually renews its students and the community. Register online.

Click here to register for the Advent Series.

Calling BC Alumni to March for Life — January 22
Plan now to join a contingent of Boston College alumni in Washington, DC, for the annual March for Life and to attend a special alumni reception at the Pope John Paul II Cultural Center. For more information, click here (pdf) or e-mail Rosemary Maffei '02 at rosemary.maffei@gmail.com.
Alumni Travel: Early Booking Deadline
Don't miss the December 11 early booking deadline for free air and "2-for-1" fares for the Best of the Aegean and Greek Isles Oceania Cruise. The September 21–October 2, 2010, itinerary includes spectacular sites in Turkey and Greece. Visit the travel website for details on this cruise and the full listing of 2010 travel study programs.
Alumni in the News

Setti Warren '93
Setti Warren '93, former UGBC president and former aide to U.S. Senator John Kerry, JD'76, was elected mayor of Newton, Massachusetts. Warren is the first African-American to be elected to the post. More
James Reinhart '01 and Oliver Lubin '01, co-founders of the online clothing store thredUP were among those featured in the Boston Globe's "most stylish Bostonians." More
Andrea Cohen, MSW'84, received the 2009 Greater Boston Chamber of Commerce Pinnacle Award for achievement in entrepreneurship. She is co-founder and CEO of HouseWorks, Inc., a private-pay homecare company. More
More news stories about alumni
BC Athletics Update
Hockey and Basketball Tickets on Sale


Tickets are on sale for men's hockey and men's basketball. Give the gift of BC Athletics this holiday season. Individual game tickets for men's and women's basketball and men's hockey are available. Special flex packs are available for Duke and UNC for men's basketball and BU for men's hockey. Check bceagles.com for promotional dates for all winter sports. Click here or call 617-552-GoBC to purchase your tickets.