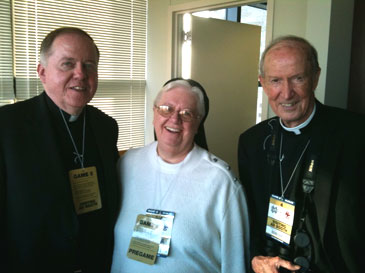 Notre Dame Weekend. Hundreds of BC fans gathered in South Bend, Indiana, on October 24 to watch the last scheduled appearance of the Eagles in Notre Dame Stadium. Sister Barbara Anne Hallman, resident of a convent near South Bend and otherwise a Notre Dame fan, was there to cheer on a particular BC player. Sister Barbara Anne, a cancer survivor, has befriended BC linebacker Mark Herzlich '10 during his bout with cancer, sending frequent letters to buoy his spirits and to convey her prayers and those of others for his recovery. The relationship was featured in an ESPN video. During the BC-ND weekend, she met Herzlich for the first time as well as University President William P. Leahy, S.J., and Chancellor J. Donald Monan, S.J. (pictured above).
2009 Alumni Awards of Excellence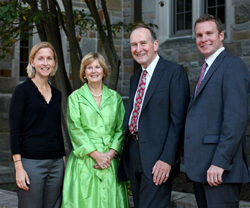 (From left) Elizabeth McCartney '94; Susan Power Gallagher NC'69, P'00; Henry I. Smith, MS'60, PhD '66; and Timothy Burke '02.
At the recent Alumni Awards of Excellence ceremony, the Alumni Association honored four graduates for contributions to their professions, to the University, and to society.
Susan Power Gallagher NC'69, P'00, received the William V. McKenney Award, the highest award bestowed by the Alumni Association. As president of the Alumni Association 2005-06, she was the fourth woman and first graduate of Newton College to hold that post. More
Elizabeth McCartney '94 was recognized with the Ignatian Award for her work as co-founder of the St. Bernard Project, which restores housing and provides other services to victims of Hurricane Katrina in New Orleans. More
Henry I. Smith, MS'60, PhD'66, is professor of electrical engineering at MIT and an internationally recognized pioneer in nanoscience. He received the Alumni Award for Professional Excellence. More
Timothy Burke '02 was presented the GOLD ("graduates of the last decade") Award for his leadership in advancing education for disadvantaged youths in New York City and East Palo Alto. More
Enjoy an audio slideshow from the event.
Favorite Places on Campus: Alumni Stories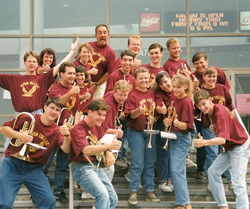 Jeff Pelletier '94 (front, far right) and his BC bandmates on the Conte Forum steps.
In last month's newsletter, Bernie O'Kane '70, MEd'72, MA'05, director of employee development at BC, shared two of his favorite places on the Heights in a short audio slideshow. Read about the favorite campus spots of four more alumni.
Share your stories, photos, or videos of the places on campus that bring back special memories at uacommunications@bc.edu. If you missed Bernie's slideshow last month, here it is again.
BC in Ireland and England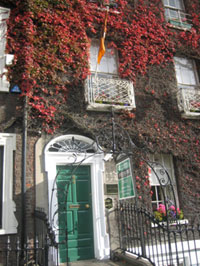 Boston College-Ireland, Dublin
Members of the BC communities in Ireland and England gathered in October, greeting Father Leahy and other University visitors. Forty alumni and friends hosted Father Leahy at a reception in Dublin on October 10 at Boston College-Ireland, the University's facility on St. Stephen's Green. Father Leahy celebrated Mass for a similar number the following day at Belvedere College S.J. in Dublin. Thanks to Thea Gilien, Claire McGowan, and Mike Cronin at BC-Ireland and Ireland chapter leaders Bryan Mattei '06 and Lynda Stopford, MA'01, for their assistance. Eighty alumni and friends gathered to hear Father Leahy on October 12 in London. The reception was held at the Sloane Club. Thanks to Richard Metz '99 and Edward Frazer '68, P'10, for making the London arrangements.
For more chapter events, click here.
Upcoming Alumni Events
Boston Chapter Community Service Kickoff — November 3

Learn more about opportunities to join Boston-area alumni in helping others at a Boston Chapter community service kickoff event Tuesday, November 3, 6:30—8:30 p.m., McFadden's Restaurant and Bar, 148 State St., Boston. Click here for more information.
Boston College Law Enforcement Alumni Network Reception — November 7

The Boston College Law Enforcement Alumni Network will host a reception prior to the BC-Northeastern men's ice hockey game Saturday, November 7. At the reception, guests will hear about the network's mission and goals. Registration is $25 per person. Register here. For more information, contact Eva Maynard at 617-552-4757 or eva.maynard.1@bc.edu.
Alumni Memorial Mass - November 8

All alumni, parents, and friends are invited to attend the annual Alumni Memorial Mass to honor the memory of all deceased alumni at 11:00 a.m., Trinity Chapel, Newton Campus. A complimentary light lunch reception will follow. Register here.
Veterans Memorial Mass and Dedication — November 11


On Veterans Day, Wednesday, November 11, Boston College will dedicate a permanent memorial to alumni who died in the line of duty during America's military conflicts. The day will include a Mass celebrated by University President William P. Leahy, S.J., and a ceremony adjacent to the new memorial on the Burns Library lawn. All members of the BC community are invited to attend. Learn more and register.
Planning for Success: A Parents' Guide to Estate Planning, Life Insurance, and College Funding — November 12

Navigating the estate and financial planning process can be challenging—especially for parents of young children. This session, led by attorney and financial planner Frank Sennott '77, MBA'81 on Thursday, November 12, will help you begin or jump-start your planning process. Learn more and register.
The Council for Women of Boston College: Continuing the Journey — November 16

This career and networking program on Monday, November 16, is designed for alumnae navigating their way back into the workforce or looking for a career change. Learn more.
Alumni Athletes Network Inaugural Reception — November 21

The Alumni Athletes Network will host its inaugural networking reception prior to the BC-North Carolina football game Saturday, November 21. At the reception, alumni athletes will have an opportunity to connect with former teammates and friends and to learn about available volunteer opportunities. Register here. For more information, please contact Eva Maynard at 617-552-4757 or eva.maynard.1@bc.edu.
Wall Street Council Perspectives Panel and Networking Session — December 2

The first Boston-area market perspectives panel and networking session will be held Wednesday, December 2, 5:00 p.m. at Silver Bridge Advisors, located on the 26th Floor, 60 State Street, Boston. Contact wsc@bc.edu for more information.
Christmas Chorale Concert and Reception — December 4

Join the Boston College Alumni Association for this joyous Christmas tradition Friday, December 4, at 8:00 p.m. at Trinity Chapel on Newton Campus. Tickets are $25 per person and include a post-concert dessert reception at Alumni House. To RSVP, click here. Contact the Alumni Association at alumni.comments@bc.edu or 617-552-4700 for more information.
The Real Estate Council Symposium — December 10

The symposium will take place Thursday, December 10, at Robsham Theater at 3:00 p.m. Guest speakers and panelists will be announced soon. For more information, visit the Real Estate Council website www.bc.edu/trec.
Winter Wonderland — December 12


Join the Alumni Association for this magical holiday celebration for the whole family, Sunday, December 12. Festivities will include photos with Santa, stories with Mrs. Claus, holiday crafts for children, and much more. Learn more and register.
Upcoming Spirituality and Service Events
Ignatian Family Teach-In for Justice — November 20–22

Join fellow alumni for the Ignatian Family Teach-In for Justice (IFTJ) in Columbus, Georgia. To join the BC alumni contingent, contact John Moynihan '64 at 781-598-8981 or moynihan_john@hotmail.com. For more information, visit the website.
Advent Series: "A Time for Renewal and New Things" — December 2, 9, and 16

Sponsored by the Alumni Association and C21, the following evenings of sharing and reflection at the BC Club are open to all. All take place 5:30—7:00 p.m.

December 2: Jim Fleming, S.J., will share what's new from the results of a recent survey of BC students. Come hear what was gleaned about student life at BC today. Register online.
December 9: Todd Kenny, S.J., was recently ordained. Come hear the insights of this new priest. Register online.
December 16: John Wronski, S.J., is headmaster of Nativity Preparatory School in Boston. He will share the good news about this amazing school that continually renews its students and the community. Register online.
Click here to register for the Advent Series.

Calling all BC Alumni to March for Life — January 22

Plan now to join a national contingent of Boston College alumni in Washington, DC, for the annual March for Life and to attend a special alumni reception at the John Paul II Center in DC. For more information, e-mail Rosemary Maffei '02 at rosemary.maffei@gmail.com.
Alumni Service Trip to Jamaica — January 23—30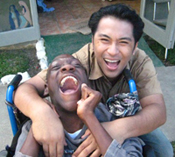 Rodney Alberto '01, JD'04, laughs with a friend from the Mustard Seed Communities during an alumni immersion trip in 2008.
Alumni are invited on a service trip to Jamaica to help abandoned and physically disabled children at the Mustard Seed Communities, founded by Fr. Gregory Ramkissoon, MA'81, '82. For over 25 years, Mustard Seed has served these children and those with HIV/AIDS and expanded its outreach to children in the Dominican Republic, Nicaragua, and Zimbabwe. Learn more (PDF).
1986 Mini–Reunion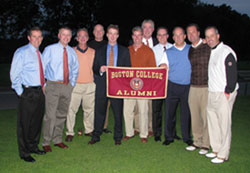 (From left) Don Turner, Steve Walsh, Jere Doyle, Dan McLaughlin, Ed McCarthy, Paul Driscoll, Kevin Kenny, Drake Behrakis, Dave O'Connor, Paul Norton, and Peter Bell.
The Class of 1986 held a mini-reunion October 2–4. The committee organized a golf tournament, cocktail reception and dinner, BC-Florida State football game reception, and a memorial Mass. Members of the class from as far away as California returned for the events.
Alumni Travel: New Destinations Offered

Several new and exciting destinations await alumni travelers in 2010, including Croatia's Riviera, Egypt, and South Africa. Book by December 1 for substantial savings for the April 13-21 trip to Provence (PDF). Visit the website for the full listing of 2010 programs.
Alumni in the News

Alex Sanchez '90
Kieran Jordan '96 is a Boston-based performer, teacher, and choreographer of Irish dance. More
Paul Mahoney '57, owner of Mahoney's Garden Centers, has been farming and such for 50 years. More
Alex Sanchez '90 is Maryland's new secretary of labor, licensing, and regulation. More
More news stories about alumni
BC Athletics Roundup
Football FanFest on the Road

Please join the Eagles on the road this fall by registering for the official Boston College tours and tailgates. Our tours include accommodations, game tickets, exclusive Boston College events, and more! Learn more.
Hockey and Basketball Tickets on Sale


Tickets are on sale for men's hockey and men's basketball. Season tickets for men's basketball start at $250. For men's hockey, a BU ticket "flex plan," which includes a ticket to the Boston University game at Conte Forum and tickets to two other games of your choice, is available for $65. Selected single game tickets are also available. Click here or call 617-552-GoBC to get your tickets today. View preview videos of men's hockey and men's basketball.
Football tickets on Sale

Tickets are still available for the BC-North Carolina game on November 21. Click here.