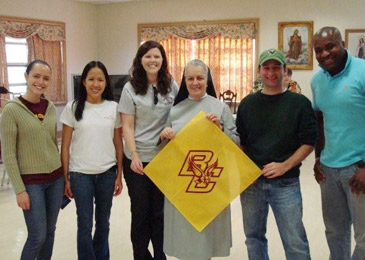 National Day of Service. On April 19, thousands of BC graduates and their families and friends participated in volunteer projects across the country to benefit their local communities during the third annual Boston College Alumni Association National Day of Service.

Pictured above, members of the Dallas Chapter, (from left) Ursula Rodriguez '06, Mai-Linh Lai '05, Kathleen Kearney '00, Chris Melella '00, and Anwar Graves '06, served coffee and snacks to the residents of St. Joseph's Residence, run by Sister Imelda Sanchez (holding BC banner), before hosting two rounds of bingo.

Please send photos and stories of what made your National Day of Service memorable to Alumni Connections at uacommunications@bc.edu.
GOLDen Opportunity: New Website Launched for Recent Grads

GOLD (Graduates of the Last Decade) alumni now have their own website to stay connected to all things BC. Tailored to the specific interests of recent graduates, the site features free BC downloads and other bonuses, while providing a one-stop resource for opportunities to stay connected to BC.

View the newly launched Maroon & GOLD website.
Upcoming Alumni Events
Newton College Book Club: The Art of Comparison — May 12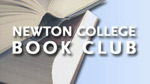 Newton College alumnae and members of the Lifelong Learning Institute (LLI) are invited to attend a book club meeting moderated by Professor Judith Wilt to compare two works of feminist literature: Doris Lessing's novel, The Memoirs of a Survivor, and Charlotte Perkins Gilman's short story, The Yellow Wallpaper. Gilman's story can be read here.
The meeting will occur on Monday, May 12, at 7:00 p.m. at Alumni House. If you wish to attend, RSVP to Julie Nuzzo, NC'74, at 617-552-4577 or julie.nuzzo@bc.edu by Thursday, May 8. If you wish to participate by conference call, please contact Julie for more details.
Rite of Spring: Family Night at the Pops — May 16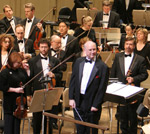 On the occasion of the University's 132nd Commencement, the entire Boston College community is invited to attend a special evening of music and celebration with the Boston Pops. It's the perfect opportunity to reconnect with fellow alumni and friends to see these internationally renowned performers. Tickets are still available for the May 16 performance, which will be held at Boston's Symphony Hall.
Purchase tickets and read more.

Finding Your Pathways: Young Alumni Retreat — June 13-15

Do you ever wonder where your life is headed? The Pathways retreat offers Boston College alumni who have graduated within the past 10 years an opportunity to return to campus and consider their path since graduation. The retreat is limited to 30 participants, so apply early. For more information, or to register, contact Dianne Duffin '63 at 617-552-1171 or duffindi@bc.edu or Dan Leahy '82 at 617-552-3478 or leahyd@bc.edu.
Eagles in Ireland: European Alumni Weekend — June 27-29

The Boston College Alumni Association is planning a first-ever European BC Alumni Weekend in Dublin, Ireland, from Friday, June 27, to Sunday, June 29. The weekend will provide BC alumni with an opportunity to receive updates on the state of the University, connect with fellow alumni in Europe, and enjoy the cultural settings and surroundings of Dublin. Learn more.
Alumni in the News

Kerry Nee-Clasby '81
Katherine Adam '07 turned her senior thesis into the book The New Feminized Majority: How Democrats Can Change America with Women's Values, which hit bookstores nationwide last month. More
Deirdra Grode '99, a teacher at the Hoboken Charter School in New Jersey, received the 2008 Outstanding Young Educator Award from the Association for Supervision and Curriculum Development. More
Kerry Nee-Clasby '81 is a produce forager who hunts for local fruits and vegetables throughout California that she then sells to superstar chefs and restaurants from Los Angeles to San Francisco. More
More news stories about alumni
20 Years of Memories:
Wall Street Council Tribute Dinner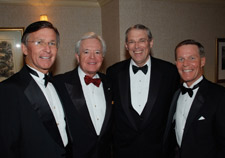 From left: Richard F. Powers III '67, P'07, Robert Devlin, P'88 '90, Geoffrey Boisi '69, P'11, and John Joseph Powers '73, P'10 '10.
Approximately 800 alumni, family, and friends of the University attended the 20th anniversary of the Boston College Wall Street Council Tribute Dinner on Thursday, April 24, at the Waldorf=Astoria in New York City. This year's honoree was William C. Weldon, P'00, chairman and CEO of Johnson & Johnson. The event raised more than $1.5 million for the Presidential Scholars Program, a landmark scholarship program created by the Wall Street Council. View more photos.
BC Club Celebrates a Decade of Distinction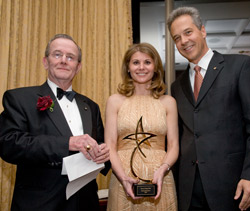 John Joyce '61, MBA'70, (left) and David Woodyard (right), EVP of ClubCorp, Inc., the club's parent company, stand with Jada Emery, BC Club manager, who holds the Circle of Excellence Award given to the best performing club in the country.
On Saturday night, March 29, the Boston College Club celebrated its 10th anniversary with a gala event, "Night of the Stars: Celebrating 10 Years of Excellence," attended by approximately 200 alumni and friends. The club's board of governors presented a check for more than $500,000 to University President William P. Leahy, SJ, to benefit the Boston College Club Scholarship Fund. To date, the BC Club has contributed more than $2.6 million to the fund, which provides full scholarships to students from Boston. There are currently three students attending BC through the program.

"The scholarship fund sends a great message to the community about what the BC Club represents and is a reflection of a University we're very proud of," said John Joyce '61, MBA'70, cofounder and chairman of the board.

Learn more about the BC Club.
Be True to Your School:
Alumni Honored at Distinguished Volunteer Tribute Dinner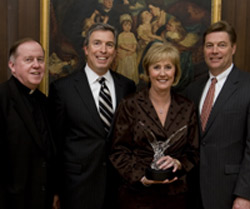 University President William P. Leahy, SJ, (left) and Ken Pierce '79 (right), president of the Alumni Association, presented the Griffin Alumni Association Award to D. Scott '79 and Therese '80 Brown.
Several alumni who have made significant volunteer contributions to the University were recognized at the Distinguished Volunteer Tribute Dinner, held at the Fairmont Copley Plaza Hotel in Boston on
March 28.
The award recipients included D. Scott '79, P'08, '11, and Terese B. '80, P'08, '11, Brown, who were given the John J. Griffin Sr. '35, H'72, Alumni Association Award; Ryan A. Harms '07, winner of the James F. Stanton '42 Senior Class Gift Award; S. Garrett '91 and Jodi '91 Stonehouse, who received the Philip J. Callan Sr. '25 Young Alumni Award; Thomas D. '52, P'80, and Regina K., P'80, McElroy, who earned the John P. Curley '13 Award; and Kathleen A. Corbet '82, winner of the James F. Cleary '50, H'93, Masters Award.
BC Connections Bridges the Gap
Young Moon '09 (left) with her alumni mentor Wendy Murphy '83.
For many recent grads, moving beyond the Heights and entering the "real world" can be a daunting proposition. For each of the last 10 years, the BC Connections program has helped make this transition easier for 50 BC undergraduate women. Founded by University Trustee Mary J. Steele Guilfoile '76 as a program of the Council for Women of Boston College, which is now under the auspices of the Alumni Association, BC Connections unites junior women with alumni mentors who provide life and career guidance. The partnership lasts through each student's senior year and her first year after graduation.

On March 25, this year's junior women met their alumni mentors for the first time over dinner and a panel discussion. If you are interested in becoming an alumni mentor, please contact Robert Sherwood in the Alumni Association at 617-552-3471 or robert.sherwood.1@bc.edu.


Explore Your Faith with C21 Online
C21 Online offers two courses featuring video presentations with Fr. Michael Himes: "The Gospel of Luke," a two-week introductory course, which begins on May 12, and "The Creed: What We Believe," a four-week course, which begins on June 2.

Each course features a guided discussion community and offers access at any time. For more information, contact Melinda Donovan at 617-552-0185 or melinda.donovan@bc.edu.