Haf Time

His star quarterback may be out for the season, but with a couple of the best recruiting classes in program history and big plans for the future, Head Coach Jeff Hafley has Boston College football soaring once again.

It was a few minutes past 9 a.m. on a sweltering Thursday in August, and the rapper 50 Cent was blaring through the speakers of Fish Field House, the massive indoor practice facility that Boston College unveiled in 2018. The AstroTurf gleamed as burly linemen crashed into one another on one half of the practice field, refining their blocking techniques. On the other half, a seven-on-seven scrimmage was underway. Phil Jurkovec, the star quarterback of this absurdly high-powered offense, bobbed around the pocket. Zay Flowers, the most dynamic wide receiver in the Atlantic Coast Conference and one of the best in all of college football, flashed toward the end zone. Out on a seam route was the newly transferred tight end Trae Barry, who at 6-foot-6 and 244 pounds has a nearly identical build to Rob Gronkowski and might turn out to be every bit the playmaker.
NFL scouts from at least four teams prowled the sidelines, and every few minutes a voice came over the PA system to inform players of the next drill and to remind them to stay hydrated. "Keep drinking," the voice said in an upbeat tone that drowned out 50 Cent. "Keep getting those fluids."
At a time of day when most of us are topping off our second cup of coffee and settling into the inbox, the Eagles were grinding their way through a literal heatwave. It was the kind of preseason intensity you'd expect from a team that, for the first time in years, felt like it might just be going somewhere. After a decade or so of mediocrity, the Eagles were suddenly flying. With the season fast approaching, pundits were asking whether BC could crash the top 25 national rankings, and the fanbase was as excited as it had been in recent memory.
"Our culture is 'F.T.T.'" offensive lineman Alec Lindstrom told me over on the sideline. "For. The. Team." He was pouring sweat and wearing a big grin across his face that made it clear there was no place in the world he'd rather be. "I'm giving everything I have for the guy next to me, for the guy next to him, for everyone on the team."
This season will be Lindstrom's fifth and final year as an Eagle before he's likely taken in the 2022 NFL draft (following in the footsteps of his big brother and fellow BC lineman Chris, who in 2019 was selected in the first round by the Atlanta Falcons). Every season as a college athlete has its memorable moments, and—as the Eagles would painfully learn in the weeks to come—its ups and downs. But nothing has really been the same since Jeff Hafley arrived as head coach in December 2019. Hafley was hired away from Ohio State, where he'd spent a single season as defensive coordinator and was instrumental in the Buckeyes winning the Big Ten Championship. Before that, he had steadily ascended the NFL coaching ladder, helping run some of the league's toughest defenses.
Hafley, who wore white Adidas sneakers, black Adidas shorts, and a long-sleeve BC T-shirt, barely said a word during the portion of practice I was allowed to attend. For the most part, he hung out in the back of the end zone with his headset on and clipboard in hand. "He may not be out there yelling and slamming clipboards," Lindstrom said, "but he's going to tell you if you do something wrong, he's going to show you how to work on it, and you're going to get better."
Few first-year head coaches made an impression like the one the 42-year-old Hafley did last year. The Eagles' 6-5 record may seem like just another mediocre result from a decade full of them, but BC fans know that the team could have easily been 8-3 if a few plays had gone differently. At moments, they were underdogs who captivated national audiences by nearly pulling off major upsets against top-ranked Clemson (a game that 4.3 million people tuned into) and No. 12 North Carolina. Other times, they were locked in and executed their game plans under intense pressure, including an overtime win at home against Pittsburgh.
And with the season opener against Colgate just weeks away, there seemed to be universal agreement among football writers that BC fans are in for a treat this year. College football analyst extraordinaire (and BC alum) Joe Tessitore '93, P'21, of ESPN and ABC told me that the Eagles are poised to put on a show given the raw talent on the roster and Hafley and his staff's football smarts. "It's an offense that could arguably be the best offense in BC history—and that's saying a lot given some of the offenses we've had," he said. What Tessitore found most impressive, though, is that in just eighteen months, Hafley has built a national recruiting pipeline that's funneling talent from all over the country to the Heights. Heading into this season, for example, ESPN ranked BC's 2021 recruiting class as the 38th-best in the country.
For the first time in a long time, the buzz around BC football can be felt well beyond campus. The truth is, college sports, especially football, rarely get their due in Boston. "It's a pro sports town, probably more so than another other in the country," said Chad Finn, the Boston Globe sports media columnist. Sure, people in Boston recall the glory days of Doug Flutie and the Hail Mary against Miami. But, as Finn quipped, "This is a city where the college football game that people talk about most is still a Harvard-Yale tie from 1968."
Outside of the Boston bubble, though, college football is perhaps the second most popular sport in the country. And when you have a program from a Jesuit Catholic university in New England that's stacked with future NFL players and is running with the Southern powerhouses, fans pay attention. "I think BC could capture the imagination of a lot of people," Finn said.
That was the plan, anyway. And for a brief moment, Hafley had all the puzzle pieces in place. The Eagles steamrolled Colgate in the season opener 51-0, with Jurkovec throwing for 303 yards and three touchdowns. But then, the very next week, he suffered a potentially season-ending hand injury against UMass. BC won the game anyway, 45-28, but the loss of Jurkovec cast a shadow over the Eagles' 2021 fortunes and presented Hafley with what could be the biggest test of his career.
Now he's been forced to reconfigure the pieces of the puzzle. The good news is that backup quarterback Dennis Grosel, surrounded by potent weapons and one of the most experienced offensive lines in the game, has played well in Jurkovec's absence. And after beating Missouri in week four, the Eagles were off to their first 4-0 start since 2007. Stiffer challenges await, but whatever comes of this season, the future looks bright for Boston College football. In July, Sports Illustrated ranked BC's recruiting class for 2022 as a staggering eighth-best in the country. It's a new foundation that will influence Eagles football for years to come.
One day in 2018, Hafley and his family were out eating burgers near their home in the Bay Area of California when his phone rang. It was Ryan Day, the former San Francisco 49s quarterbacks coach who had just been named head coach at Ohio State. Day cut right to the point: He wanted Hafley to quit his job as defensive backs coach for the 49ers and join the Buckeyes as a co-defensive coordinator. Hafley laughed out loud. "I'm not going back to college football," he told Day. "No way."

In the moment, Day's offer struck Hafley as nothing but a step backward. Very few coaches make it to an NFL sideline, and fewer willingly walk away from the most popular league in America. As Hafley knew better than almost anyone, coaching is a career often marked by incremental promotions, personal sacrifices, and a peripatetic lifestyle that wears most people down. His odyssey began in 2001 at Worcester Polytechnic Institute, where he was 22 years old, making $2,500 a season as the running backs coach, and thinking, "I'm on top of the world." He slept under his desk, ate peanut butter out of the jar, and drove a car that would spit black stuff out of the vents whenever he turned on the AC. He upgraded to a defensive assistant and defensive backs coach at the University of Albany in 2002, before jumping to Pittsburgh in 2006. In his five seasons at Pitt, he worked his way up to defensive backs coach, met the love of his life, got married, and then got fired. "If you coach long enough," Hafley said, "you're going to be on a staff that gets fired."
The pink slip from Pitt came with a silver lining—an offer in 2011 to join Rutgers as the defensive backs coach. For Hafley, it felt a little like destiny: He was born and raised in New Jersey, and was eager to return home to be near his father, who was battling an aggressive form of cancer at the time. When the doctors made the diagnosis, they told his father he had three weeks to live. But he held on for close to a year. "He was dying but fighting in that year. And I was there with him all the time because [Rutgers Coach] Greg Schiano made it easy for me to go back and forth," Hafley said. "So, I do believe I was brought to New Jersey in that time to go be with him."
What was a difficult year personally turned out to be a breakthrough year professionally. Rutgers went 9-4, beat Iowa State in the Pinstripe Bowl, and ended the 2011 season with the ninth-ranked passing defense in the country. On top of that, Hafley was credited with recruiting future NFL wide receiver Leonte Carroo and quarterback Gary Nova, who later set the school record with seventy-three career touchdowns. So when the Tampa Bay Buccaneers hired Schiano in January 2012 to be their new head coach, he asked Hafley to join him on the ride as assistant defensive backs coach. After two seasons in Tampa Bay, Hafley moved on to the Cleveland Browns, where he was hired in 2014 to be the defensive backs coach. In his two seasons in Cleveland, he helped the team earn a reputation for having one of the toughest pass defenses in the league. It was also during this time that Hafley and his wife, Gina, had their first child, a daughter. From there, he and his family moved in 2016 to San Francisco, where he spent three seasons as the defensive backs coach with the 49ers, and welcomed his second daughter.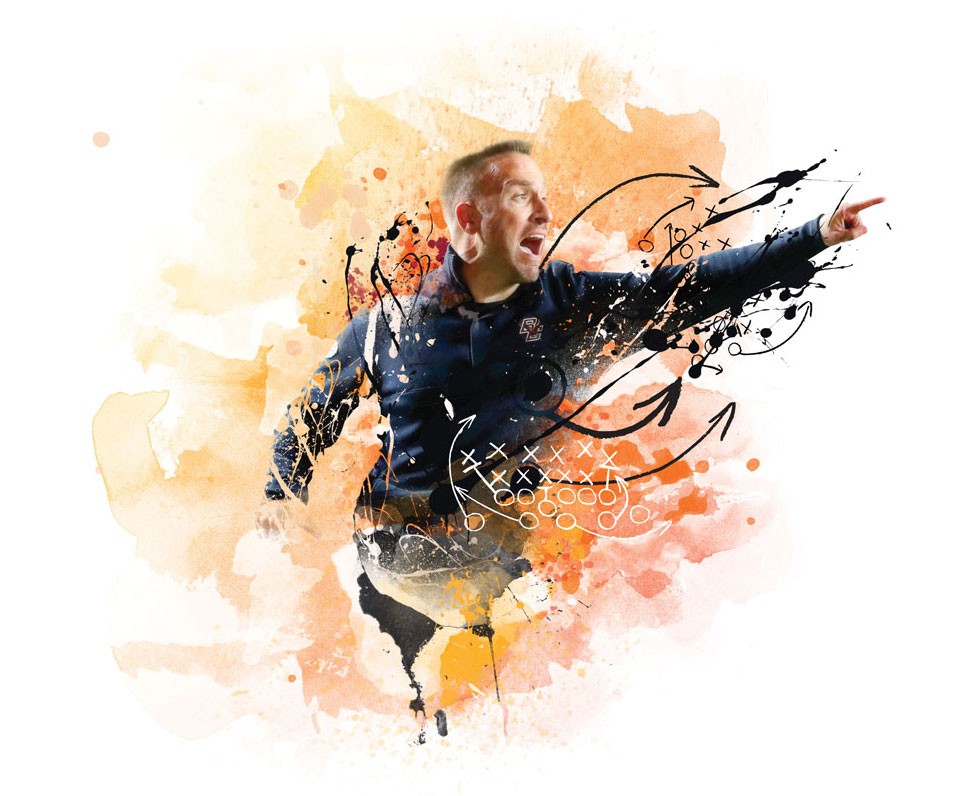 From the outside, it looks like a glamorous ascent. But Hafley was quick to acknowledge the toll that bouncing around the NFL takes on families. He half-joked that his daughters know which city they were born in based on what team he was coaching at the time. "As coaches, we pick up and move and live in a hotel for a month, while our wives are home dealing with the kids by themselves. It's hard on them. It's really hard," he said. "And I'm fortunate Gina has been there with me for some of the biggest moves and taking care of our kids and being supportive because without that support, you have no chance."
So as he sat in California, surrounded by his family while Ryan Day tried to convince him over the phone to leave the NFL and join him at Ohio State, Hafley simply couldn't imagine packing up his daughters and moving them yet again for his job. Before letting Hafley get back to his burger, though, Day asked him to take a few days and just think about it.
In the weeks that followed, Day kept calling. Slowly, Hafley started toying with the idea of returning to college football. Then he started talking with Gina about it. Then he started lying in bed in the dark, tossing and turning and pondering each and every career choice that had led him to that point. "At night, I started to think about why I got into coaching," he told me. "And it was to develop young people. It was to be around young people and build relationships." In the NFL, Hafley explained, coaches can forge ties with players. They can help them earn Pro Bowl appearances and gargantuan contracts, and they can help them win games on one of the biggest stages in the world. "But you don't change lives in the NFL. You can affect them, but you don't change them," Hafley said. "You don't take a 16- or 17-year-old and help them become a man, help them get a great job, help them go to the National Football League."
After a few more calls with Day and a few more long talks with Gina, Hafley was Ohio-bound. In his first season, the team's defense followed a familiar trajectory. It went from being ranked seventy-second nationally in yards per play to number one. The website 247Sports named Hafley the 2019 Defensive Coordinator of the Year, and an anonymous source gushed to Sports Illustrated that Hafley was a "superstar" whom the team hoped to be able to keep around for a second season. Boston College, however, had other plans.
On December 7, 2019, Ohio State beat Wisconsin to win the Big Ten title. Late that night, Hafley's phone rang. It was another career-altering call, and this time it was from Martin Jarmond, then BC's athletic director, who wanted Hafley to fly out to Boston and interview for the head coach position. "My mind was made up," Hafley recalled. "When I agreed to go to that interview, I knew If I got the offer, I was taking it." On December 14, Boston College introduced Hafley as its new head coach. Two weeks later, the first reports of COVID-19 came out of China and the world went into a tailspin.
In just eighteen months on the job, Hafley has built a national recruiting pipeline that's funneling talent from all over the country to the Heights.
Hafley could never have imagined that his first year as a head coach would be marked by social distancing, Zoom meetings, and a litany of other public health precautions. "Last year was kind of a blur," he said. "I still feel like I've never really coached a game at Alumni Stadium." That's understandable. Before home games, Hafley would get himself amped up in the locker room, ready to be greeted by screaming fans, and then he'd jog through the tunnel and enter the stadium only to find seats filled with cardboard cutouts of people. "Kind of eerie," he said.
To stand in Fish Field House is to feel the weight of BC college football history. Towering posters of Flutie and Matt Ryan flank the entranceway. Along the back wall there's a row of twenty NFL jerseys, all first-round picks who were drafted out of BC. It's a powerful reminder of the rarefied air this program inhabits. It's also a powerful reminder of what's at stake for every player and coach who steps through these doors. So it was appropriate, in a way, that the field house was where I met Hafley over the summer, a few weeks before training camp hit full swing. "I've always felt that pressure is a privilege," Hafley told me. "When you do good things and work hard, people notice you, and that adds pressure."
Pressure, in other words, can be a byproduct of success. And if there's one area where Hafley has had an unusual amount of success, it's spotting young talent and recruiting players. Every coach at this level is a tactical whiz who can put together a dazzling game plan on any given Saturday. What sets Hafley apart, according to the people who've watched and worked with him over the years, is the amount of time he invests in building relationships with players, with their families, and with his fellow coaches. The result is a sprawling network of football powerbrokers.
"He has already taken recruiting to a level that has never been understood at BC," said ESPN's Tessitore, who has a unique perspective on Hafley's recruiting skills given that his son, John, is a placeholder on the team. "Jeff is A-plus-plus in the relationship business, but not in a glib or salesman kind of way."
Players, of course, don't just fall into Hafley's lap. Recruiting is hard work. His staff flies all over the country, pores over videos of possible transfer students, and sits in living rooms or Zoom meetings for long conversations about life-altering decisions with exquisitely talented teenagers and their parents.
Isaiah Graham-Mobley, a linebacker who transferred from Temple this season, said Hafley was so welcoming the first time they spoke that he was instantly sold on the program. "The coaching staff is a great group of guys with a ton of NFL experience, and that was a real high point for me as I was thinking about how I wanted to spend my last year in college," Graham-Mobley said.
When Hafley arrived at BC, everyone kept telling him that he needed to focus on recruiting the Northeast. But he was confident he could attract players from around the country with the lure of a national brand with a stellar academic reputation located in one of the greatest cities in the world. "We're going to recruit the Northeast and we're going to recruit it really hard," he said. "But we can recruit California, we can recruit Texas, we can recruit Alabama, we can recruit Georgia." When I asked Hafley if he has a go-to line to close the deal with a coveted recruit, he bristled a bit and explained that recruiting college players isn't a purely transactional exchange the same way that drafting or trading for NFL players is. In a lot of cases, recruiting is a family affair, and it's important to treat it as such. "I think the parents trust us that we're going to make sure these kids grow as men," he said.
In a game where success is often measured week to week, Hafley has tried to always take the long view. "It just takes time," he said. "You build a relationship with these kids when they're 16 and 17 years old and it allows you to coach them hard and it allows you to be there for them. And years down the road, these kids will probably still be calling me and we'll still have that connection."
Success begets success, which, when it comes to Hafley and his future, can be a little unsettling for BC fans. They still remember how Tom Coughlin parlayed a few seasons in Chestnut Hill into an NFL coaching career that includes multiple Super Bowl rings. So, years down the road, where will Hafley be? It feels taboo to even bring up the subject, but it lingers in the mind of anyone who's followed his career. When I asked the Globe's Chad Finn what the biggest challenge for Hafley will be as head coach, he flipped it: The biggest challenge will be for BC to retain him.
The late-night calls are going to keep coming. There will be offers in the NFL and offers at what some people perceive to be more established college programs, said Tessitore, who demurred when asked if he thinks Hafley will be an Eagle for the long haul. "Will there be a point in his life where perhaps he wants a different challenge? Yes, I think that exists for all of us," Tessitore said. "But I don't think that exit sign is coming up on the highway any time soon."
For his part, Hafley assured me he's in no rush. More so than anywhere else, Boston feels like home for him and his family. He's not far from his family in New Jersey, and living in a city that he loves. BC, he said, is a really good fit.
And then there's everything he wants to accomplish on the football field. He'd told me that 2021 would be an important year, which made the Jurkovec injury all the more dispiriting, but Hafley's not looking for just a good season or two. He wants to build a program that elevates BC to a level it's never reached. "It's not about the chase for me anymore," he said. "It's about being at the right place with the right people and knowing that every time we step out on the field, we have a legitimate shot to compete." 

---
Chris Sweeney is a Boston-based writer and editor whose work has appeared in Men's Journal, Popular Mechanics, and other publications.