BC delegation attends COP27, bringing international climate engagement to campus
by Stephanie M. McPherson
A delegation of 20 students and faculty are attending COP27, the 2022 United Nations Climate Change Conference in Sharm El Sheikh, Egypt. The cohort was supported and prepared by a host of Schiller-led initiatives, including an interdisciplinary selection committee and the one- credit course "Forging Just, Effective Climate Policy in the UN COP Process." Since the start of the conference, the delegates have been engaging the greater Boston College community through programming, social media posts and weekly dispatches detailing their experiences.
"As the Schiller Institute expands its programming and engages more fully with students, preparing the BC delegation for the UN Climate Change Conference is becoming one of our primary activities and something we're very proud of," says Laura J. Steinberg, Seidner Family Executive Director of the Schiller Institute. "It's becoming an essential defining feature of how we envision the Institute's goals and responsibilities on campus."
Split between the two weeks of COP, the group of eight undergraduate students, six graduate students, five faculty members, and one administrator have a front row seat to one of the most important climate conferences in the world. Students will make contacts valuable for their future careers and researchers will enrich their work with what they learn from the conference.
"We'll get to see the evolution of the agreements and the progress in the science and policy, and the delegates can roll that into their work in their own academic program," says David Deese, Professor of Political Science, and faculty lead on week one. For Deese's part, one of his proposals includes adding a unit on BC's COP contributions to his "Politics of Energy and Climate Policies" course.
The 20 BC representatives are more than just delegates to the conference. They are proxies for the rest of the BC community responsible for sharing what they learned at COP with those back in Chestnut Hill.
"When we come back, we will carry everything we can from our experience back to the campus and share it," says Deese. "The delegates have a commitment to give back to the community for the privilege of being selected and supported to go over."

Selecting the delegation

The 20 delegates were selected from an initial pool of over 300 applicants. Applications were open to any member of the BC community and were whittled down to the final cohort by a 10-member interdisciplinary committee made up of faculty, Schiller staff, administrators, and one undergraduate student—Julia Horchos, who attended last year's COP26.
"We wanted our delegation to be composed of people with diverse academic backgrounds and interests. We didn't just want environmental studies majors," says Horchos, a senior environmental studies major. "We have a student from nursing, we have students from economics, from environmental science. We chose people who could go to the conference and jump straight into those conversations and experiences."
Once the delegation was selected, the work of preparing the selected delegates began. Starting in September, Schiller hosted three pre-trip meetings focused on the history of COP and what to expect at the conference. The meetings also gave delegates a chance to get to know one another.
"I connected with a graduate student who's going with me on week two," said María Piñeros-Leaño, Assistant Professor of Social Work, and the co-faculty lead on week two. "She's in the ethics department and her research has also focused previously on refugee and migrant populations, much like mine. So when she heard the interest I had, we started talking about how we can collaborate and have some interesting work that comes out of COP."
Schiller made sure these types of COP-related connections were not exclusive to the delegates. Perhaps the highlight of the pre-trip events was a symposium led by Somini Sengupta, the New York Times international climate reporter who was joined by climate experts from BC's faculty, including Hanqin Tian, Lacee Satcher, Sandra Waddock and David Wirth. The video recording of the On the Road to Sharm El-Sheikh event can be viewed here.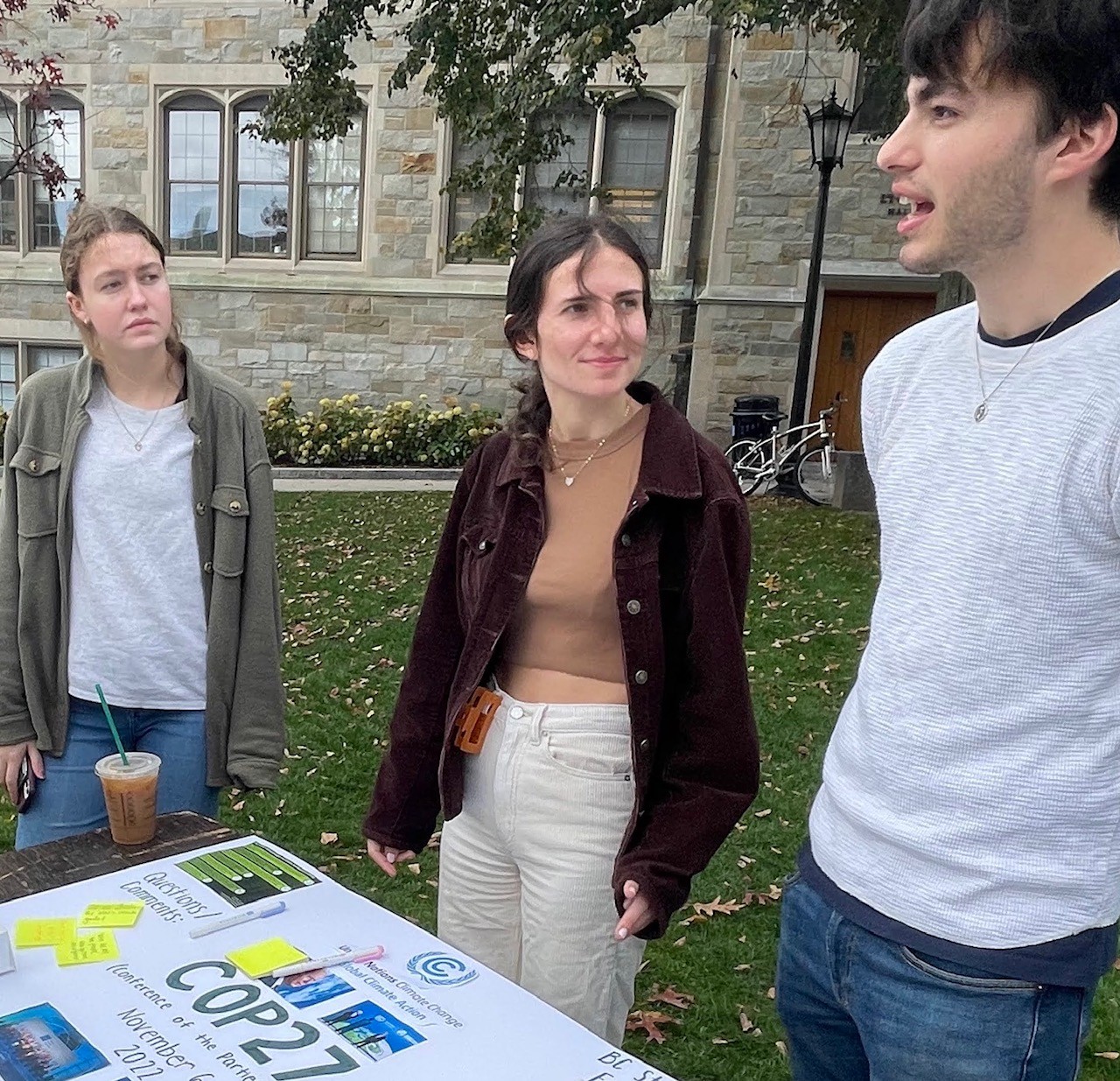 The Institute and select delegates also collaborated with student leaders from the Environment and Sustainability branch of Undergraduate Government Boston College (UGBC) to host a table on the academic quad  during the week before COP. Students working the table answered questions and gathered information on areas of student body interest to explore while at the conference."
I found the table to be extremely helpful in educating students about COP, the BC delegation, and making students feel the excitement of being a part of the process," said Giovanna Eichner, who is a senior and a member of the UGBC Environment and Sustainability branch.
"Those are just incredible experiences that really allow the BC community to dive deeper with this topic of climate change and with COP in general," says Horchos.
Preparing with class

Aside from the pre-trip meetings and campus-wide events, Schiller offered a one-credit course to prepare the student delegates for this undertaking.
"It's a perfect class for Schiller," says Jim West, Assistant Director of Programs in the Schiller Institute, and the administrative delegate for COP27. "It's highly interdisciplinary. It connects Schiller's three focus areas – energy, health and the environment, with the three areas BC is using as its calling card at COP — environmental policy making, health and climate change, and social justice and climate change."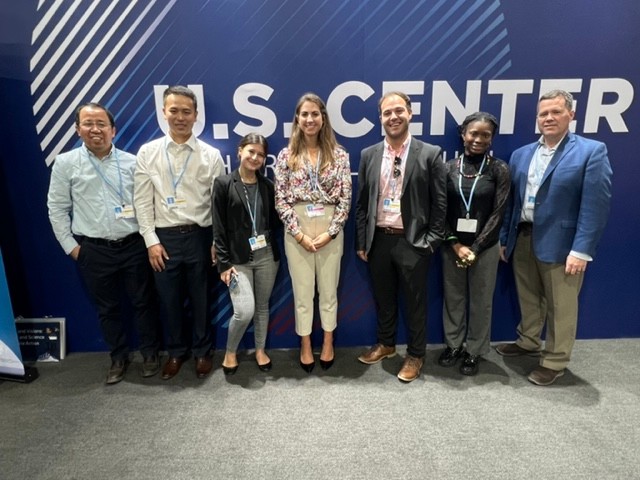 The many varied aspects of climate change were covered in weekly guest lectures. Subject areas included global public health, the history and political science of climate negotiations, youth activism, environmental justice, and the ethics and historical responsibility associated with climate damages. Catherine Goldberg, a BC graduate currently serving as a senior climate negotiator at the U.S. State Department, spoke with the class over Zoom about her work and her career path. The group also took part in a world climate negotiation simulation to help them understand all the complexities that go into these multi-national discussions.
"This has been eye opening to a lot of different aspects of climate change," said Sebastian Haedelt, a senior double majoring in biology and economics, and a delegate attending during week two. "From cost to human health because of increased pollution and heat waves to increasing food scarcity and how that impacts global hunger to financial implications of biodiversity loss. These are things I've thought about before, but not necessarily in conjunction with each other, not under the total lens of climate change."
The course also had each student practice an "elevator pitch" that succinctly explained their areas of interest. This then allowed the delegation to determine which aspects each individual would track throughout the conference, providing structure to what can be an overwhelming experience.
"It's very hard when you get on the ground at COP to keep your bearings because there's so much going on," said David Storey, Associate Professor of the Practice of Philosophy and instructor of record on the COP27 course. "If we have some students tracking finance, some tracking nature-based solutions, and some tracking energy, then there's a division of labor so they can ideally make contacts and harvest as much information and insights as possible and then find a way to bring that back to the community."

On the ground at COP27

All of this behind-the-scenes work prepared the students for their time in Egypt. Since the conference's start on Nov. 6, they have been attending open negotiations, side panels, and many other events.
"It is hard to be bored here. There's always something new to learn or see even if it isn't directly related to your field," says Naomi Alter, a senior global public health independent major and a week one delegate. "The topics for discussion are seemingly endless and this truly is a multidisciplinary conference. There is no one type of student, professor, researcher, or professional best suited to be here."
Delegates have been reporting back to the BC campus through posts on Twitter tagged with #BC_UNCOP. Each Tuesday and Thursday evening of the conference, all delegates meet for a reflection session, to help them synthesize everything they have been learning. On Thursdays after these sessions, delegates report back to campus with interactive dispatches via Zoom.
Because any agreements reached at COP are nonbinding, it's up to the countries and their individuals to stay accountable. That's why it's important to involve the whole of Boston College in the COP experience. All of the delegates will be involved in debriefings and panels upon their return from the conference to share their knowledge and enthusiasm with the broader campus community. Future events will be announced on the BC@UNCOP page, through social media, and on the BC events calendar.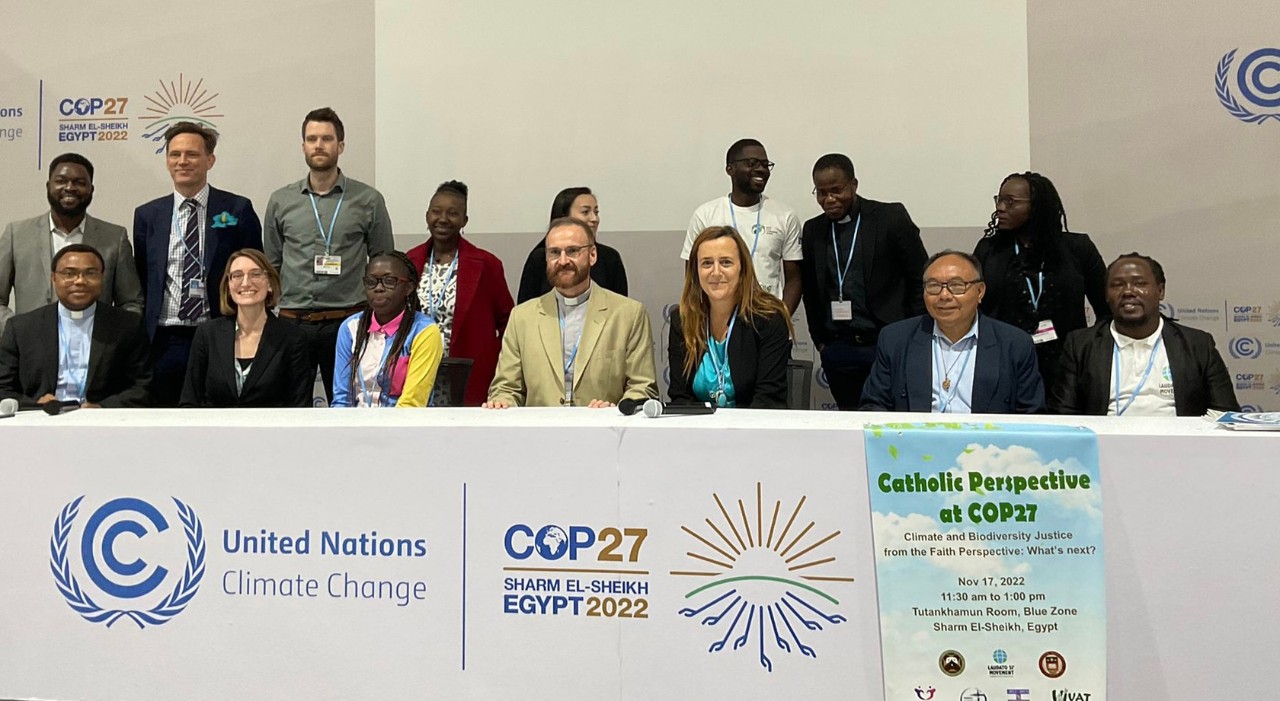 "Climate action needs to be collective. It can't just come from the top. It has to trickle down," said Alter. "This is such a powerful event for everyone at BC to learn about, because whether you're in the chemistry department, nursing, school of education, studying public health like I am, all of these interests filter into how to solve climate change. Anyone who's looking to be a leader or professional in the future is going to have to confront them one way or another."