A new scientific statement details the most reported symptoms of cardiovascular disease—the leading cause of death in the U.S.—and how factors such as sex, cognitive function, and depression can complicate the recognition and evaluation of symptoms. Connell School of Nursing Associate Professor Corrine Y. Jurgens was chair of the writing committee for the scientific statement, which was published in the American Heart Association's flagship peer-reviewed journal, Circulation.
The scientific statement, co-authored by Jurgens, Barry Family/Goldman Sachs Endowed Professor in Nursing Christopher S. Lee, and several other experts, details the latest knowledge on cardiovascular disease (CVD) symptoms with the goal to promote greater awareness about CVD, improve patient care, and identify where additional research is needed.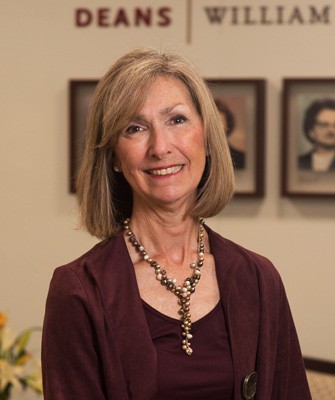 CVD comprises several conditions, including six reviewed in the scientific statement: heart attack, heart failure, valve disease, stroke, heart rhythm disorders, and peripheral artery and vein disease. The scientific statement was prepared on behalf of the American Heart Association's Council on Cardiovascular and Stroke Nursing; the Council on Hypertension; and the Stroke Council.
Symptoms have clear relevance to the diagnosis, monitoring, and treatment of CVD, according to Jurgens, an adult health nurse practitioner and Fellow of the both the American Heart Association and Heart Failure Society of America. "The scientific statement is a 'state of the science' compendium detailing the symptoms associated with CVD, similarities or differences in symptoms among the conditions, and sex differences in symptom presentation and reporting."
Lee, an award-winning cardiovascular nurse scientist who serves as associate dean of research at CSON, was vice chair of the scientific statement writing committee. Other committee members/co-authors are Dawn M. Aycock; Ruth Masterson Creber; Quin E. Denfeld; Holli A. DeVon; Linda R. Evers; Miyeon Jung; Gianluca Pucciarelli; Megan M. Streur; and Marvin A. Konstam.
Part of the challenge of evaluating and studying symptoms is they're subjective, noted Jurgens. An objective measure of heart health, such as blood pressure or heart rhythm, can be measured over and over and tracked over time. "But symptoms aren't like that. We have to have the patients tell us how they're feeling."
It is important for patients to report all of their symptoms, even though they might not seem important or connected to a cardiac issue, Jurgens said.
"Some people may not consider symptoms like fatigue, sleep disturbance, weight gain, and depression as important or related to cardiovascular disease," she continued. "However, research indicates that subtle symptoms such as these may predict acute events and the need for hospitalization. A broader definition of what constitutes an 'important' symptom is warranted."
In an interview with NBC News, Jurgens added that women tend to be diagnosed with heart disease later in life than men, when they may have other underlying conditions that could make identifying subtle symptoms of heart disease much more difficult.
Jurgens and Lee said more precise ways to track and evaluate symptoms are needed, both to manage cardiovascular disease well and prevent or delay its progression.
"Symptom relief is an important part of managing cardiovascular disease," said Jurgens. "It is important to recognize that many symptoms vary in occurrence or severity over time, that women and men often experience symptoms differently, and factors such as depression and cognitive function may affect symptom detection and reporting."
The co-authors recommend regular assessments of cognitive function and depression levels throughout the course of any cardiovascular disease. Depression and CVD often coincide, Lee said, and that can lead to "a general blunting of someone's ability to detect what may otherwise be a very large change in their condition."
The statement highlights that many people with persistent chest pain, heart failure, or peripheral artery disease, as well as stroke survivors, have depression and/or anxiety. In addition, cognitive changes after a stroke may affect how and whether symptoms are experienced or noticed.
Some of the symptoms highlighted by the state of the science report are:
Heart attack
The most frequently reported symptom of heart attack is chest pain, often described as pressure or discomfort, and it may radiate to the jaw, shoulder, arm or upper back. Women are more likely than men to report additional systems, such as shortness of breath, sweating or a cold sweat, unusual fatigue, nausea and lightheadedness.
Heart failure

Shortness of breath is a classic symptom of heart failure. However, early, more subtle symptoms should be recognized as signs to consult with a health care professional. These symptoms may include gastrointestinal symptoms such as upset stomach, nausea, vomiting and loss of appetite; fatigue; exercise intolerance (related to fatigue and shortness of breath); insomnia; pain (chest and otherwise); mood disturbances (primarily depression and anxiety); and cognitive dysfunction (brain fog, memory problems). Women with heart failure report a wider variety of symptoms, are more likely to have depression and anxiety, and report a lower quality of life compared with men with heart failure.
Valve disease

Men with valve disease are more likely to report chest pain than women with valve disease. Women with aortic stenosis more frequently report shortness of breath, exercise intolerance, and physical frailty than men.
Stroke
Women experiencing a stroke are more likely than men to have other, less familiar symptoms in addition to the common ones. These symptoms include headache, altered mental state, coma, or stupor.
Rhythm disorders
Rhythm disorders, called arrhythmias, are often described as the feeling of an abnormal heartbeat or palpitations that may be irregular, fast, fluttering, or halting. Other symptoms include fatigue, shortness of breath, and dizziness. Less common symptoms include chest pain, dizziness, fainting or nearly fainting, and anxiety. Women and younger adults with rhythm disorders are more likely to experience palpitations, while men are more likely to experience no symptoms. Older adults are more likely to experience either uncommon symptoms or no symptoms. Data indicate Black adults report experiencing more palpitations, shortness of breath, exercise intolerance, dizziness, and chest discomfort in comparison to people who are Hispanic or white.
Vein and artery disease
With peripheral artery disease, a narrowing of the vessels that carry blood to the arms and legs, women are more likely than men to have no symptoms at all. But when they do, women's symptoms may be wrongly attributed to other conditions such as osteoarthritis, or even dismissed under the false assumption that peripheral artery disease is more common among men.
The full article can be read on the Circulation website.
University Communications | November 2022
Material from the American Heart Association was used this story.