Eunan O'Halpin in Burns Library (Lee Pellegrini)

For Burns Visiting Scholar in Irish Studies Eunan O'Halpin, his fondness for reading print newspapers mirrors his approach to scholarly work, delving into bureaucratic archives of diplomatic, governmental, administrative, and military correspondence and records.  

"When you leaf through the newspaper to get to what you want to read, you find yourself stopping at something else that catches your interest, and this can lead to revelations that are as profound as they are unexpected," explained O'Halpin, a professor emeritus of contemporary Irish history at Trinity College Dublin.

"That's how it is when I'm in a library or archive. If you want to get a ground-level view of history, this is the kind of material that offers straightforward, detail-oriented narratives. The joy of this work is what I call serendipitous research, where I might initially go for collection 'X,' but wind up looking at collection 'Y' because of something I found in 'X,' and so I end up incorporating that in my project."
It's this methodology that helped spark O'Halpin's interest in studying similarities between Ireland and Afghanistan's struggles to cope with anomalous, British-imposed and maintained borders, for example, or the political violence precipitating the Irish Civil War of 1922-1923—the subject of his Burns Scholar Lecture on March 2 at 5:30 p.m. in the Burns Library Thompson Room.

A collaboration between the Center for Irish Programs and University Libraries, the Burns Scholar program brings outstanding academics, writers, journalists, librarians, and other notable figures to the University to teach courses, offer public lectures, and work with the resources of the Burns Library in their ongoing research, writing, and creative endeavors related to Irish history, art, and culture.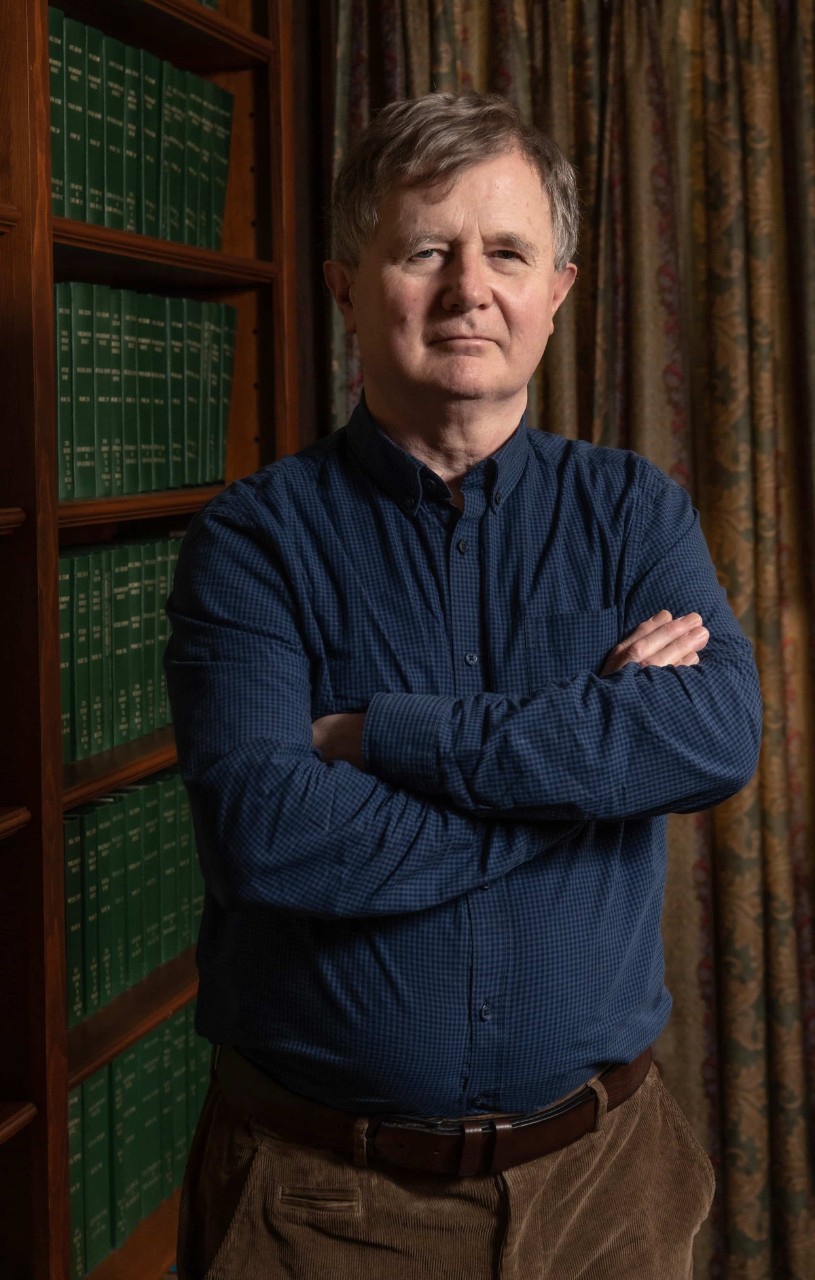 O'Halpin is a specialist in 20th-century Irish and British political, administrative, and diplomatic history, and in the role of intelligence in diplomatic, counter-insurgency, and related activities. His books include Head of the Civil Service: A Study of Sir Warren Fisher, Defending Ireland: The Irish State and Its Enemies Since 1922, Spying on Ireland: British Intelligence and Irish Neutrality during the Second World War, and (with Daithí Ó Corráin), The Dead of the Irish Revolution. A former civil servant, he earned bachelor's and master's degrees from University College Dublin and a doctorate from the University of Cambridge.

This semester, Halpin is teaching the class Ireland, America and Britain during the Cold War and Beyond (1945-2023), which explores relations between the United States and Ireland in the context of evolving Anglo-Irish, Anglo-American, and broader geopolitics.

In his upcoming lecture, "An Island at War: Reframing Irish Political Violence, 1922-23," O'Halpin will offer his perspective on a controversial and troubling chapter in Irish history: the conflict known as the Irish Civil War that flared a century ago between supporters and opponents of the treaty ending the Irish War of Independence against Britain (1919-1921), with the pro-treaty side emerging victorious. Precise figures for combatant and civilian deaths have never been verified, but are estimated to be at least 1,500 and probably more, and the economic damage to Ireland was substantial.

O'Halpin, for his part, believes the focus on the purely military aspect of the civil war is misplaced. More Irish civilians were killed, mainly in Northern Ireland, in the months leading up to the government/pro-treaty forces' June 28, 1922, attack on an anti-treaty Dublin stronghold—generally regarded as the start of the war—than afterwards, and most civilian deaths were from assassinations and other targeted violence.

"What happened in the months before June 1922? There was a settling of scores left over from the Anglo-Irish War along various fault lines: sectarian killings; killings of ex-police; killings of people suspected of being on 'the other side' or helping whoever the enemy was. In newly established Northern Ireland, there was ferocious conflict particularly in Belfast, resulting in almost 400 deaths, about 60 percent being Catholic civilians. By contrast, in newly independent Ireland's 'civil war,' most of the civilian injuries and deaths that occurred can be considered accidental—someone caught in a crossfire between the pro- and anti-treaty forces, for example."

Such details can be gleaned from administrative and military records or private papers from that period, said O'Halpin: "Even the Irish Republican Army, which by then was an 'underground' force, was highly bureaucratic and kept records—they had to track their various expenses, including bribes and use of equipment. So, using different sources, it's possible to reconstruct the events that occurred with a good deal of confidence."

For example, there was the case of a 13-year-old girl from a Protestant family killed during an IRA raid on her border home in June 1922, and an elderly single Protestant farmer shot dead while attending a funeral. Although the girl's death may have been unintended, the attack on her home was premeditated, said O'Halpin, as was the farmer's shooting—because he had no next of kin, his property was vulnerable to seizure by the IRA.  In such instances, the minority Protestant community would have interpreted these deaths as sectarian, like those of the 13 Protestant males killed in the Bandon Valley in April of 1922.

Recent decades have seen a concerted effort in academic, political, and other circles to promote discussion not only about the conflict itself but the way it has been chronicled and perceived in the Irish memory: An Irish journalist in the 1950s famously referred to it as an "unspeakable war" that seemingly nobody wanted to talk about, despite the fact that many civil war veterans had published or otherwise shared their accounts and later generations contested the "code of silence" characterization.

While the Irish Civil War was certainly tragic and traumatic, said O'Halpin—as are most civil wars—he believes that some perspective is in order in assessing its impact on Ireland. He points out that after the armed conflict ended, political violence waned swiftly and dramatically in both the Irish Free State and Northern Ireland; although some combatants or civilians on both sides felt compelled to leave Ireland for their safety, those numbers were fairly small, and emigration was a shared experience for the rank-and-file of both sets of combatants.

O'Halpin's family history reflects the complexities of the Anglo-Irish and Irish Civil wars period. His great-grandfather P.J. Moloney was a member of the first Dáil Éireann, the Irish assembly. P.J.'s son Paddy was killed by Black and Tans (Royal Irish Constabulary reinforcements), and his Tipperary home and business burned to the ground. P.J. voted against the treaty and after winning re-election refused to take his seat in the Dáil.  P.J.'s sons, Jim and Con Moloney, were senior officers on the anti-treaty side, but once released from captivity suffered no further repercussions. O'Halpin said of his grandfather: "No one took his business away, and he was allowed to vote."

O'Halpin's grand-uncle Kevin Barry was one of Ireland's most storied war martyrs. Executed by the British in 1920 at age 18 for his part in an IRA attack that killed a British soldier, Barry was memorialized in a song that is still a fixture in many Irish repertoires, and even beyond—others who recorded it included Paul Robeson and singer-songwriter Leonard Cohen (ABBA co-founder Björn Ulvaeus also composed a tribute to Barry while a member of a Swedish folk band).

O'Halpin published Kevin Barry: An Irish Rebel in Life and Death, in which he analyzes his ancestor's ideological formation and puts Barry's story in the context of the generation of young men who joined the IRA to fight the British, and later one another. It is a family legacy O'Halpin acknowledges and embraces, but which has not guided or restricted his wider view of the events and circumstances surrounding the Irish Civil War.

"My parents' generation was not interested in pushing us down the path of fervent Irish republicanism; they looked forward. There are some generalizations about the war that must be cast aside. Contrary to what one might expect if looking at the war in terms of social revolution, it was not the young, poor, and less educated members of Dáil Eireann who rejected the treaty, but the older, more settled, and better educated.

"The war defined our politics," he said, "but not our society."

The Burns Lecture, preceded by a 4:30 p.m. reception, is free and open to the public.
 
Sean Smith | University Communications | February 2023