The Institute of Education Sciences has awarded two collaborative grants to the Lynch School of Education and Human Development that build on previous awards to support language and literacy development among bilingual and English learners. The Lynch School's C. Patrick Proctor, professor of Literacy and Bilingualism in the Teaching, Curriculum, and Society department, is the co-principal investigator for both projects.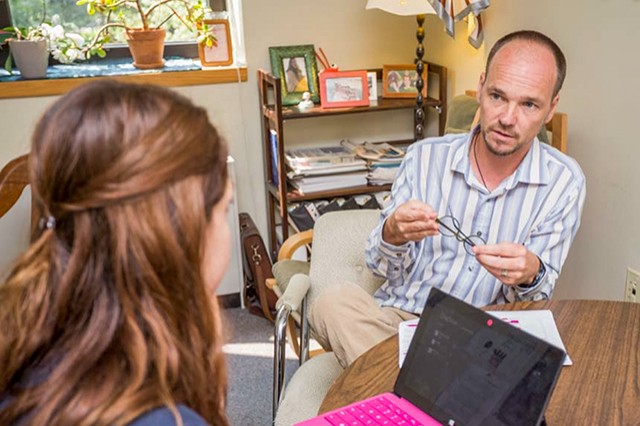 The first grant, a five-year, $3.6-million project in partnership with Stanford University's Rebecca Silverman and Jeffrey Harring of the University of Maryland, is titled "Evaluating the Efficacy of the CLAVES Intervention." Staged in the San Francisco Unified School District, where 28 percent of the students are designated as English learners, the predominant home languages are Spanish, Cantonese, and Mandarin.
CLAVES – "keys" or "clues" in Spanish – is a small-group language-based literacy curriculum for fourth and fifth grade bilingual learners. Along with a dedicated group of doctoral students, Proctor co-developed CLAVES through a recently completed IES grant. The curriculum leverages the linguistic expertise that bilingual students bring to classrooms in an effort to define how language works and how it's used in written text. After preliminary evidence of the curriculum's effectiveness, the new grant expands the initiative in a large urban school district.
The second study, titled "Exploring the Effects of Heterogeneous Grouping on English Learners' Language, Reading Comprehension, and Social Network Development," is a three-year, $1.5- million exploration grant in partnership with New York University's Michael Kieffer and Elise Cappella.
The research will investigate the effects of linguistically heterogeneous small instructional groups composed of bilingual and English monolingual learners, compared to small groups consisting of just bilingual learners, on the language, literacy, and social interactions of fourth and fifth grade students. In 64 classrooms across 16 New York City elementary schools with high proportions of Spanish-English bilingual learners, the study will use the CLAVES curriculum to ensure that instruction remains consistent between the respective group configurations.
"Grouping decisions are flexible factors under the control of the educational system and vary considerably across schools and classrooms with plausible justifications for different approaches," explained Proctor. "The study will explore the effects of grouping on bilingual learners' language, reading comprehension, and social network ties."
The researchers will also investigate whether different levels of initial Spanish and English proficiencies have any relationship with the language, literacy, and social outcomes of the study, he explained.
"Both projects spring from prior IES Development and Innovation funds," said Proctor. "With NYU, we developed and tested a language-based reading curriculum and now we will use it to explore how grouping affects language, literacy, and social outcomes. In collaboration with Stanford, we're testing whether it can be an effective instructional approach at scale in a large urban district."
"We are excited about these new large-scale projects," said Stanton E.F. Wortham, the Charles F. Donovan, S.J., dean of the Lynch School of Education and Human Development.  "Professor Proctor has built a very promising intervention that empowers bilingual learners, and it's impressive that he continues to attract such significant support to extend his innovative curriculum to new areas. He combines first-rate research with substantial impact on practice, exemplifying our goal as a professional school."
The Institute of Education Sciences is the statistics, research, and evaluation arm of the U.S. Department of Education. Independent and non-partisan, IES's mission is to provide scientific evidence on which to ground education practice and policy, and to share this information in formats that are useful and accessible to educators, parents, policymakers, researchers, and the public.
Phil Gloudemans | University Communications | July 2020