Written by a team of more than 100 leading historians from 38 institutions worldwide, The Cambridge History of Ireland covers 1,500 years of Irish history, from 600 to the present, and has been has been characterized as the most comprehensive and authoritative account of the island nation ever attempted.

On September 20, BC's John J. Burns Library of Rare Books and Special Collections welcomed general editor Thomas Bartlett, the respective volume editors, and contributor Robert J. Savage, professor of the practice of history at Boston College, at a reception celebrating the publication of the four-volume collection.

Savage and his former History Department colleague Kevin Kenny—now at New York University—contributed, respectively, to the fourth and third volumes of the 3,000-page series, published by Cambridge University Press.

In a recent interview with the Irish Times, Bartlett said he had agreed to serve as editor of the series "because I had become concerned that the explosion in publications in Irish history over the past 40 years had rendered the subject all but inaccessible both to the student and to the interested reader.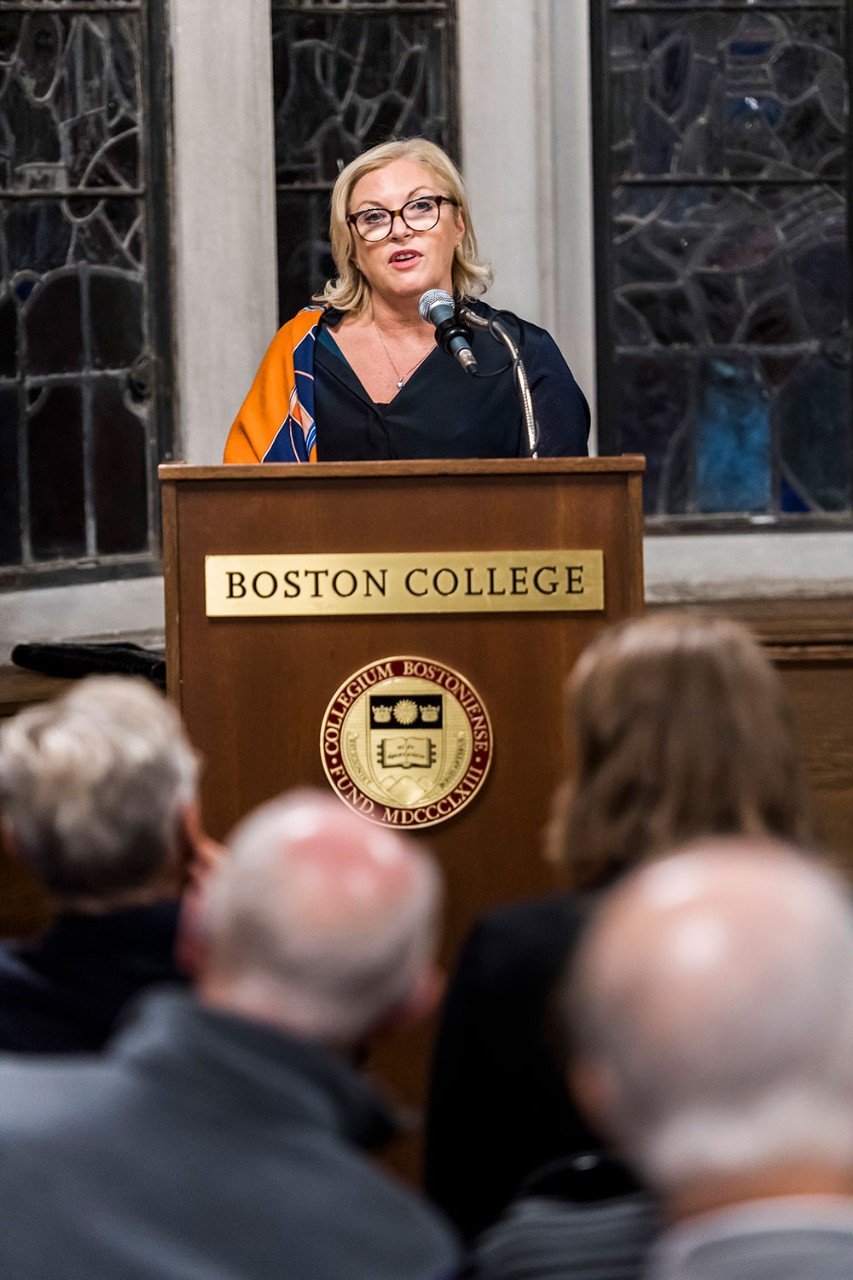 "Hence a new synthesis, drawing on the most recent scholarship was badly needed—one that would pull together the most significant writings on Irish history and provide a stimulus to further research," added Bartlett, professor emeritus of Irish history at the University of Aberdeen, editor of Volume 4, and a former Burns Visiting Scholar in Irish Studies at BC.

"The Cambridge History of Ireland is a remarkable achievement," said Savage. "What is particularly striking is the variety of voices and the range of scholarship in these volumes. There is a healthy mix of young, early-career historians and more established academics who enhance these histories, delivering rich political and cultural history along with wonderful examinations of class, gender, leisure, and material culture. I'm delighted to be one of the few U.S.-based historians to be featured in this landmark publication."

Other past Burns Scholars contributing to the series included Guy Beiner, Paul Bew, Alvin Jackson, Ciaran O'Neill, and Colman Ó Clabaigh, OSB.

The evening featured keynote remarks by Liz O'Donnell, a former Irish Minister of State in the Department of Foreign Affairs, on the Northern Ireland peace process, the advancement of women in Ireland, and social progress.

"The learned historians here today know far more about my country than I do in any great historical detail," said O'Donnell. "They have done us a great service by compiling these accomplished essays, which record and analyze Irish history in a very broad way. They deserve our thanks, respect, and recognition." 
A concluding panel discussion included an audience Q&A with O'Donnell, Bartlett, and the other volume editors, James Kelly, professor of history at Dublin City University; Jane Ohlmeyer, Erasmus Smith's Professor of Modern History at Trinity College Dublin; and Brendan Smith, professor of Medieval history at the University of Bristol. 

"We were thrilled that Liz O'Donnell keynoted this special event that celebrates the work of Irish historians and the forward momentum of Irish society," said Robert M. Mauro, director of BC's Global Leadership Institute, an event sponsor. O'Donnell participated in an Irish Institute leadership program hosted by Mauro in 2011. 

The BC event was part of a U.S. tour that began at the Embassy of Ireland in Washington, D.C., on Sept. 18, keynoted by former Vice President Joe Biden, and the following day at New York University's Glucksman Ireland House.

"The Cambridge History of Ireland has earned its place as a landmark survey of Irish history," said Shane Cahill, consul general of Ireland in Boston, an event co-sponsor. "We are proud to support the U.S. launch of this important contribution to the study of our story, which is an original and new take on Irish history from multiple perspectives. We are particularly proud to partner with the John J. Burns Library, which is so important to the history of the Irish in America." 

Additional event co-sponsors included Boston College Libraries, Cambridge University Press, and the Boston College Center for Irish Programs.
—Phil Gloudemans | University Communications | September 2018