Mystērion: The Theology Journal of Boston College, a newly launched undergraduate journal, features essays by students from Boston College and beyond that bring a diverse array of perspectives to bear on important—and difficult—theological questions.
"There are a lot of smart students who go to BC and there's a real opportunity to learn from them, but you can't take a class with every person," said senior Dennis J. Wieboldt III, who is the editor-in-chief of Mystērion. "The purpose of journal is to provide a forum where students can have their excellent work published and provide an opportunity for students to learn from other students."
Like the Theology Department itself, Mystērion seeks to represent different areas of study within the discipline of theology: biblical studies, comparative theology, historical theology, theological ethics, and systematic theology. The journal's inaugural issue explores the relationship of feminist theology to American religion, the historiography of the Salem Witch Trials, the role of prayer and language in the human experience, the Catholic Church's evolving position on questions of church and state, and how comparative theology can help us better understand human suffering and liberation.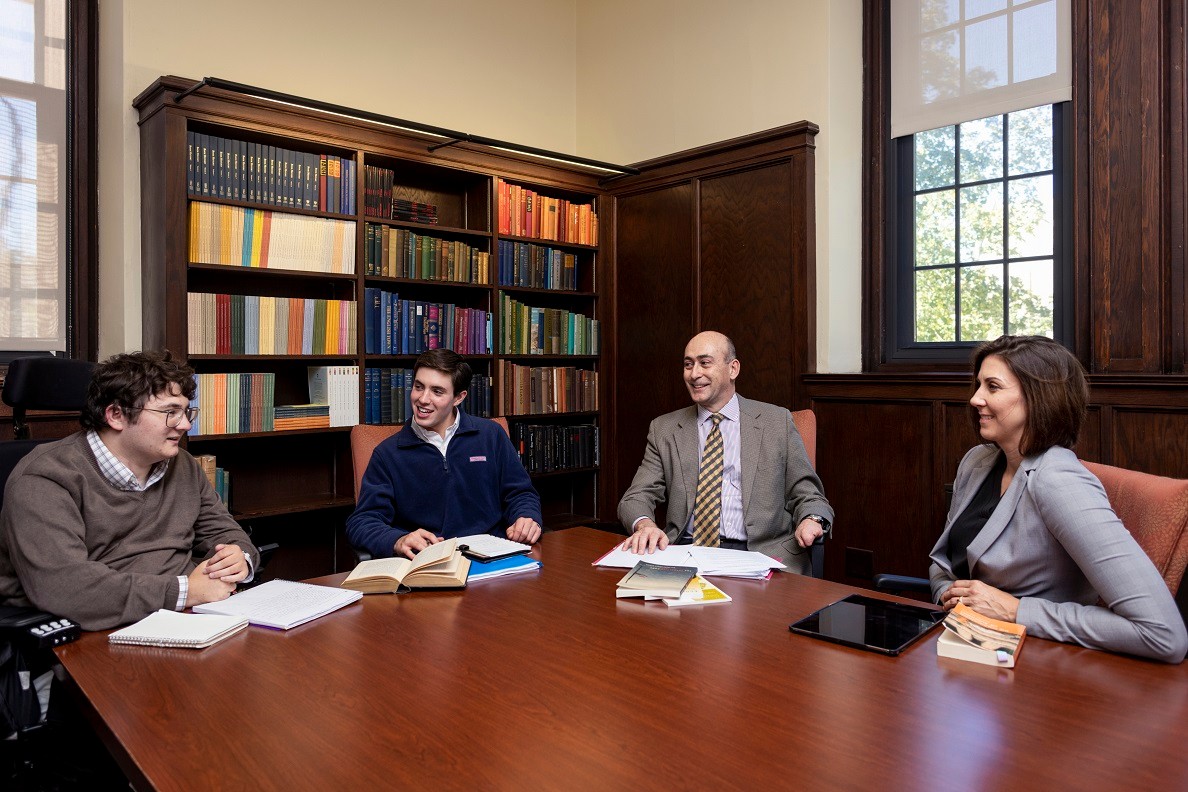 "The journal shows how insights gained from the study of theology can be applied to and integrated into other disciplines," added Wieboldt, a history and theology double major who also is pursuing a M.A in history.
Boston College students who contributed essays to Mystērion's first issue are Amanda Garza '22, Paige McDonald '23, Sean O'Neil '23, and Connor Thomson '23.
"For me, it is a joy to see students finding their own voice and helping others share their thoughts and articulate their reasoning on difficult topics," said Walsh Professor of Bioethics Andrea Vicini, S.J., who serves as faculty advisor for Mystērion and previously served as faculty advisor for Lumen et Vita, the graduate student journal based out of the School of Theology and Ministry.
"My role is to create a possibility for the students to manifest their own abilities and accompany them in the process," he added. "I'm a sounding board for ideas and I offer advice, reaction, comments, feedback, critical suggestions, and constructive input. It's about empowerment of the students."
Other members of the journal's staff are Megan Stevens '23, Christy Liu '22, Conor McCormick '22, Tyler Savluk '21, and Emma Searle '23.
Wieboldt and Fr. Vicini expressed gratitude for the support given by Theology Department Chair Joseph Professor of Catholic Systematic Theology Richard Gaillardetz, Associate Professor and Director of Undergraduate Studies Jeffrey Cooley, graduate student advisors Grace Agolia and Tiffany Lee, and BC Libraries Digital Publishing and Outreach Specialist Gabe Feldstein.
Wieboldt said that courses he took his first year at BC—Perspectives on Western Culture and Religion and American Public Life, taught by Boisi Center Director and Professor Mark Massa, S.J.—have had a profound influence in his intellectual and personal formation and inspired him to create the journal.
The courses, he said, not only asked questions about God, self, and society, but created an environment where one could learn from other students with different backgrounds, beliefs, academic interests, and life experiences.
In his editor's note, Wieboldt says he hopes the journal is marked by the same ethos he believes undergirds Boston College: respect for those of other religious beliefs, an honest desire for truth, and a willingness to engage in dialogue about important issues.
He added: "This process of inquiry, reflection, knowledge production, and knowledge sharing is precisely what [Professor of Theology] Fr. Michael Himes encouraged members of the Boston College community to embark upon so eloquently in his 2009 'Last Lecture'… 'if you hold onto your life, you lose it, but if you give your life away, it becomes everlasting life.'"


Kathleen Sullivan | University Communications | October 2021