Noted Catholic theologian and ethnographer Susan Bigelow Reynolds was presented with the Boston College School of Theology and Ministry's Alumni Distinguished Service Award at an event on campus earlier this month. She is the first layperson to be honored with the award since it was established in 2018.
An assistant professor of Catholic studies at Emory University's Candler School of Theology, Reynolds graduated from the STM with a M.T.S. in 2013 and from the University's Morrissey College of Arts & Sciences with a Ph.D. in 2018. Her research focuses on public ritual, culture, and questions of marginality and suffering in ecclesial communities.
She is a contributing writer for Commonweal magazine and is a frequent contributor to national conversations on Catholicism and public life in the media, with appearances on National Public Radio, PBS NewsHour, NBC, and CNN.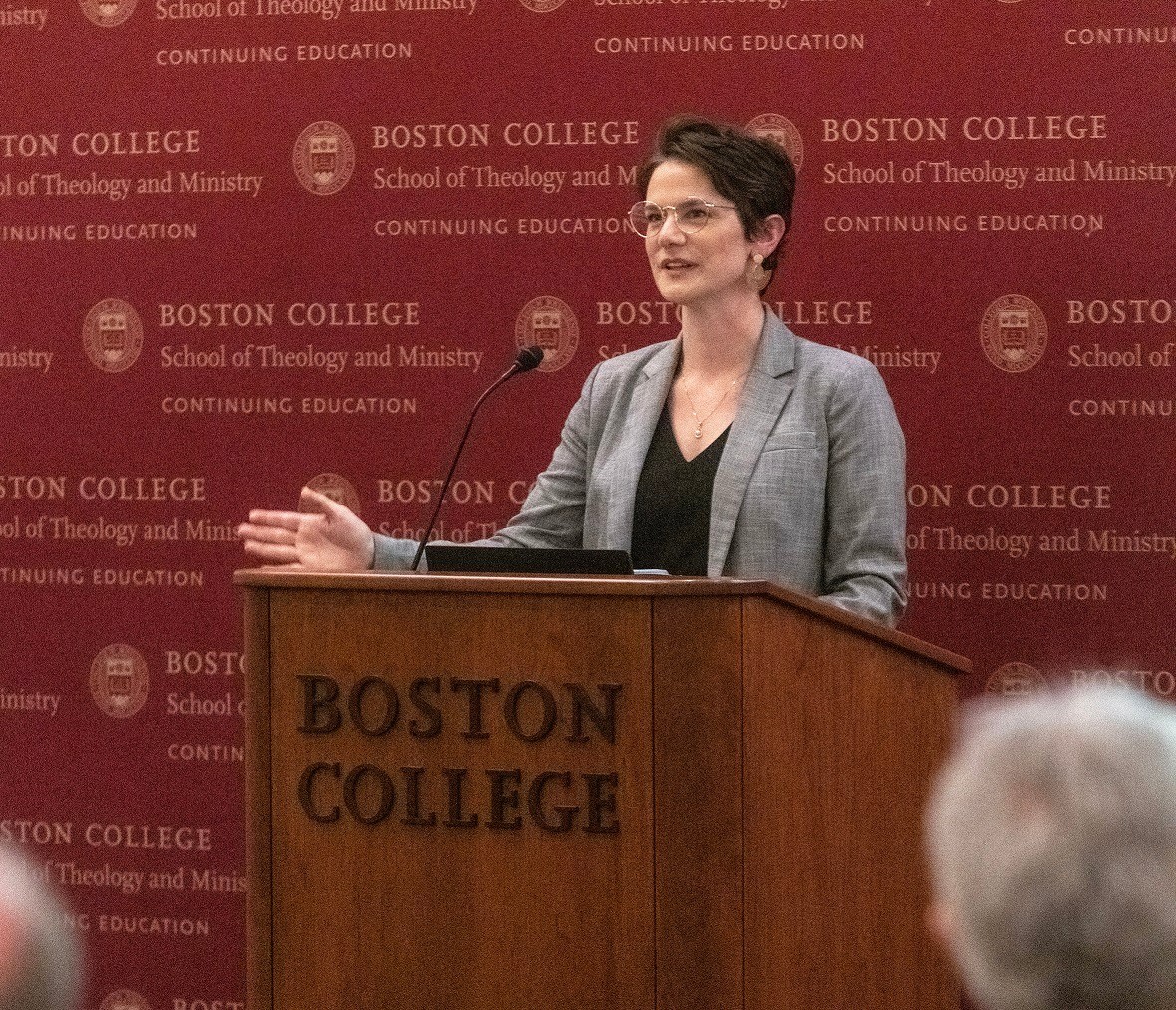 "We're thrilled to honor you, Susan, as you have embodied the mission of the School of Theology and Ministry in your work, in your ministry, and as a theologian at Emory University," said STM Dean Michael C. McCarthy, S.J. "Your courses and many published works demonstrate your commitment to the intersection of theology and lived Catholic faith, especially in life on the margin. The good work that you are doing in the classroom, in print, and in your ministry will have lasting positive effect in the church and the world."
Prior to the award presentation, Reynolds delivered this year's Daniel J. Harrington, S.J. Lecture, titled "Basements, Potlucks, and the Orange Line: Listening for God in an Urban Parish." Reynolds had been a student of both Fr. Harrington, the eminent New Testament scholar and lecture's namesake who died in 2014, and Thomas D. Stegman, S.J., a former STM dean who died less than a week before the event. She began her talk with words of gratitude for both Jesuits, as well as the STM's community of "professors, mentors, and classmates" who, she said, deepened and challenged her commitment to do theology and made it into something "intelligible, responsible, and attentive."
Reynolds' lecture was drawn from her new book, People Get Ready: Ritual, Solidarity, and Lived Ecclesiology in Catholic Roxbury, which traces how the parishioners of St. Mary of the Angels—a racially and culturally diverse parish on Boston's social, economic and ecclesial peripheries—constructed rituals of solidarity as a practical foundation for building bridges across differences.
When Reynolds came from Brownsville, Texas, to study at the STM in 2011, she spent a year living in the parish house of St. Mary's in Roxbury's Egleston Square.
"I would help assemble the parish bulletin, shovel a walk, teach Sunday school, and coordinate parishioner volunteers to clean the church. And in addition to my room above the parish kitchen and all the potluck leftovers I could eat, I received what was, for a lay woman, a much rarer gift: the chance to experience the life of a parish from the inside out.
"The people of St. Mary of the Angels became my greatest teachers of theology," added Reynolds, who later moved to Brighton but remained an active parishioner of St. Mary's for the next five years while she continued her studies at BC.
St. Mary of the Angels opened in 1908 to serve working class European immigrants. By the 1980s, the tiny church was sustaining a community of some 40 nationalities. Reynolds wondered: How did the people of St. Mary's manage to defy the racial, ethnic, and economic fragmentation that has so long defined U.S. parish life in general, and Boston Catholicism in particular?
She conducted oral histories and researched newspaper accounts, parish files, and archdiocesan documents to construct a history of a small, poor, interracial city parish the decades before, during, and after Vatican II.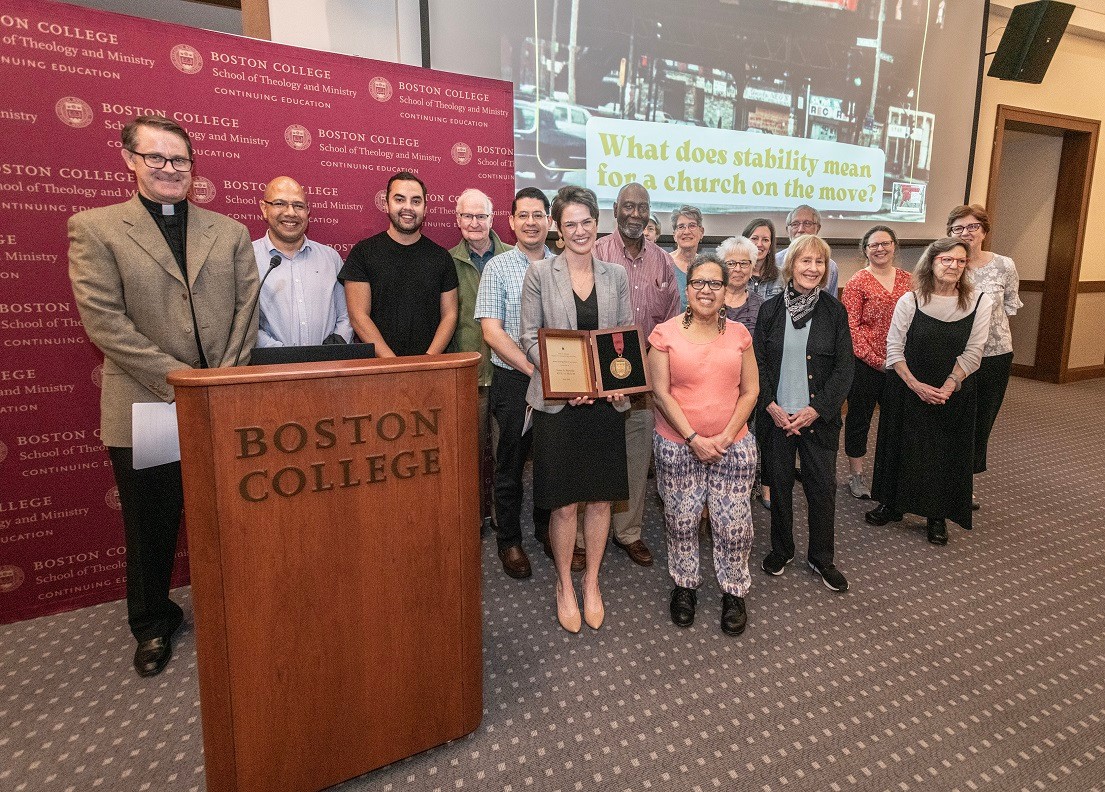 "St Mary's, it seemed to me, was not just a fascinating outlier, a quirky parish in an iconic Catholic city that had beaten every conceivable odds," said Reynolds. "The things that made St. Mary's unique were visible signs of the constructive communal theological work that had been unfolding there over the course of decades. What I encountered in Roxbury was a community that had stayed alive by making solidarity an ecclesial virtue."
Her talk highlighted some of examples of this solidarity, such as a layperson-majority parish pastoral council petitioning to move parish funds to a locally Black-operated bank and advocating for a Mass on Saturday evenings in the summers so that working class parishioners could use Sundays to get away from the heat of the city. Reynolds also cited the ministry of a dynamic young priest, Fr. Jack Roussin, who made inroads against gang violence in the 1980s and '90s, and the powerful Good Friday Neighborhood Way of the Cross that annually led participants along the path of Egleston Square's own passion.
"I want to make a case that parishes are worth studying, and they're worth studying rigorously and generously, and that attending to parishes, especially those on urban peripheries, makes legible the organic continuity between the vocations of theology and ministry.
"Today's ecclesial communities are transformed by migration, displacement, gentrification, pandemic-era shifts in practice, and other forces of social change. St. Mary's is a way station for people on the move. People would come and stay for a short time or a lifetime, and some would leave or move or settle back in their home countries. And St. Mary's was ready to receive whoever showed up next. That's what parishes are, places of sojourn for a migrant church."

Kathleen Sullivan | University Communications | April 2023