In addition to wearing many hats, Elizabeth Pierre, a master's student at the Boston College School of Social Work and program coordinator at the Center for Teen Empowerment in Somerville, also has a few crowns—or, more specifically, tiaras—in her closet. 
After winning a local Miss Cambridge pageant in 2020, Pierre was crowned Miss Massachusetts this past summer, becoming only the second Black woman to win the title since the competition began in 1921. In December, she'll walk the Miss America stage at Mohegan Sun in Connecticut, in hopes of taking home the national title and a $50,000 scholarship.
"Miss Massachusetts has never won Miss America," Pierre confided during a recent interview, "so I'm going to work really, really hard to take it home this year."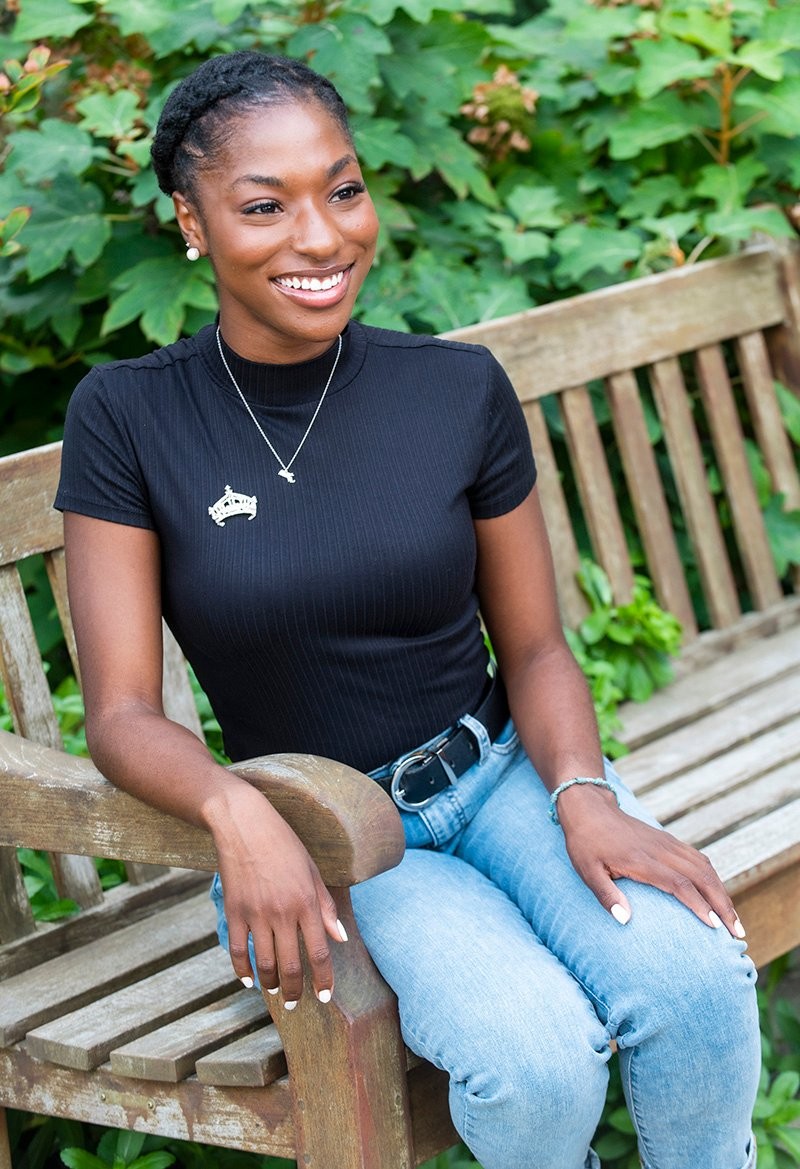 Despite her success, Pierre is a relative newcomer to the pageant world. As an undergraduate student at Syracuse University, she signed up for the Miss Black and Gold scholarship competition on a lark with friends—and won. After placing second in the state-wide competition, she began taking pageants more seriously as opportunities for personal growth and community service.
"A lot of people think we're like princesses and queens," she laughed, "but we really are servant leaders and we value giving back and leaving an impact."
In the 100 years since its founding, the Miss America pageant has evolved from a beauty competition known for swimsuits and evening gowns to an event where women are judged on their artistic talent and leadership skills. Each contestant develops a social impact initiative which, if they receive the title, becomes their focus for the next year.
In developing her initiative, "We Hear You: Empowering Youth Voices," Pierre drew from her personal and professional experiences. Growing up, her Haitian family expected children to defer to adults, a dynamic that made Pierre feel stifled at times. 
"I love my culture with all my heart but I didn't necessarily feel like my voice was heard," she recalled. "Even in American culture, I think the adult is often the voice you listen to."
At the Center for Teen Empowerment, which encourages young people to lead social change, Pierre helps teenagers identify issues they care about—whether it's the environment or LGBTQ+ rights—and figure out how to make a difference. As Miss Massachusetts, she's continued that work online, hosting Instagram Live sessions and connecting with youth through social media platforms like TikTok (where she has more than 78,000 followers) to discuss issues like food insecurity and inequalities brought to light by the COVID-19 pandemic. 
"Eventually, I'm hoping to go into different schools and programs and meet young people all over the state and help them find their voices," she explained. "Our young people are engaged and they know what's going on, it's just a matter of listening to them."
At Boston College, Pierre is studying to be a licensed clinical social worker with the goal of helping youth and their families work through trauma. As one of 15 students selected for the recently-launched Black Leadership Initiative, Pierre's classroom and fieldwork experiences will include a focus on issues faced by the Black community.
"In a lot of the spaces I'm in, I tend to be the only Black woman, and I feel like the education I've gotten has been very Eurocentric," said Pierre. "As a social worker, I want to be an advocate for all identities, so I'm looking forward to seeing things through a different lens." 
Balancing classes, a part-time job, and the Miss Massachusetts crown means a packed schedule and lengthy to-do list, but each item has contributed to Pierre's growing sense of purpose. Pageants, in particular, have forced her to identify and articulate who she wants to be, and the impact she wants to have on society. In the talent portion of the competition, Pierre shows off her dance skills (she does everything from tap to jazz) but the interview portion is what she spends the most time preparing for.
"Every single day it's a battle of 'What is Liz?' and 'What does Liz believe?'" she said. "It's really important that the message I share is one I really mean, and it takes a lot of introspection. You have to know yourself and what you believe in, in order to be fully yourself on that stage." 
Alix Hackett | University Communications | November 2021