Nearly one year to the day that Russia invaded Ukraine, and on the heels of President Biden's surprise visit to Kyiv, an interdisciplinary panel of Boston College faculty met at Fulton Hall on February 23 to share their historical, geopolitical, cultural, and religious perspectives on the conflict, frequently characterized as a vicious war of attrition.

The occasion was one that went beyond purely academic analysis, as reflected in a comment from panel organizer Professor of Russian, English, and Jewish Studies Maxim D. Shrayer: "Three of my grandparents were born and raised in Ukrainian lands, and I feel not only an intellectual and professional connection but also a strong personal link to the suffering of Ukraine and her people."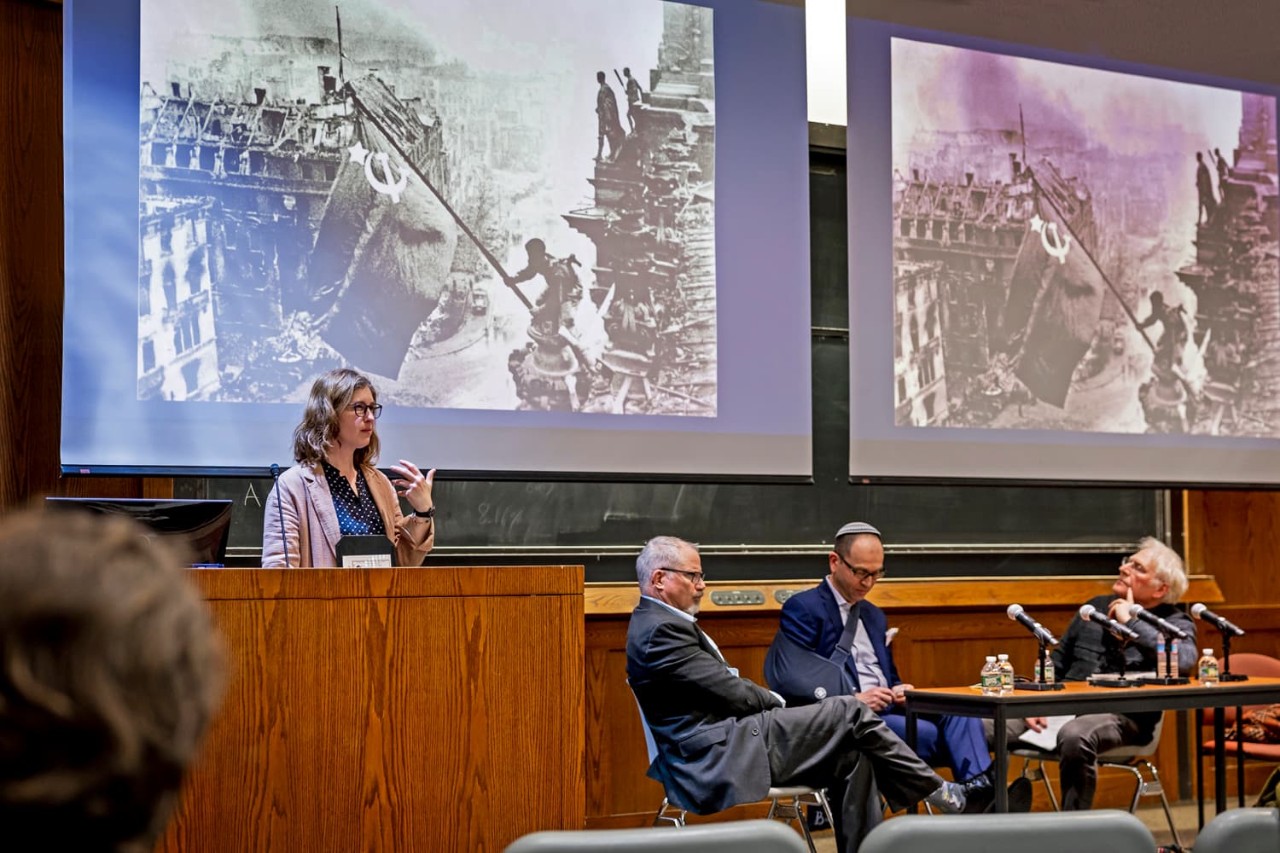 In addition to Shrayer, panelists included Associate Professor of History Nicole Eaton; Professor Gerald M. Easter, chair of the Political Science Department; and Professor of History Devin O. Pendas. Curt Woolhiser, a lecturer in Russian and Slavic Studies, provided an overview of the war's history and served as moderator, while Professor of Near Eastern Studies Franck Salameh, chair of the Department of Eastern, Slavic, and German Studies, delivered the introduction.

Easter discussed the geopolitical implications of the Ukraine war, with neither side seeming ready to negotiate as the battle began its second year. "It's a multi-dimensional conflict. At one level, it is a fight over Ukrainian nationhood: How is the nation defined, who is in, and who is out. When Russia intervened a year ago, civil war was already underway."

Another key factor, he said, is Russia's ambition to be a regional hegemon and maintain influence over non-Russian peoples on its periphery—long part of a Russian-dominated empire, but now independent—and its aversion to NATO's military buildup on its borders.

Yet another dimension is "the proxy war," said Easter: "Ukraine may be the battlefield, but the fight is between Russia and the United States." The Biden administration and U.S. security establishment "see Russia as a 'peer competitor,' whom they seek to weaken economically and militarily, and to effect regime change. Russia would have won the war last summer were it not for U.S. and NATO intervention on Ukraine's behalf."

Although media coverage often strikes an optimistic tone, Easter said, the fact is Ukraine is losing the war, and desperately needs more weapons from the West—although such aid won't bring things back to the way they were.

"Ukraine has already lost one-fifth of its territory and population; its economy and infrastructure are in shambles. Sadly, neither side is backing down. Ukraine's hopes lie in conflict expansion by drawing in more parties. The risk of escalation into a wider regional war or worse is considerably higher today than it was a year ago when the conflict began."

Pendas described Russia's war as "comprehensively criminal [and] a clear violation of international law." The UN charter forbids state-on-state military force except in self-defense or when authorized by the UN Security Council, neither of which is the case, and Russia's annexation of Ukrainian territory is also illegal.

Russia's targeting of civilian infrastructure is a particularly serious violation of the laws of war, he added, and it's possible that—in addition to war crimes and large-scale crimes against humanity—Russia has committed acts of genocide by targeting Ukrainian children for kidnapping and deportation to Russia.

But it's highly unlikely that more than a small number of low-level perpetrators will ever face criminal trial for their actions, Pendas added, even though Ukraine accepted International Criminal Court (ICC) jurisdiction and the ICC has been investigating since last March.

"Past experience suggests that the ICC will struggle to secure evidence held by the Russians or to arrest Russian defendants not already in Ukrainian custody. Vladimir Putin will almost surely evade international prosecution."

Panelists also provided historical and cultural perspectives on the conflict. Eaton explained how Russia repeatedly exploits antiquity to justify its aggressive war in Ukraine. Both countries draw on ancient and recent history as an act of national identity formation, and both appeal to the same inheritances as the foundations for their modern nations, but in ultimately different ways.

"After the collapse of the Soviet Union, Russia is dealing with a nationwide identity crisis as it seeks to create a positive Russian domestic character in the post-colonial period after the loss of its imperial territories," she said. "Denying sovereignty and nationhood to Ukraine, paradoxically, is part of Putin's goal to form a new Russian identity."  

Eaton described three historical myths Russia has used in legitimizing its aggression: modern Ukraine was created by Vladimir Lenin, first head of the Soviet Union; Russia is merely reclaiming "historic Russian lands"; and Russia's mission is to "denazify" Ukraine. "Each of these is fundamental to Russia's own sense of identity, but each is ultimately a gross simplification and ignores Ukrainian state sovereignty and national self-determination."

Shrayer focused on Ukraine as a multiethnic and multireligious country, and on the role of religious leaders and Ukraine's minorities during the war. He noted that Ukraine is home to about 38 million ethnic Ukrainians and more than eight million ethnic Russians, but also to Moldovans, Poles, Crimean Tatars, Bulgarians, Hungarians, Jews, Greeks, and other minorities. More than 70 percent of Ukrainian citizens are Orthodox Christians and approximately nine percent of the population is Ukrainian Greek Catholic or Roman Catholic, while smaller but vibrant communities of Jews and Muslims also live there.

"All of Ukraine's ethnic and religious communities have banded together to defend their country," Shrayer concluded. "As we fervently pray for Ukraine's full victory, we also worry about the prospects of survival for Ukraine's smaller ethnic and religious communities."

The panel was sponsored by the Office of the Dean of Morrissey College of Arts and Sciences; BC's departments of History, Political Science, and Eastern, Slavic, and German Studies; and the Jewish Studies Program.
 
Phil Gloudemans | University Communications | March 2023