Scott Olivieri, Jack Bracher, and Emma Frazier. (Photos by Caitlin Cunningham)

Watching buses full of students leave the Boston College Campus School at the end of a recent work day, Lynch School of Education and Human Development graduate student Emma Frazier, a part-time teacher's assistant at the school, couldn't help but smile.

"I care so much about it and the students and the staff—they're just so awesome and they make it easy to care about," said Frazier, who helps support the innovative school for young people with extensive disabilities alongside 196 other Boston College students and a full-time staff of 40 teachers, therapists, and nurses. "We're kind of like another team on BC's campus, and I think that's something to be celebrated. We're part of the community, and that's really special."

On Patriot's Day, Frazier and two other members of the BC community—Morrissey College of Arts and Sciences senior Jack Bracher and Scott Olivieri '90, M.A. '15, Ph.D. '18, director of web services in the Office of University Communications—will put their love for the Campus School into action by running the Boston Marathon to raise money for the school. "I think it's a really special way to do my first marathon," said Frazier, "and I can't imagine doing it any other way."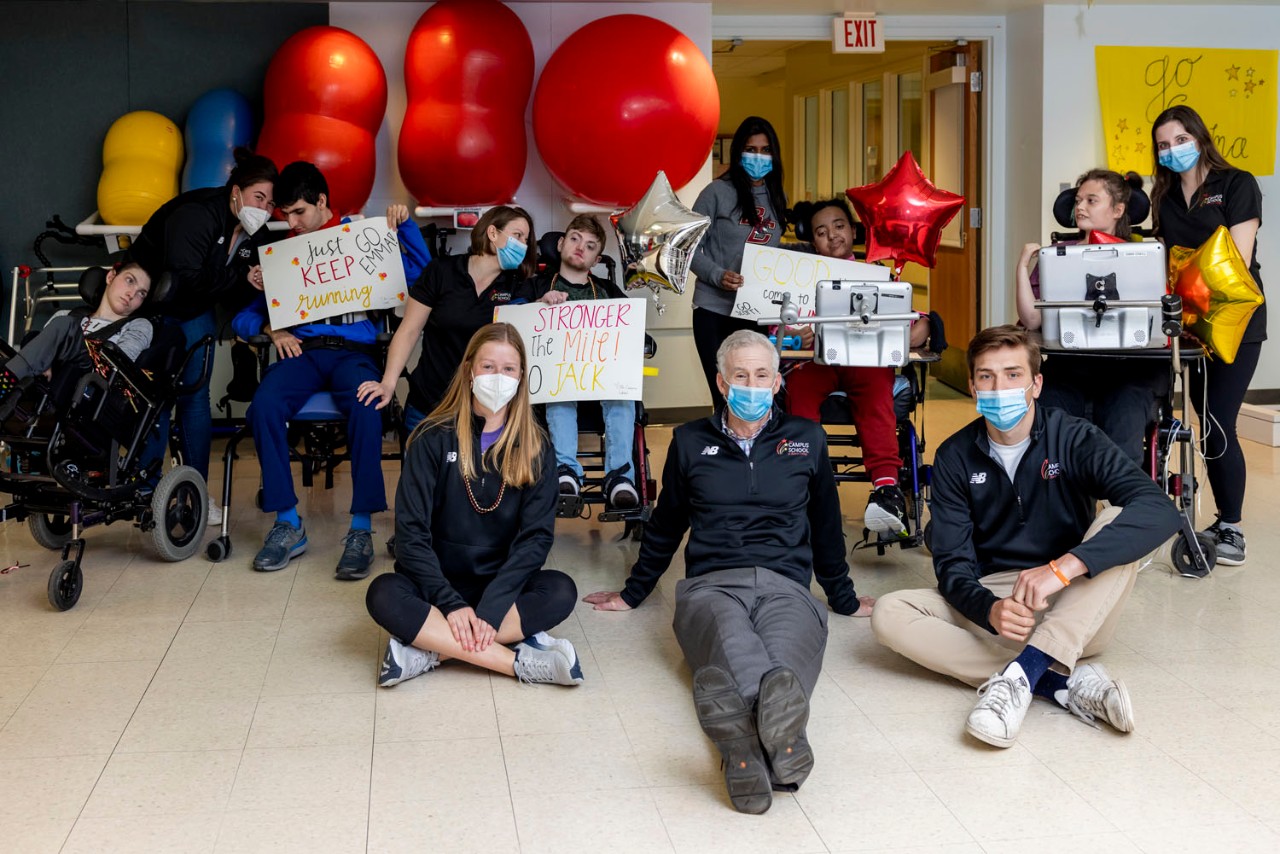 During the Campus School's 50 years of existence, hundreds of students, faculty, and alumni have taken on the 26-mile run for the same cause. "We rely on the support of generous donors to help provide the therapeutic equipment and technology that our students deserve," said Jennifer Miller, the Campus School marketing and outreach manager. "Everyone wants us to succeed, and the more awareness we can spread about the school, the better off we are in terms of donations and students who come through to support all of our efforts."

Bracher, the Undergraduate Government of Boston College president, decided to run the marathon to support the Campus School last year, seeing it as an opportunity to help a worthy cause while fulfilling a lifelong dream of taking part in the marathon.

"The Campus School is an organization that could use the support and also represents the best of the community," he said. "It's been really a privilege to be able to see the work that they do firsthand."

For Olivieri, supporting the Campus School and its students is a family tradition. His father, retired Boston College Computer Science Professor Peter Olivieri, helped pioneer Eagle Eyes, a revolutionary technology utilized by many of the Campus School's early students, and his daughter volunteered at the school during her own time as a BC undergraduate.

"My dad would say to me: 'Hey, there's a person in there—they just can't communicate,'" said Olivieri. "So, with Eagle Eyes, students who had severe disabilities could use a mouse to write and communicate in ways they never could have done. It has always been kind of part of my family's legacy. I grew up around this campus, and you'd be hard pressed to find anything about BC that is more emblematic of the Jesuit values and mission than the Campus School."

The three marathoners were welcomed at the Campus School in March by smiling students with homemade signs for a pep rally in their honor. For the trio, now entering their final weeks of training, it was an opportunity to remember what it's all about.

"Our little contributions are really just a way to amplify the need and the message that they have. It's one day, but we hope it has a measurable impact on the resources that are able to flow into the school," said Olivieri. "They did these little races where Jack, Emma, and I would race against the students.

"Spoiler alert: They torched us every time," he added with a laugh.

Don Ricciato '71, M.A. '73, Ph.D. '00, who served as Campus School director for three decades before retiring in 2017, organizes credentials for the school's marathoners every year. "Anything that is going to help the students, families, and our staff I'm very passionate about, so to be involved in this event has been really important to me," he said. "If you hear of any graduate student that has an experience at the Campus School, they talk about it being life-altering. Regardless of whether they're going to work with individuals with disabilities, I believe it just helps them in terms of being better citizens. They understand the many people we have as part of our humanity, and recognize the support that this population needs, and they recognize what an extraordinary place the Campus School truly is."

Ricciato said he can't wait to see Frazier, Bracher, and Olivieri take on Heartbreak Hill: "It's so nice to see everyone come running by, and you know what drives them obviously is that they're running for everyone in the Campus School community."

For more information on the Campus School Boston Marathon fundraiser and to donate, see bc.edu/csmarathon


Lucas Carroll '22 / Morrissey College of Arts and Sciences | April 2022