Michael Lorenz, an Air National Guard veteran who has worked closely with the University's enrollment of veteran students since 2016, has been named assistant director for veteran programs and services, Executive Vice President Michael Lochhead has announced.
In his prior position, as associate director for selection, development, and formation in the Office of Residential Life, Lorenz helped to lead a number of efforts to increase supports for student veterans, as well as build connections with employees and alumni who have served in the military. In his new position, he will report to Lochhead.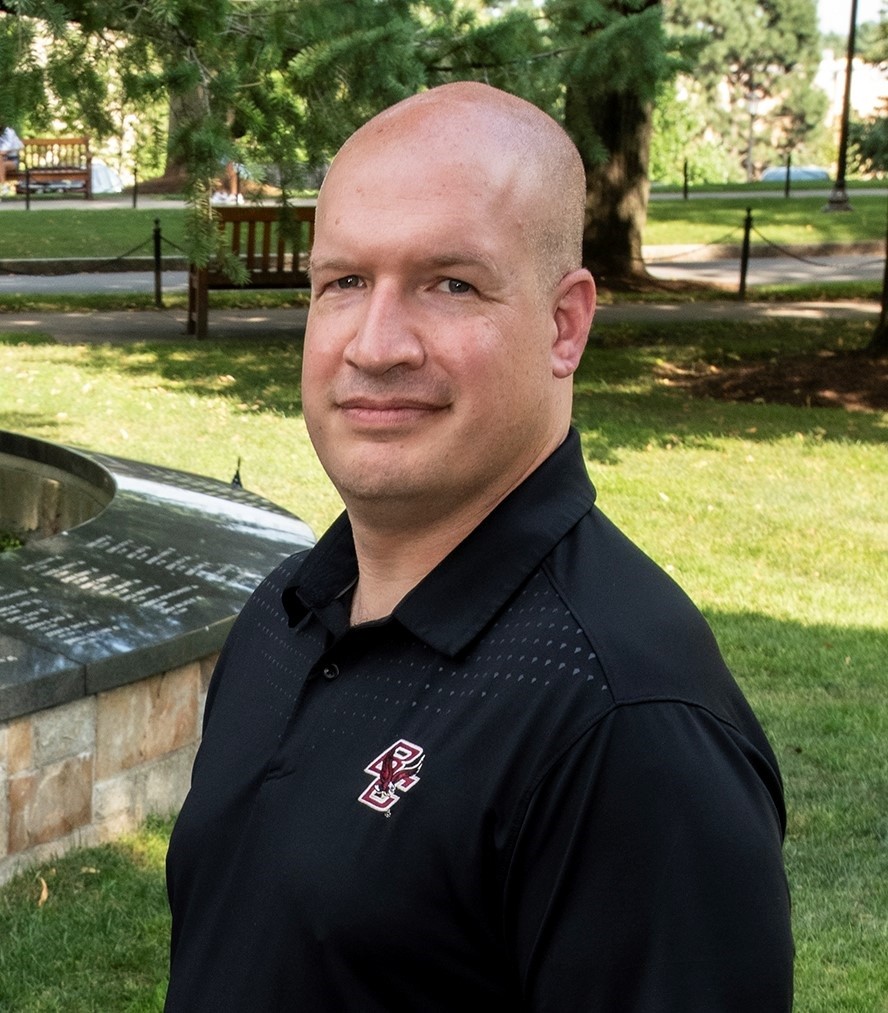 "I see a lot of this role as giving a voice to veterans at BC, as well as providing a place where there is one person veterans can go to go get help, or get answers to their questions," said Lorenz. "A lot of research shows that veterans want a one-stop shop, rather than go from office to office. Meeting with them, hearing their stories, engaging with them and giving them that connection is certainly rewarding to me and I hope it is for them."
The creation of the new position coincides with the 20th anniversary of the Sept. 11 terrorist attacks, which prompted a U.S. military response that has produced 4.2 million post-9/11 veterans, among them 2.8 million who served after the attacks that killed 2,996 people and injured 25,000 in New York, Pennsylvania, and Washington, D.C.
Those veterans, with access to the tuition benefits of the GI Bill, have turned to higher education. BC veteran enrollment stands at approximately 100 graduate and undergraduate students at the University.
In 2016, the University created a Veterans Affinity Group to improve outreach and services to students and employees at the University who have served their country. In 2018, those efforts spurred the creation of the Veterans Advisory Group, with representatives from departments from across the University, as well as students and alumni. The group began discussing how to further improve supports for veterans.
"One of the first priorities that emerged from these discussions was the need for a dedicated liaison to student veterans," said Lochhead, a U.S. Army veteran. "Mike Lorenz was a logical choice for this position given his previous service in the Air Force and to Boston College.  In his role, Mike will be able to dedicate his time, energy, and focus on our student veteran community and work with critical partners within and outside of the University to improve the veteran experience and, longer-term, hopefully attract other talented veterans to Boston College.  He will also be animating the important work of the Veterans Advisory Group.  
"I am looking forward to working with Mike in this new role and bringing about positive changes that impact our veterans and military-connected members of the BC Community."
Lorenz praised the work of Linda Malenfant, assistant director of student accounts and cash management, who for many years has worked closely with student veterans in her additional role as the University's veterans certifying agent.
"I am thrilled to have Mike in this new role," said Malenfant, a member of the Veterans Advisory Group. "He is dedicated to serving all of our campus veterans and will be a critical liaison for the campus community. I look forward to working with him."
The University has created partnerships to better serve veterans, easing their transition into the classroom and supplementing GI Bill benefits to meet tuition costs.
Earlier this year, the University announced it will increase funding for the Yellow Ribbon Program, a Veterans Affairs initiative that helps eligible veterans with tuition costs beyond what the Post-9/11 GI Bill covers. BC has participated in the Yellow Ribbon Program since its inception in 2008. Under the program, all financial aid Boston College provides is fully matched by the VA.
Lorenz joined the Air National Guard as an undergraduate and shortly after earning his degree, he was deployed to Kuwait for the U.S. invasion of Iraq in 2003. He returned to earn a graduate degree and was then deployed to Afghanistan.
Members of the armed services perform a wide range of roles. Not all who serve deploy to a war zone and not all who deploy see combat. But regardless of the experience, the transition to civilian life, to college life, can be challenging.
"What I learned was that coming back into the classroom after being in a combat theater, it takes a while to adjust," Lorenz said. "The discussions I was having in graduate school for classes just didn't seem important to the wider world. It was frustrating. It was hard to discuss theory when there were soldiers overseas still fighting and dying. Even today, it puts things into perspective for me a little bit."
In his own experience, it helps to be able to turn to a fellow veteran who has a shared baseline experience. "I turn to other veterans," he said. "It is hard to find people who understand what you're reflecting on inside the classroom, or at work. That reinforces my work to know there is someone with a shared experience that our veterans can turn to."
Brett Huntley, M.B.A. '22, president of the Student Veterans Association, said it is important for the University to have a consistent presence for veterans since most student veterans are in graduate programs and not on campus for four years.
"It will be great from a continuity standpoint for students from year to year," said Huntley, who served nine years in the U.S. Coast Guard and remains a reservist. "There is a lot of turnover in our group. To have someone on our side to talk to who has that face-to-face with campus leadership is very important. Mike has already done a great job on that. We look forward to continuing to work with him."
Ed Hayward | University Communications | September 2021