Marty Walsh at Conte Forum, where he was sworn in as mayor of Boston during an inauguration ceremony on January 6, 2014.  
Boston College alumnus Martin J. Walsh, who has served as the 54th mayor of the City of Boston since 2014, was confirmed by the U.S. Senate as Secretary of Labor under President Joseph R. Biden in a bipartisan vote on March 22.
A graduate of the Woods College of Advancing Studies, Walsh was the first undergraduate alumnus of Boston College to serve as Boston's mayor, and is the third University graduate to serve in the U.S. Cabinet in recent years: BC Law School alumnus John F. Kerry J.D. '76 was secretary of state during the Obama administration, while Ernest Moniz '66, a graduate of the Morrissey College of Arts and Sciences, was secretary of energy. Kerry now holds a newly-created cabinet-level position as special presidential envoy for climate under Biden.
In his new role, Walsh will head the department entrusted with promoting the welfare of the nation's wage earners, job seekers, and retirees, a charge that encompasses improving working conditions, advancing opportunities for profitable employment, assuring work-related benefits and rights, and administering federal regulations that affect everything from minimum wage and overtime pay to workplace safety. He will have leadership responsibility for both policy and operations and will oversee some 900 employees in the department's national headquarters and six regional offices.
A lifelong champion of working people and the first union member to serve as labor secretary in nearly half a century, Walsh has "worked tirelessly to rebuild the middle class, create a more inclusive, resilient economy, and fight for workers in his hometown," including advocating for a $15 minimum wage and paid family leave, according to the nomination announcement from the Biden team.
"The world 'labor' means everything to me," Walsh said in accepting the nomination, adding that he looks forward to working with the president to "deliver good jobs with dignity, security, prosperity, and purpose to all American families."
"

I believe everyone, including veterans, LGBTQ Americans, immigrants, and people with disabilities must have full access to economic opportunities and fair treatment in the workplace.

"

During his confirmation hearing before the U.S. Senate Committee on Health, Education, Labor, and Pensions in early February, Walsh said he shared the commitment of President Biden and Vice President Kamala Harris to the health and safety of working people, especially during the coronavirus pandemic, and cited his record of support for policies promoting worker protection, equal access to good jobs, and continuing education and job training.
"Millions of American families right now need them," said Walsh, who prior to becoming mayor served as a leader in organized labor and a state representative. "I've spent my entire career at different levels, fighting for them."
During his career, he said, he also sought to advance economic development and promote policies to close gender wage gaps and increase racial equity. "I believe everyone, including veterans, LGBTQ Americans, immigrants, and people with disabilities must have full access to economic opportunities and fair treatment in the workplace," he said.
"Secretary Walsh embodies the passion and determination that are central to the mission of Woods College," said Dean Karen Muncaster. "We are proud to have such a distinguished public servant among our graduates, and one who so exemplifies the ideals of BC's Jesuit mission of service to others.
"The fact that he has faced challenges during his journey really resonates with our students," she said. "His story is inspiring for other working adults who want to advance their education, their lives, and the lives of others."
The son of Irish immigrants, Walsh is a lifelong resident of Dorchester, Boston's largest neighborhood. No stranger to life's difficulties⁠, he battled cancer as a child, and speaks openly about his recovery from alcoholism as a young adult. Overcoming these challenges himself gave rise to a strong desire to help others, and led to his advocacy for the homeless and those struggling with substance abuse, and, in particular, for access to education, which he hails as the gateway to opportunity.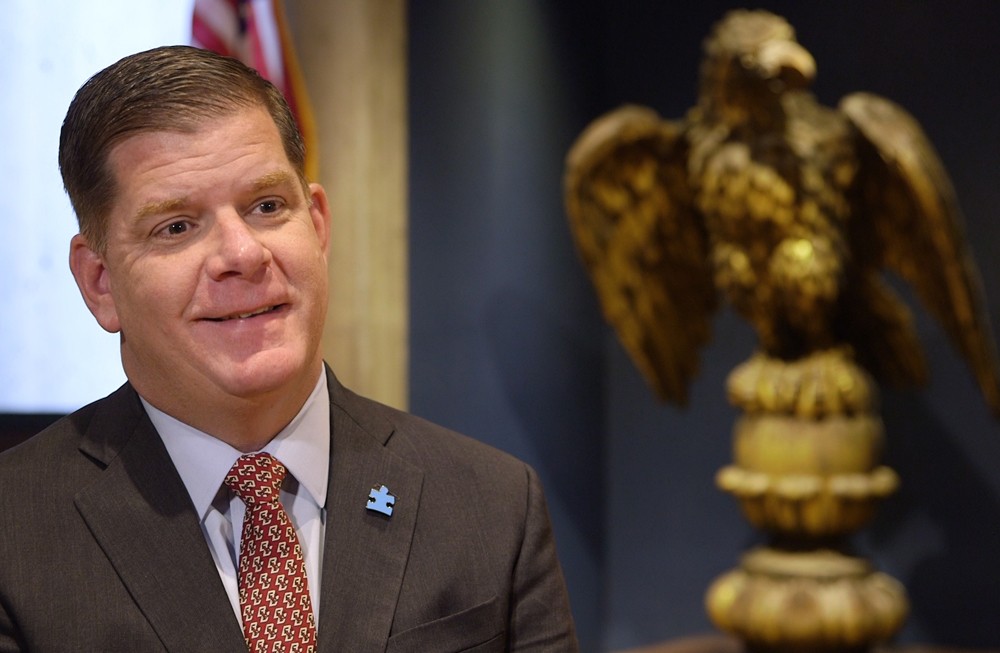 Walsh, who earned his bachelor's degree in political science from the Woods College at age 42, attributes the fulfillment of his dream of becoming a college graduate not only to personal tenacity but also to the encouragement of family, friends, colleagues, and supportive faculty and administrators. Though he calls the Woods College "an amazing place to learn," he freely owns that the road to his degree, which he pursued while working full time as a legislator in the Massachusetts House of Representatives, wasn't an easy one.
He shared his experience with graduating students of the Woods College when he received the school's Distinguished Alumni Award at a ceremony in 2014.
"I know how hard it was for you to get here tonight," he told them, acknowledging the challenge of balancing classes and coursework with work, family, and other responsibilities, and recalling how he would at times arrive at campus and sit in his car weighing whether or not to go to class, thinking of other commitments vying for his attention. "Sometimes school just wasn't my first priority."
But when he passed Conte Forum while walking to class, he said, he never imagined he'd one day return to the venue for his inauguration ceremony⁠—or that his Boston College diploma would then hang in the mayor's office at Boston City Hall.
"It takes perseverance to get to where you are," he said. "You have changed your lives, and now you can change the lives of your families, your communities, and your society. It's never too late to follow your dream."
Walsh echoed that theme in a Boston Globe op-ed, published following his confirmation as secretary of labor, in which he bid farewell to Boston and offered his thanks and encouragement to its people. "This is my call to all Bostonians to consider how you will get involved in your community," he wrote. "Just as important, think about how you will encourage and empower others to get involved too. You can make a difference, so don't hesitate...The challenges before us at a national level are enormous. But Boston has taught me that nothing is impossible if we work together and open the door for more people to get involved.
"From the bottom of my heart, Boston, thank you."

Patricia Delaney | University Communications | March 2021