The creative work of talented Boston College alumni artists will bookend the BC Theatre Department / Robsham Theater Arts Center lineup of productions this semester.
Idawalley, an original play by Maggie Kearnan '14, will launch the new season on January 26, while acclaimed stage and screen actor Bryce Pinkham—a 2005 alumnus and this semester's Monan Professor in Theatre Arts—will direct an April production of Leonard Bernstein's contemporary operetta Candide, in which Pinkham performed as a student the last time it was staged on campus. Pinkham is widely known for originating the role of Monty Navarro in the Tony-winning production of A Gentleman's Guide to Love and Murder, for which he was nominated for Tony, Grammy, and Drama Desk awards.  
Idawalley, directed by Grace Cutler '24, is inspired by the life of female lighthouse keeper Idawalley Lewis of Newport, Rhode Island. Kearnan's play follows the life of Lewis and her family on Lime Rock: maintaining the lighthouse while facing ghosts from their past, as well as the changing times and what they portend. The play will run through January 29 in Robsham's Bonn Studio Theater.
Blue Stockings by Jessica Swale will follow in Bonn Studio February 23-26, directed by Theatre Department Associate Professor of the Practice Patricia Riggin.
A moving, comical, and eye-opening story of four young women fighting for education against the larger backdrop of women's suffrage, the play follows Tess Moffat and her fellow "first years" who are determined to graduate, but don't anticipate the hurdles in their way: the distractions of love, the cruelty of the class divide, and the strength of the opposition.
Theatre Department Chair and Associate Professor of the Practice Luke Jorgensen calls it "both historical and hysterical." The action, he said, centers on the first group of women allowed entry to Girton College in England in 1896. "The college is allowing them to study but not graduate; the women band together to face entrenched chauvinism, violent misogyny, and the academy, demanding to be treated as equals."
Bonn Studio will also be the venue, March 23-26, for Dead Man's Cell Phone, a play by Sarah Ruhl and directed by Lily Telegdy '23: "a quirky dark comedy which explores technology's ability to both isolate and unite us," said Jorgensen, who noted that the two student-directed plays are workshop productions: the director and designers are students mentored by department faculty.
Dead Man's Cell Phone centers on the odyssey of a woman forced to confront her assumptions about mortality, redemption, and the need to connect in a technologically obsessed world. It is a play—presented by arrangement with Concord Theatricals on behalf of Samuel French, Inc.—about "how we memorialize the dead, and how that remembering changes us."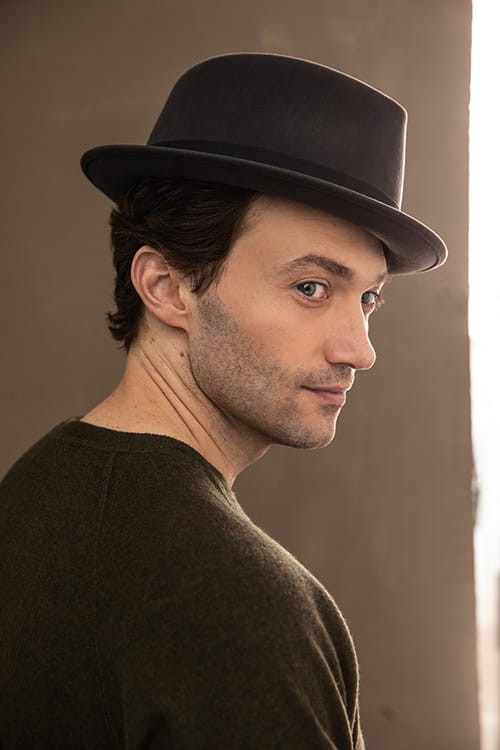 Pinkham's directorship of Candide will both cap his professorship and conclude the season. "Based on Voltaire's novel by the same name, it will be a fresh look at this classic musical with our most talented students working with a truly amazing artist. It is a gorgeous, thought- provoking musical," said Jorgensen.
Regarded as "a masterpiece for the ages," according to organizers, Candide features music by Leonard Bernstein, book adapted from Voltaire by Hugh Wheeler, and lyrics by Richard Wilbur, as well as Stephen Sondheim and John La Touche. It will run April 26-30 on the Robsham main stage.
In one lightning-paced act, the title character is expelled from home, dragged into the Bulgarian army, brought before the Spanish Inquisition, swindled out of a fortune, shipwrecked on a desert isle, and separated time and again from his true love, Cunegonde. She also bears a barrage of misfortunes, including sale into prostitution, forced marriage to a wealthy man, and slavery. Through it all they try to remember the lessons of their dear master, Dr. Pangloss: "Everything is for the best in this best of all possible worlds."
With riotous wit, Candide is a wondrous piece, according to organizers: the ideal blend of sophisticated operetta and wacky Python-esque comedy. It is presented through special arrangement with Music Theatre International; all authorized materials are also supplied by MTI.
For more on spring productions, including performance times and ticket information, visit bc.edu/theatre.

Rosanne Pellegrini | University Communications | January 2023