Membership
The Boston College Workforce Roundtable has been an essential partner to global organizations for the past 30 years, providing research and insights into workforce trends and best practices. Roundtable Members enjoy exclusive access to interactive events, informational resources, and a robust community dedicated to sharing leading practices.
The Boston College Roundtable offers two membership tiers: Core and Premier. 
Premier Roundtable Membership offers a deeper level of engagement with the Center for corporate partners that are committed to progressive human resources practices and continued Center research. Premier Roundtable members maintain access to all the supports that Core Roundtable members appreciate and receive additional, highly personalized services.
Premier Members demonstrate a willingness to examine, learn about, and share approaches to continuous improvement of workforce management practices. They serve as role models to other employers, demonstrating through their success that commitment to their people yields positive organizational outcomes. 
Benefits include:
Invitation to serve on the CWF Advisory Board
The Advisory Board provides guidance to the CWF leadership team and influences topics explored through research, meetings, and webinars.
Two seats at in-person Roundtable member conference
Highly valued virtual and in-person meetings that bring together corporate members and academic thought leaders.
Option to become a preferred research site.
Recent research reports can be found on our Areas of Focus webpage.
Access to specialized programming.
This can include meetings, discussions, and working groups exclusive to Premier members.
Customized services based on the individual organization's needs.
Services can take the form of: Custom research, On-site corporate advising, speaking and facilitation, or Education modules for managers and employees (on-site or virtual).
For information on pricing and becoming a Premier Roundtable member, please reach out to Jennifer Fraone at jennifer.fraone@bc.edu. 
Core Roundtable Membership provides corporate partners access to contemporary research and thought leadership to advance evidence-based, innovative workforce management practices. Roundtable members regularly share best practices, benchmarking data, and candid information about work-life strategies through our members-only listserv, regularly-scheduled teleconferences, and member meetings rich in content and intensive dialogue.
Benefits include:
Two seats at in-person Roundtable member conference.
Highly valued virtual and in-person meetings that bring together corporate members and academic thought leaders. *Our higher education members receive 1 seat included in their membership.
Access to BCCWF staff.
Considered as an extension of corporate member teams.
Data gathering, benchmarking, and research.
Completely customized to meet members' specific needs.
Opportunities to support and contribute to high-visibility BCCWF research.
View our publications and executive briefings to explore recent member contributions.
Access to members-only website.
Includes past meeting materials, a compilation of customized research, benchmarking data, event slides, and recordings.
For information on pricing and becoming a Core Roundtable member, please reach out to cwf@bc.edu.  
Current Roundtable Members
Abbvie
Allstate Insurance Company
American Express
Boston College
Bristol-Myers Squibb*
Broad Institute
Chevron Corporation*
Chobani
Chubb Insurance
Columbia University
Cornell University
Deere & Company*
Deloitte LLP
Dot Foods
Eli Lilly and Company
Ernst & Young*
FM Global*
Goldman Sachs
Harvard University
MillerKnoll
Instron
IPG Photonics
John Hancock
Johnson & Johnson
KPMG LLP
Loomis Sayles
Marriott International
Massachusetts Institute of Technology
Memorial Sloan Kettering
Merck
Morgan Stanley
National Security Agency
New York University
Northern Trust Corporation
Northrop Grumman Corporation* 
Northwestern University
Organon
Prudential*
PwC*
Ralph Lauren
Sandia National Laboratories
Sanofi
Standard Motor Products*
Stanford University
TD Bank
University of Kentucky
US Office of Personnel Management (OPM)*
Vertex Pharmaceuticals
Yale University
*Denotes Premier member
"

I've been a fan of the Center's work for a number of years. Having access to cutting-edge research, thought leaders, and fellow DEI practitioners enables my colleagues and me to advance our work at Vertex in meaningful and thoughtful ways.

"

"

Our experience with the Roundtable has been invaluable. The fall and spring meetings are always a worthwhile investment of time and the bridge that the Roundtable makes between academia and worklife practitioners is something that I've only found through this Roundtable.

"

"

FM Global's partnership with BCCWF has been rewarding. The Roundtable's ability to connect us with resources to provide continuous mental health training for our managers has been very valuable and well received throughout the organization. In addition providing us with access to the latest academic research and advancements in the work-life field has informed both our strategy and practice.

"
New Member Introductory Offer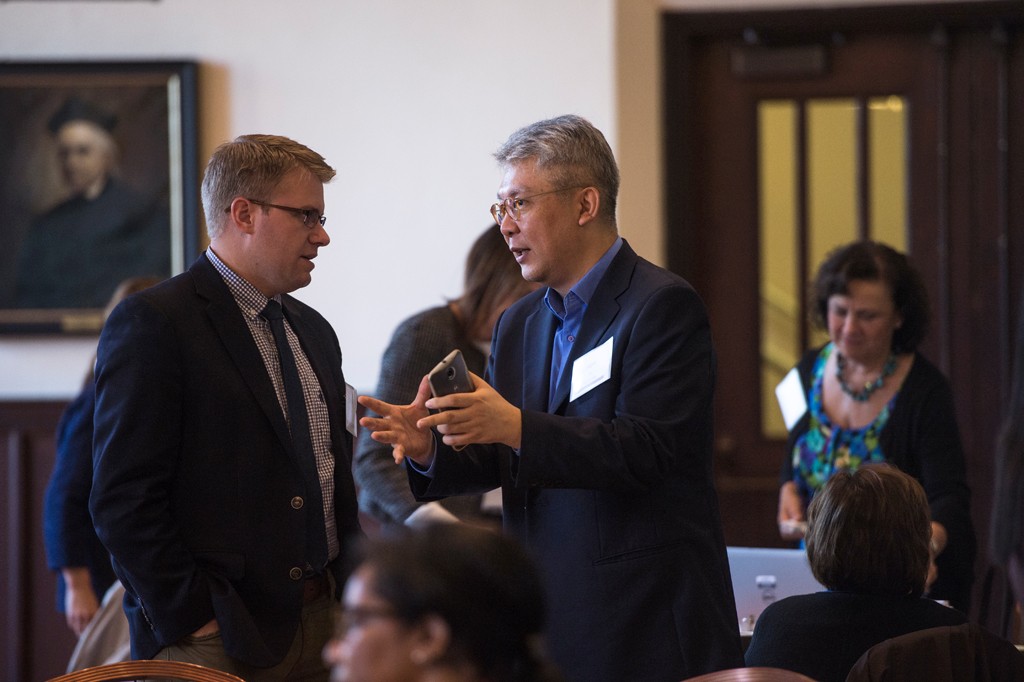 Currently, new Roundtable members receive a special introductory dues rate of $5,000 for a one-year membership, as well as the following benefits:
Invitations to all expert-led virtual events plus two member-only open forum discussions.
Ability to make one custom member benchmarking request and one research inquiry.
Access to the members-only website and all new publications and archived materials.
Attendance at the in-person Fall Roundtable Meeting in Boston.
BCCWF developed education modules/presentations available at discounted rate.