Outreach by students and faculty from the Boston College Connell School of Nursing has helped a Boston high school increase the COVID-19 vaccination rate among its student population from 50 percent to 82 percent since the start of the school year.
Leaders from Cristo Rey Boston High School, a coeducational Catholic school in Dorchester, met with Connell School Clinical Assistant Professors Catherine Conahan and Donna Cullinan in mid-September to strategize on ways to increase the COVID vaccination rate among its 202 students. Only about 50 percent of the students—all of whom are eligible for at least one version of the vaccine—had gotten at least one shot.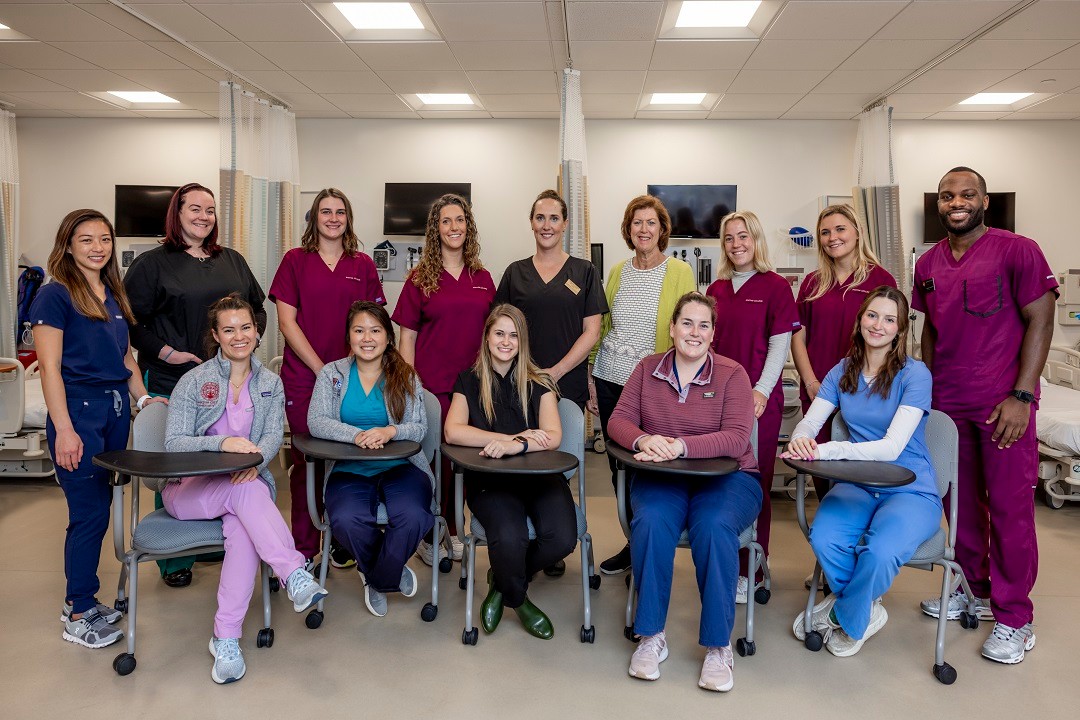 The first step involved sending a letter from CRB President Rosemary J. Powers and Principal Thomas Ryan to all the parents/guardians urging them to get students vaccinated. A mobile vaccination clinic was scheduled at the school, giving students convenient access to vaccines. Then, Conahan enlisted undergraduate and graduate students from the Connell School to take part in a vaccine education campaign for CRB students and their parents/guardians in advance of, and on the day of, the clinic.
Students in Cullinan's Population Health Practice in the Community class—graduate student Brandon Onyechefule and seniors Shannon Croly, Natalie Dalla Riva, Celia Jotte, Tristan Louria, and Nora Markey—came into the CRB classrooms and conducted Q&A sessions with the students. CSON students also talked one-on-one with CRB students and parents/guardians who had concerns.
The COVID vaccination campaign was supported by additional outreach and education conducted by Conahan and the Connell School students who regularly staff a primary care clinic at CRB, including master's program student Megan Fickes '18 and doctor of nursing practice students Sara Bowen, Emily Bower, Elizabeth Cilia, Vy Hoang, Caitlin Martin, Katlyn Noonan '17, and Jennifer Schmitz.
The efforts paid off: As of October 22, 82 percent of the school's student population is fully vaccinated or have received at one dose of the vaccine.
"There is a ton of misinformation out there," said Conahan, a nurse practitioner who graduated from BC in May with a doctor of nursing practice degree, part of the Connell School's first DNP graduating class. "Our role was to listen, explain, and not to shame. Many guardians had understandable concerns, but talking with a trusted health care provider, in a convenient setting, helped. We were happy to have the conversation."
She noted that the outreach was also helpful for CRB students who, due to transportation or other logistical barriers, had not gotten their second vaccine dose, leaving them not fully vaccinated. The on-site clinic and electronic guardian permission slips addressed those obstacles.
"The COVID vaccine effort has truly been a game-changer," said Powers. "Achieving an 82 percent vaccination rate among students and 100 percent among staff is just incredible. We are deeply grateful to the Boston College nurses."
"We've really flipped the script, and now it is considered 'cool' to have gotten vaccinated," said Conahan.
The Connell School started its partnership with Cristo Rey Boston in the fall of 2020. Unlike many public schools, Cristo Rey Boston was open for in-person learning throughout the 2020-2021 academic year. Conahan operates a primary care clinic at CRB two days a week and is regularly joined by one or two DNP students. They conduct physicals, which allows students to participate in sports, and also offer emergency care when needed.
"Partnering with the Boston College Connell School of Nursing throughout the pandemic has been invaluable in terms of helping us meet the needs of our students," said Powers. "Many of our students do not have consistent access to health care, so the in-school clinic helped us safely stay open throughout 2020-2021."
"The Connell School of Nursing partnership with Cristo Rey High School is truly one of the silver linings of the pandemic," added CSON Dean Katherine Gregory. "We look forward to continuing to evolve this partnership, which gives the students of Cristo Rey greater access to health care and our nursing faculty and students access to a school-based clinical practice setting. Improving COVID vaccination rates is just one of the many health outcomes that we can achieve together."
"I love it at Cristo Rey," said Conahan. "We are both Jesuit schools, and it makes sense for Boston College to be here."
 
Kathleen Sullivan | University Communications | November 2021