Sophie Minihane presents her video on Afghan Schools at the Saint Columbkille Art Show. (Lee Pellegrini)

On a late May evening in Brighton, Mass., Sophie Minihane, a 12-year-old middle school student at Saint Columbkille Partnership School, showcased her newly acquired digital storytelling skills through a three-minute video on Afghan schools  presented to a gymnasium full of parents, schoolmates, and their siblings gathered for the school's annual art show.

Minihane confidently reported that unlike American youth, "60 percent don't attend school" in the South Asian country, and "there aren't a lot of materials in the classrooms, which are sometimes outdoors."

"Most girls don't go to school," she noted authoritatively as she outlined the remarkable differences between the two countries.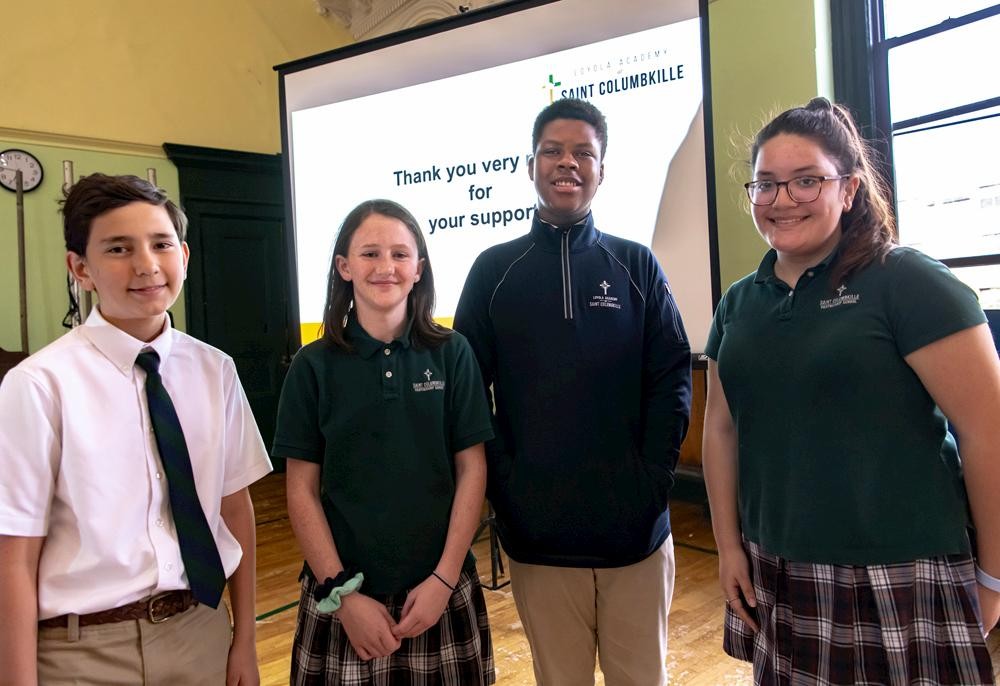 Sophie's video on a developing country was one of four digital storytelling presentations—each representing a topic within social studies, ecology, math, and social justice—selected for viewing at the evening's festivities, which reflected the yearlong leadership and assistance of Lynch School of Education and Human Development Associate Professor Deoksoon Kim, together with 12 Boston College students.

"We wanted to help the Saint Columbkille students articulate their voices while connecting to the larger society and the world," said Kim, who piloted the program in 2017 with a three-week digital storytelling project for 63 sixth- and seventh-graders.

Using still images, music, video, and narration, together with the WeVideo editing tool, the Saint Columbkille middle school students and their teachers collaborated with the BC team to provide "the space, time and resources for the young students to demonstrate what they learned, also known as reflective learning," said Kim.

"We have a wonderful working relationship with BC and the Lynch School," said Head of School William Gartside, who noted that Saint Columbkille was designated a lab school by BC in 2018—the only such arrangement between a university and an elementary school in the city of Boston.

The designation enhances opportunities for teacher training, professional development, and educational research; the latter is jointly designed by faculty from both institutions, and targets Saint Columbkille's specific needs.

Two other Lynch School faculty members now have an ongoing relationship with Saint Columbkille: literacy specialist Professor Maria Estela Brisk, and early childhood education expert Associate Professor Mariela Páez.

"The BC professors are amazing," said Gartside, who also acknowledged previous contributions by current BC faculty members Michael Barnett, Laura O'Dwyer, and David Scanlon, and retired faculty member Jean Mooney, who has volunteered for several years at Saint Columbkille. "They give so much of their time."

"The digital storytelling project serves as a model for additional partnership activities going forward," said Stanton E. F. Wortham, the Charles F. Donovan, S.J., dean of the Lynch School. "We now have a systematic collaboration between BC and Saint Columbkille underway."

Following Sophie's presentation at the Saint Columbkille Art Show, her three classmates outlined their respective productions: "Looking at Math in the Real World," which explored estimation skills a person might need during a visit to a bakery; "Save our World," a presentation on global warming; and a social justice investigation into unsafe personal care products that put consumers, particularly women who use cosmetics with dangerous ingredients, at risk for illness or harm.

"The teachers and I have tried to help students use digital storytelling not only to learn subject matter but also to help them develop a sense of meaning and purpose, together with a commitment to the larger society," said Kim.

Phil Gloudemans | University Communications | July 2019