Two recent additions to the School of Theology and Ministry's faculty, Benjamin Valentin and Callid Keefe-Perry, are bolstering the school's teaching and scholarship in practical and public theology, while also making contributions related to their other areas of specializations, Latinx studies and contextual education, respectively.
Professor of Theology and Latinx Studies Benjamin Valentin joined STM in 2020 after four years at Yale Divinity School where he was an associate professor of Latinx Christianity. Prior to that he spent 15 years on the faculty of Andover Newton Theological School. He is a distinguished cross-disciplinary scholar and author/editor of several books, including the award-winning Mapping Public Theology: Beyond Culture, Identity, and Difference. He has a longstanding involvement in the Hispanic Theological Initiative Consortium, a doctoral-level mentoring and scholarship program. Valentin holds a Ph.D. from Drew University and serves on the executive board of the American Theological Society.
Assistant Professor of Contextual Education and Public Theology Callid Keefe-Perry joined STM in 2021 from Boston University where he was a lecturer in practical theology and assistant director of contextual education. He is a public minister within the Religious Society of Friends (Quakers) and earned a Ph.D. from the BU School of Theology. He is the author of the book Way to Water: A Theopoetics Primer and senior editor of the journal ARTS: The Arts in Religious and Theological Studies. He previously worked as a public school teacher.
"I'm delighted that Ben and Callid have joined the STM faculty," said STM Dean Thomas D. Stegman, S.J. "In particular, their interest and expertise in bringing theology to bear in the public square, so to speak, are most relevant. They will help our students see connections between what they're learning in the classroom and the exigencies of the various settings in which they'll minister."
Practical theology, public theology
Valentin and Keefe-Perry approach practical theology in different ways, but both see the ultimate goal of their work as advancing public discourse around important issues, such as justice, education, and politics.
"Many of the courses I teach have a justice emphasis to them, focusing on some elements of social justice and trying to also bring in cultural sensitivity, cultural enlightenment," said Valentin, whose STM courses include Faith & Justice: Liberation Theology in the U.S. and Theology, Race, and Critical Race Theory. "Cultural theory and social theory have been constant conversation partners for me.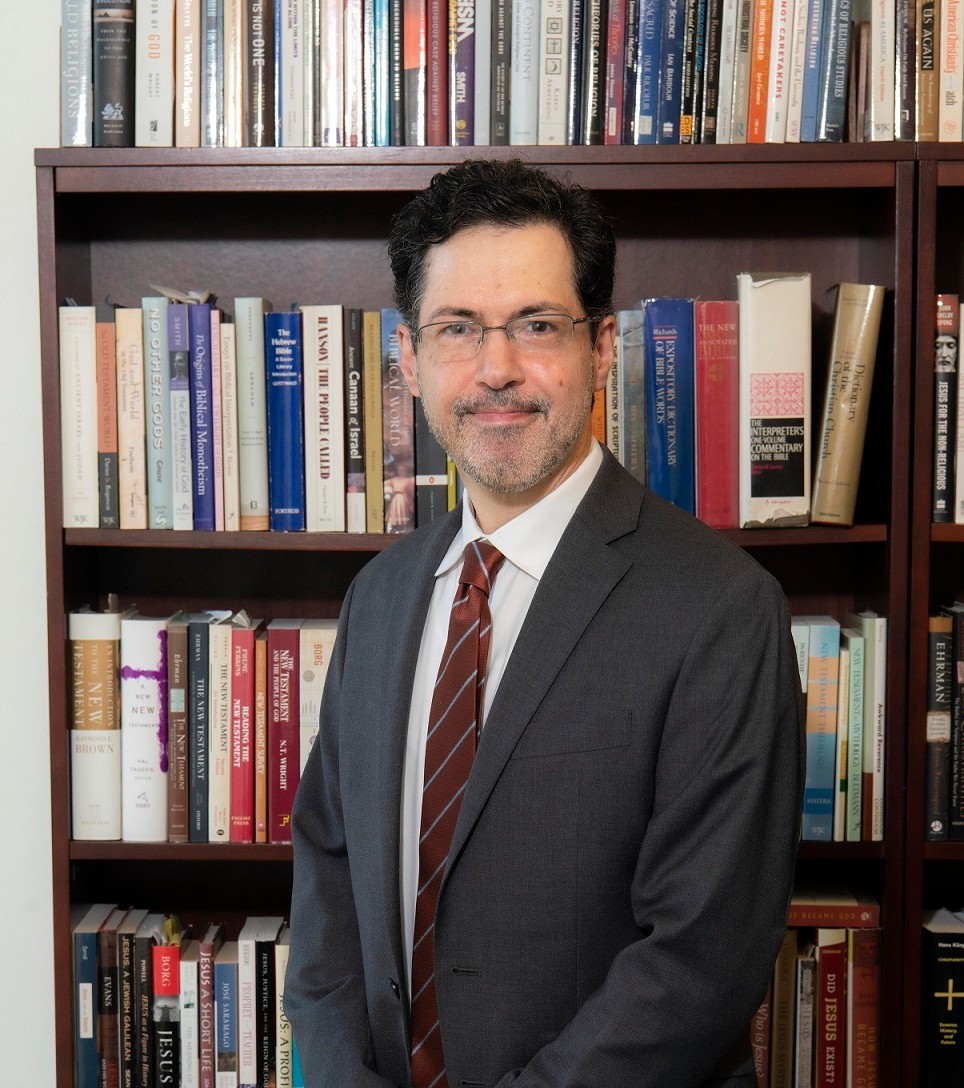 "Much of my work has been informed by political theory. In my teaching and writing, I am interested in politics and American public life and how religious life intersects with that," he added. "As a public theologian, I'm attempting to take a look at American public life issues. How are we dealing with challenges in our nation? How are we dealing with crises, including right now, the pandemic? I am sensitive to those kinds of challenges, crises, and new moments."
Keefe-Perry studies the way public schools shape the psychology and spirituality of youth. "Part of the reason I study schools is because it's one of the most important things we do in domestic government. Not just because of the money we spend, but because it shapes the hearts and minds of our children."
He examines how public schools encourage or diminish students' capacity for creative and imaginative thought. "So I study that like an education scholar would, but I also do it in some ways they wouldn't, because at the end of the day, I'm a practical theologian."
He continued: "As a Christian, as a person of a faith, I have a particular take on the reason we ought to be concerned if in fact the data suggests that kids are getting less and less imaginative and less and less creative. Because one of the things that this will mean down the road is they're less able to imagine the world any different than the way it is.
"If we're committed to being a light in the world, that often means doing work for justice, which means change. And if kids are systematically less able to imagine things different, we ought to care about that."
As a public theologian, Keefe-Perry is engaged in conversation about schools and imagination with others representing various backgrounds and beliefs. He said that to do this kind of work in pluralistic democracy, people need to collaborate with and be open to talking with those whose ideas differ from them.
Beyond their roles as theologians in the public square, Valentin and Keefe-Perry each contribute in separate, distinctive ways to the mission of STM.
Hispanic theology
Valentin's research interests include U.S. Latinx religion and theology, Christianity in Latin American, and liberation theology. At Yale, he was a chief architect of an M.A. in religion program in Latinx and Latin American Christianity. Valentin's expertise and experience are expected to enrich STM's focus on Hispanic theology and ministry. Last fall, he taught a course on U.S. Latinx Theologies.
"One of the attractions of BC and STM was that there were already people here whose work was looking at Catholicism in Latin America or Catholicism among Latinos in the United States. This was part of their work and their identity," said Valentin. "So I knew I would be coming to a place where I wouldn't be alone and the only one giving emphasis to this. That was a big calling card for me."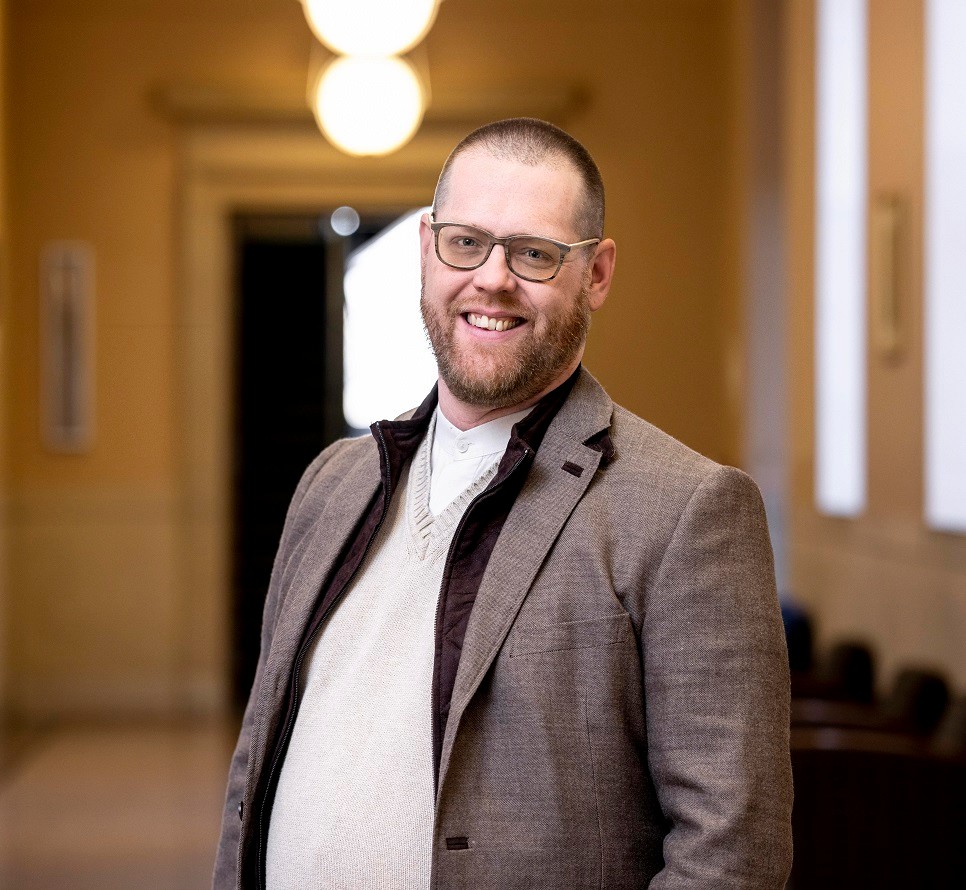 Contextual education
Keefe-Perry serves as director of contextual education, working directly with students in the Master of Arts in Theology and Ministry program on vocational discernment and ministerial development. Specifically, he works in conjunction with Associate Director of Supervised Ministry/Global & Community Engagement Marcia Ryan on placing STM students in ministry field assignments.
"I do one-on-ones with everyone who's going to be enrolling in the program and we explore where they might want to work, what are the things they want to do? What are the experiences that they're hoping to have? What are the things they want to test? Where do they feel like they're being called? Where do they feel like their gifts are?"
The counterpart to the ministry work is a course Keefe-Perry teaches where students reflect on the integration of the field placement experience with the theology and theoretical work they are doing at STM.
"What we do with the classroom component is self-reflection," said Keefe-Perry. "Because it's one thing to know the history or tradition of the church, and it's another to ask yourself: How does that actually impact what I do?"
Influences: Improvisation and East Harlem
Keefe-Perry was a founding member of an improvisational theater group and regularly performed and taught improv. The skills he has honed through improv have proven applicable to his work in ministry and in the classroom.
"Being able to think on your feet, respond in an adaptive, flexible way, listen and be present to other people, and work collaboratively—all skills required in improvisational theater—are dispositional ways of being that are useful," Keefe-Perry said.
Valentin grew up in East Harlem, NY and writes about those formative years in his forthcoming book, Touched by this Place. It is an exploration of the theology of place, specifically how people are formed and informed by the places where they live. Through his example, he invites readers to examine how their thinking, their way of being, may have been touched by place.
"Place really does cut through my whole life story in ways that I'm just figuring out. Everything that I learned about the world was connected to East Harlem, Spanish Harlem. All the information of that place is what led to the themes that I take up in my theology, my writing.
"I find that theological studies haven't given sufficient attention to physical, geographical locations and the input it has on everything that we do in terms of religious practice, in terms of theological thinking," Valentin said. "Since the late 1960s, academic theology has given more attention to the influence of context—social, historical, community. Missing from that has been the geographical settings of our lives—land, the built environment of towns and cities. Somehow context has missed out on place."
The BC difference
What are some of the things that drew Valentin and Keefe-Perry to their positions at STM?
Valentin said he appreciated STM's emphasis on formative education. "I'm very much a proponent of formative education. I love what it stands for. And so I'm glad to be in a place that gives that importance and sees that as part of its identity."
He also has been impressed by the international profile of the student body at STM.
"We have great students. I think the international diversity adds a certain dimension and quality to the classroom experience. To be part of a setting where students are wrestling with issues through a more global perspective is all sorts of exciting to me."
According to Keefe-Perry, one appealing aspect of STM was its size, because it offered a kind of intimacy and impact that, in his experience, was harder to cultivate in a large program.
Keefe-Perry also felt a connection to the STM's grounding in the Ignatian tradition.
He is the first to admit being a Quaker minister with a strong interest in Ignatian spirituality is unusual. He was introduced to Ignatian spirituality during his studies at Colgate Rochester Crozer Divinity School, where he had a supervised ministry placement at Mercy Spirituality Center, a Catholic retreat center. Keefe-Perry was already interested in the areas of discernment and formation, and he said being exposed to the Ignatian, Catholic approach to discernment "was really kind of life changing for me."
He ended up doing the Spiritual Exercises and the 19th annotation and has since incorporated Ignatian spirituality into his devotional life and teaching life.
"So when the opportunity came to do work that I was very passionate about—contextual education and practical theology—and then do it here where there's a very significant emphasis on Ignatian spirituality, it was kind of a perfect fit."

Kathleen Sullivan | University Communications | March 2022