Edmund A. Walsh, S.J., signs a contract to expand the Papal Relief Mission in Moscow, with, from left, Louis J. Gallagher, S.J.; a representative of the Russian government; and Joseph Farrell, S.J., president of Brooklyn College.
Toward the end of a school year in 1922, the headmaster of Xavier High School in New York was surprised to receive a short and rather puzzling telegram from an ocean liner coming into New York. It read:
"Meet me at Cunard Pier—docking at 5 p.m."
So began an adventure of both danger and diplomacy for Louis J. Gallagher, S.J., who would later become the 17th president of Boston College.
But first, in June of 1922, he would embark on a 15-month stay in famine-stricken Russia as assistant to the director of the Papal Relief Mission, all the while acting as a layman. This challenging and intriguing experience, with all of the difficulties and hardships it entailed as well as the satisfaction of providing food, clothing, and medicine for a starving, desperate, and grateful population of men, women, and children, is presented in a memoir written by Fr. Gallagher in the1960s and newly edited for publication by Joseph P. Duffy, S.J., '50, MA'51, STL'58, H'18, former rector of the Jesuit Community at Boston College who also served for two decades as University Secretary.

A Jesuit Cossack: A Memoir by Louis J. Gallagher, S.J., also recounts Fr. Gallagher's role as a diplomatic courier—for both the Soviet government and the Vatican—in bringing the remains of then-Blessed Andrew Bobola (later canonized by Pope Pius XI) from Moscow to Rome. According to Fr. Gallagher, his is the first eyewitness account of the recovery of the body of the Jesuit martyr, and is described in more detail than is found in Vatican records.
---
---
Click the rectangular box in the lower right corner to view the pages full screen.
According to Fr. Duffy, the memoir "had been sitting quietly on a shelf in the University Historian's office for many years," dating back to Charles Donovan, S.J., who held that position at Boston College from 1979-1998.
Following the death of Fr. Donovan's successor, BC Professor Emeritus of History Thomas O'Connor, "I was cleaning out the office and came across the memoir," Fr. Duffy recalled. "You might say it was rescued from 'the dust bin of history.'"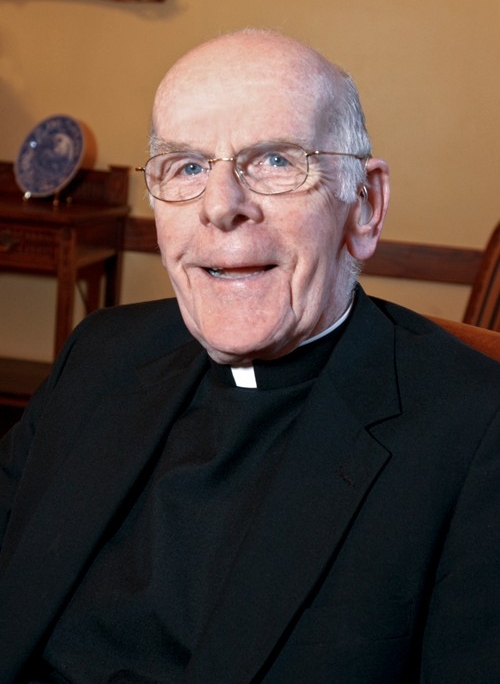 "Fr. Gallagher referred to it as a biographical memoir," said Fr. Duffy. "And that it was, starting with his birth and continuing into his mid- to late-seventies. I found it very interesting and worth saving so I transcribed the entire memoir."

There were some early efforts to have the account published, Fr. Duffy said, "but those approached thought that a good deal of the content would not be of interest to the ordinary reader and so would be difficult to market. But I thought there was  'a story within a story' that should be told and would be well received."

The Russian experience is really the heart of the newly published memoir, as it apparently was to Fr. Gallagher, said Fr. Duffy, who noted that details about the role of the Papal Relief Mission in aiding the starving victims of the famine, and about the recovery and return to Rome of the body of St. Andrew Bobola, a Blessed at that time, are not well known.

"That is what made publishing A Jesuit Cossack something worth doing and worth sharing," he said.
A Jesuit Cossack includes a forward by Boston College historian Charles Gallagher, S.J., who is not related to the memoirist.

—University Communications