Boston College seniors Douglas Girardot and Keara Hanlon will spend part of the coming year getting an in-depth introduction to professional journalism at a major Catholic media outlet, as recipients of Joseph A. O'Hare, S.J., Postgraduate Media Fellowships for 2021-2022.

The two—along with Loyola University Chicago senior Sarah Vincent, the third fellow selected—will spend 11 months working at the New York City offices of America Media, which publishes the magazine America: The Jesuit Review of Faith and Culture, a leading Catholic journal of opinion in the United States. O'Hare Fellows generate content for America Media's multiple platforms: print, web, digital, social media, and events, and gain professional experience through ongoing mentoring and other opportunities. Fellows meet regularly with America's editorial staff, including James Martin, S.J., editor-at-large of America and a New York Times best-selling author, to cultivate their skills and professional networks.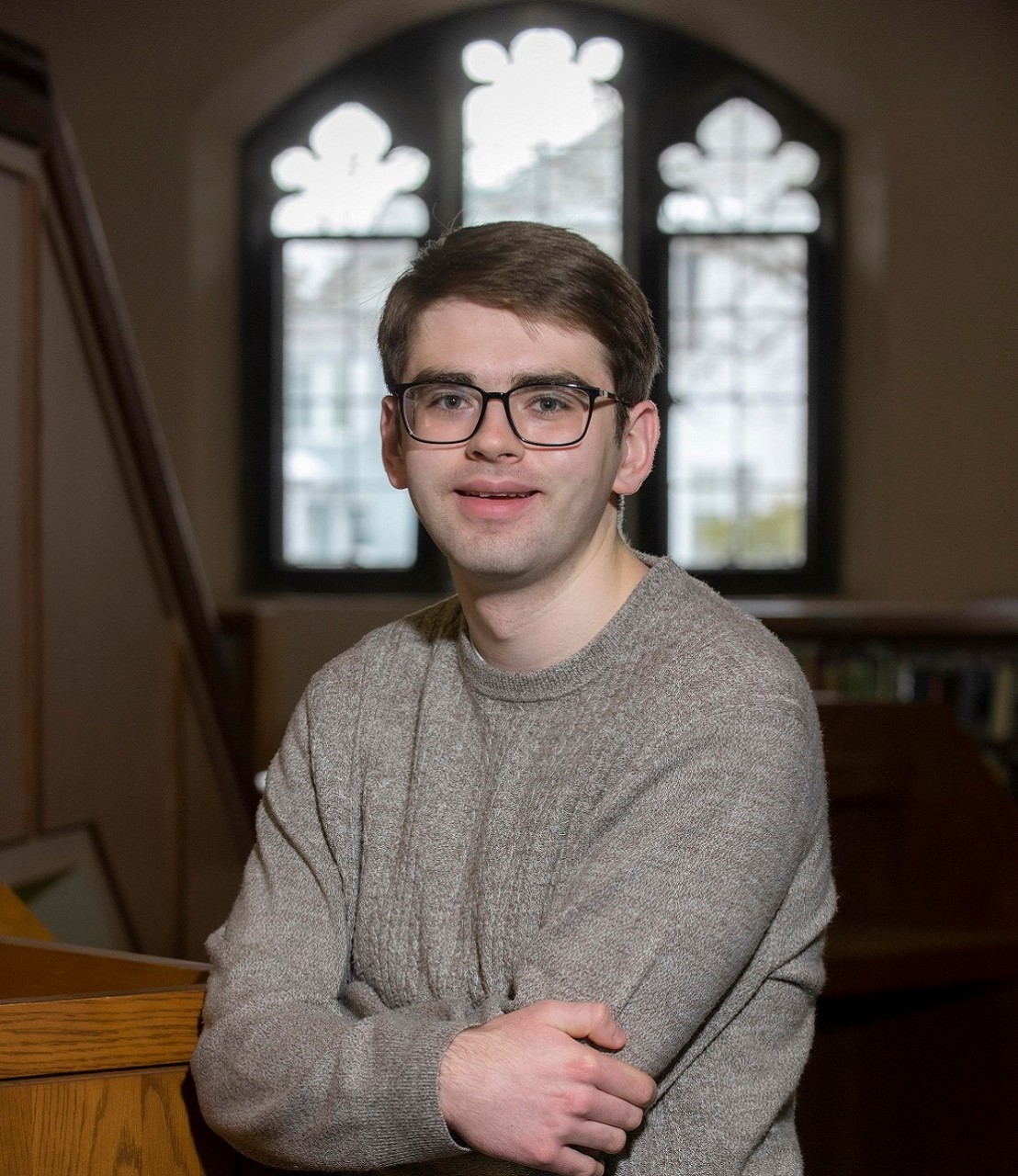 "It's an amazing, and humbling, honor to be chosen as an O'Hare Fellow," said Girardot, a native of New Milford, Ct., majoring in history with a minor in Latin. "Whatever I do in my life, I want to be a writer, to always be learning. Journalism, to me, is an ideal profession: You take what you've learned and present it in a way that will hopefully be meaningful to those who read what you write."

"I see the O'Hare Fellowship as enabling me to combine my passions: reading, writing, and issues in social justice, politics, and history," said Hanlon, a communication major with minors in marketing and American Studies who grew up in Connecticut and attended high school in Texas (her family now lives in Chicago). "These are aspects of my life I've explored at Boston College, and I look forward to continuing the exploration as an O'Hare Fellow."

Boston College has been well represented in the O'Hare Fellowships: 2020 alumna Molly Cahill is currently serving her fellowship; other past fellows include Nick Genovese '16 and Emma Winters '18. Angelo Jesus Canta, a School of Theology and Ministry 2020 grad, was an O'Hare Fellow before coming to BC.

A hallmark of BC's two newest O'Hare Fellows is their diverse interests and activities, which encompass challenging academics, involvement in the arts, and faith and spirituality. Both are inveterate readers of traditional and "new" media, from The New York Times, America, and Commonweal to online documentaries and podcasts.

Girardot serves on the editorial board of The New England Classic, BC's satire publication, and writes for The Heights. A devotee of classical music, Girardot is a member of the University Chorale of Boston College and performed as a guest singer with the Boston Symphony Orchestra in 2019.  

Hanlon is a member of BC's chapter of the national Jesuit honor society Alpha Sigma Nu, Lambda Pi Eta—the national communication honors society—and Boston College's Order of the Cross and Crown. She has been heavily involved in Campus Ministry programs, particularly the Liturgy Arts Group, of which she is now president, and the Kairos retreat, where she has served as a leader. Hanlon plays four instruments and sings, and has been a sports photographer for The Heights.

Boston College's Jesuit, Catholic character, and the attentiveness to social justice in its mission, were major factors in Hanlon's decision to attend BC. Classes with Communication faculty members Associate Professor of the Practice Celeste Wells (Communication Methods) and Assistant Professor of the Practice Brett Ingram (Critical Theory) have been among Hanlon's foundational academic experiences, as have the interdisciplinary perspectives gleaned through her American Studies minor.

Said Hanlon, "No matter what, I know I will need my life to have a strong creative aspect to it for me to be fulfilled. Boston College has helped shape me intellectually, spiritually, and personally, and I feel that the O'Hare Fellowship will enable me to build on the experiences of these years at the Heights."

Campus Minister for Liturgical Arts Meyer Chambers, who directs LAG, said Hanlon quickly adopted the group's mission and ideals when she joined as a sophomore. Last year, LAG tapped her as social media coordinator, a fairly new position, and Hanlon "brought fresh eyes, renewed commitment and innovation to the group's identity. Keara loves working in media, and she's good at it."

Chambers also praised her stewardship of the group during a challenging year: "Keara has provided leadership for our music ministry when there wasn't much music allowed to be made.  The three pillars of LAG are faith, community, and service, and she has remained true to those ideals."

Like Hanlon, Girardot grew up in a family with a strong Catholic tradition, and its presence at BC resonated with him. Initially interested in physics as a major, he changed his mind after taking a core history class with Professor Sarah Gwyneth Ross, fascinated by her teaching on elements of the Enlightenment and 18th-century culture ("She made learning about the past fun, while showing how it connects to how we think today"). Another history course, taught by Professor Virginia Reinburg, that delved into the Reformation inspired him to think deeply about the nature of Catholicism and religion in general in what he calls "a critical, non-destructive way."

Girardot said his BC experience has been characterized by numerous conversations on faith and religious matters both inside and outside of the classroom.

"The O'Hare Fellowship will give me a good excuse to spend a lot of time doing what I already do: engaging with others about the big questions. One big reason I'm excited about this opportunity is that I really love how America condenses complicated issues without compromising the integrity of the argument. I think it's really important to get more people involved in these conversations, and practicing good journalism is a means to do that."

Ross, who became Girardot's advisor, lauded not only his academic performance but his work as her undergraduate research assistant, which included serving as "a beta-reader" of a draft for a textbook she is writing. "Even the precocious maturity he shows in what he says and writes for class, and what he has begun to share with the world in his journalistic work, still hadn't quite prepared me for the brilliant editor's eye he lent to that project—would that many career scholars brought that much insight, generosity of spirit, wry wit to the editorial endeavor. But that's just Doug for you; he's an extraordinary student, scholar, and human being who deserves every superlative we've got.

"For all these reasons, and especially since he nurtures the hope of working somewhere under the broad umbrella of journalism after graduation, Doug struck me as a wonderful candidate for an O'Hare Fellowship."

Sean Smith  | University Communications | March 2021