Gordon Wayne '23 is passionate about ending homelessness in America.
His drive was born out of personal experience. At this time last year, Wayne had $6 in his bank account and was living out of his car in Caroline County, Virginia. He spent days working 10-hour shifts at the local amusement park and nights in random parking lots trying not to attract attention. He looks back at this time as his "rock bottom."
"I didn't think I was going to get out of it, honestly," he said recently. "It seemed like there was no real escape."
A lot has changed in the past year. After his circumstances forced him to turn down an acceptance to the University of Pittsburgh, Wayne enrolled in community college in Virginia, earning as many credits as he could while researching schools that offered full financial aid. Eventually, he applied to Boston College as a transfer student, and was one of only 8 percent of transfer applicants accepted into the Class of 2023. 
As his own route out of homelessness became clear, Wayne began thinking about how to help the estimated half a million Americans who live without shelter on a daily basis. A map showed the distance from Wayne's hometown to Chestnut Hill at just over 550 miles. On August 12, he launched a GoFundMe page and started walking.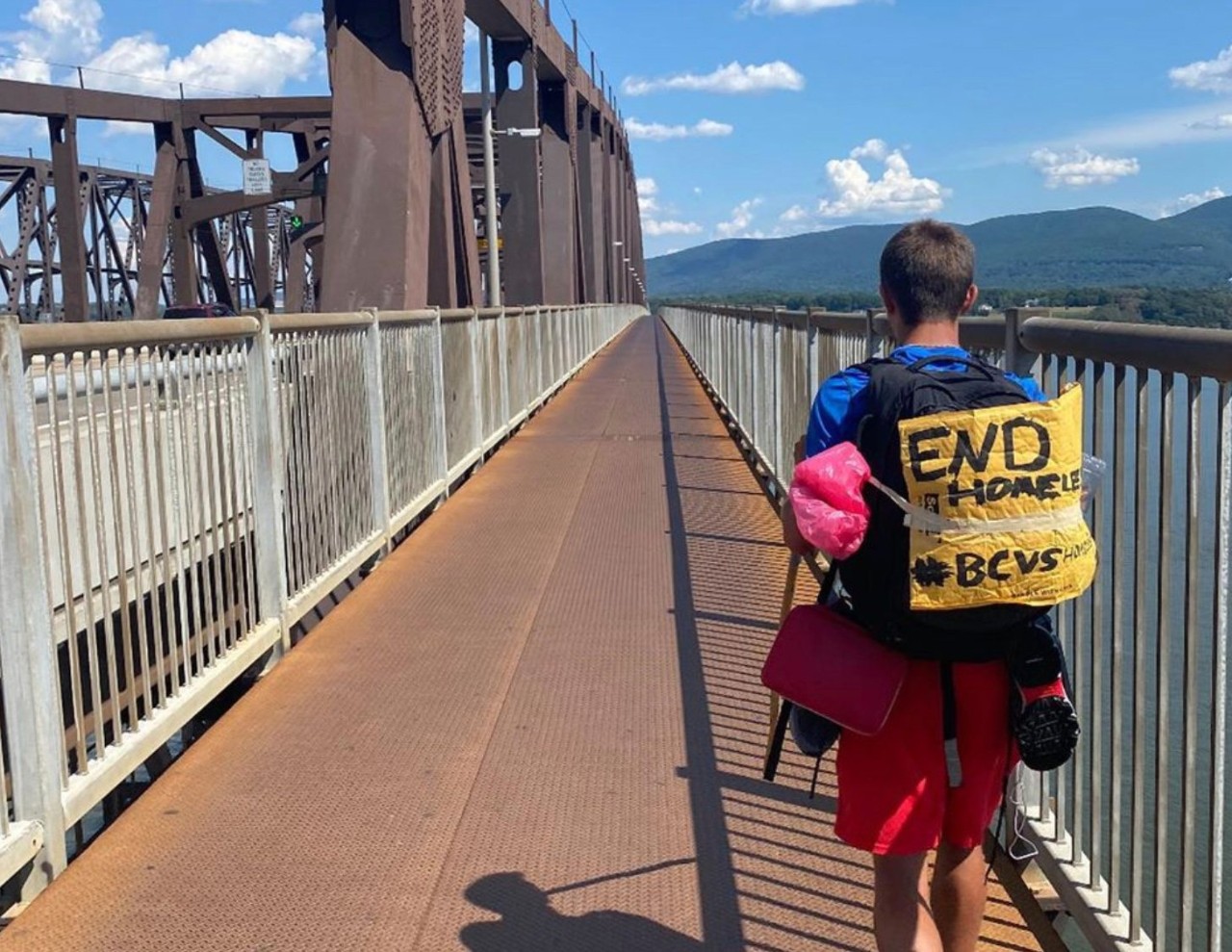 For the next 16 days, Wayne trekked north, traveling through cornfields and along the shoulders of busy highways. He brought along a homemade walking stick given to him by his grandfather, with both of their names carved into it. On his backpack, he taped a homemade sign promoting his cause: #BCvsHomelessness. 
Most days, Wayne averaged 14 hours on the road, logging between 30 and 40 miles before bunking down in a local hotel. With so much time alone with his thoughts, he stayed connected to the outside world through social media, posting regular updates on his progress as well as musings about life. On one occasion, while preparing to spend the night on the sidewalk, he joked with his 3,600 Instagram followers that it was the biggest room he'd ever stayed in. "Sleep well everyone," he wrote. 
From day one of the trip, Wayne was plagued with blisters that made walking painful, and when his headphones broke, music was no longer a distraction. Prior to setting out, the farthest he had ever walked was eight miles, and the immense challenge in front of him was sometimes overwhelming, he said. 
"My feet hurt with basically every step, I took a lot of ibuprofen," he said. "I don't think I'll want to do this again unless there's a good reason to."
Ultimately, what kept Wayne going was the steadily rising figure on his GoFundMe page, which would go directly to the National Alliance to End Homelessness. As he entered Massachusetts, more than 500 people had donated over $15,000 to the cause. Less than a week later, the total was up to $28,000. 
"People are aware of the issue now," he said. "It just means the world to me."
On August 28, Wayne walked onto the Boston College campus, passing fellow students and their families busy moving into the residence halls. With a Boston College police cruiser escorting him, he walked into Alumni Stadium, put down his pack, and raised a fist into the air in a moment of personal victory. For the first time in 14 months, he was home. 
"I was really fortunate to find my way here," he said afterwards, reflecting on his journey. "It took a lot of luck and a lot of hard work. I just want to try to create opportunities for other people." 
Alix Hackett | University Communications | September 2020