Since opening its doors in January, Boston College's new integrated science building, 245 Beacon Street, has already hosted hundreds of classes, research projects, and study sessions, becoming one of most popular places on campus. On September 29, hundreds of BC trustees, benefactors, faculty, staff, and students gathered to celebrate the formal unveiling of the building with an evening featuring a keynote address by Nobel Prize laureate Paul Romer, a faculty panel discussion, and presentations by dozens of faculty and students.
In his opening remarks, Provost and Dean of Faculties David Quigley described 245 Beacon Street as "a profound statement of institutional and collective belief, both in the potential of this building for today's students, but also in what it's going to mean for future generations across Boston College."
The 150,000-square-foot building is home to the Schiller Institute for Integrated Science and Society, the departments of engineering and computer science, and the Shea Center for Entrepreneurship. Quigley summarized the facility's interdisciplinary mission by screening a video of the late Paul Farmer, the co-founder of the public health nonprofit Partners in Health, from the 2017 launch of the Schiller Institute. "Boston College can make its chief contribution in linking our understanding of science and technology to other broad categories," Farmer said onscreen, "and in applying them in a reparative way to social problems."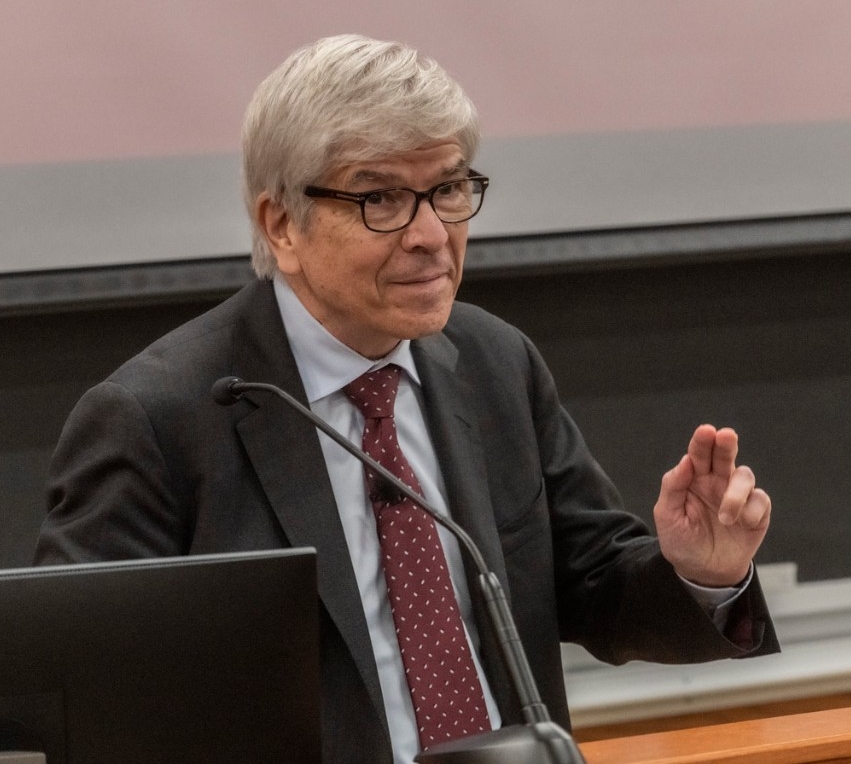 In a similar spirit, the economist, policy entrepreneur, and NYU School of Law professor Paul Romer gave a keynote address titled "What is the Value of the Values of Science," citing centuries of history to argue that science and society must remain deeply intertwined.
"Science encouraged everyone to be rigorous about honesty and integrity, and that bled into all of Western culture," said Romer, who is a co-recipient of the 2018 Nobel Prize in Economics Science for his work integrating ideas and innovation into macroeconomic models. "I don't think we should take those values for granted. I think we should work to ensure that the next generation is also acculturated into a system that cares about integrity and truth."
Laura J. Steinberg, the Seidner Family Executive Director of the Schiller Institute, introduced a faculty panel moderated by DeLuca Professor of Biology Thomas Chiles, vice provost for research and academic planning. The panel featured Assistant Professor of Engineering Avneet Hira, Schiller Institute Professor of Climate Science and Society Yi Ming, and Daniel J. Fitzgerald Professor in data science George Mohler, each of whom uses scientific methods to study societal problems ranging from inequality to global warming.
Ming, who previously served as a senior scientist at the U.S. National Oceanic and Atmospheric Administration, said that he believed Boston College's human-centered approach would "make BC a true global leader in devising a holistic response to climate change."
"Climate change is an issue created by people and experienced by people, and it has to be solved by people," Ming said, "so it makes perfect sense to put humans front and center in the fight against it."
Upstairs, guests listened to presentations by faculty and students in 245 Beacon Street's many labs, work spaces, and common areas.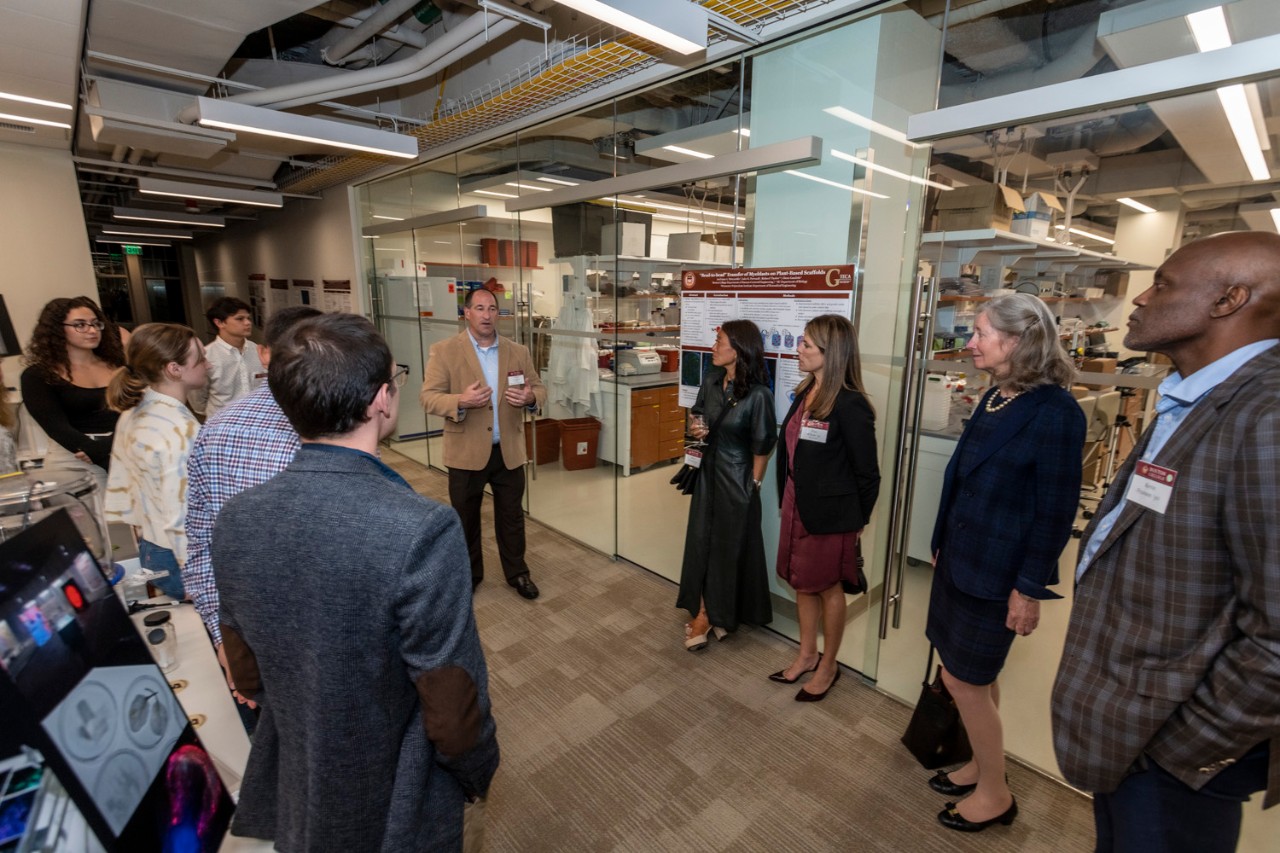 Professor Glenn Gaudette, the inaugural John W. Kozarich '71 Chair of the Department of Engineering, speaks to attendees at the 245 Beacon St. opening event. (Lee Pellegrini)
In the fifth-floor home of the new Engineering Department, department chair Glenn Gaudette and a team of students and postdoctoral fellows explained how they had managed to grow sustainable meat proteins and human heart tissue on decellularized leaves of spinach. "We need engineers who can understand the real needs of society and culture, and then get to work on those problems," Gaudette said.
Next door, students and faculty showed off robots they had built in the building's Computer Science facilities, including a machine created by Yifan Zhou '23 with omnidirectional wheels, night vision, and facial tracking. Meanwhile, Laura Clerx, a Ph.D. candidate in history, spoke with guests about a multidisciplinary seminar on climate research, and Eddy Jiang '22 presented the Affirm Lab, a School of Social Work initiative working with the Schiller Institute to reduce inequities for marginalized youth. Jiang said that working with the Institute's computer scientists had been a mutual learning experience. "The beauty of the Schiller Institute is that it connects us," he said, "but it lets us stay who we are."
Downstairs, students from the Shea Center for Entrepreneurship presented on start-ups and other new projects, while others in the prototyping and maker spaces shared what they had made using the building's state-of-the-art equipment. Will Gotanda '25 had built a kinetic sculpture using the facility's 3D printers and laser cutters, while Jasroop Dhingra '25 had printed herself a new iPhone case. Their classmate Cyrus Rosen, a member of BC's Carpentry Team, was building a set of drawer dividers for his mother's birthday.
For human-centered engineering major Maggie Hynes '25, the maker space known as The Hatchery was a space for exploration, learning, and new discovery. "I'd never seen a 3D printer or a vinyl cutter nine months ago, but now I consider myself pretty proficient," she said. "I love that anyone can access this space and learn, whatever they're majoring in."
In his words of welcome, University President William P. Leahy, S.J., said that he felt that the word "hatchery" was apt for describing what was happening at 245 Beacon Street. "We are coming up with new ideas, new ways of exchanging ideas, and new ways of looking," he said. "We have so much reason to rejoice in our community."
Phil Schiller '82 summed up this spirit of innovation and collaboration during his benefactor's remarks. Reflecting on the vision he and his wife Kim Gassett-Schiller had for the Schiller Institute and 245 Beacon as a whole, he told the crowd: "Come in during the day and see the students who fill the labs, the classrooms, and the halls with their creativity, curiosity, and enthusiasm. Because that's what it's all about, and that's why we created this."
 
John Shakespear | University Communications | October 2022