"Sesame Street O-Saurus," a Sesame Street episode penned by Ed Valentine '92. (Photo: © Sesame Workshop / Zach Hyman)
Sesame Street premiered in 1969, just in time for a young Ed Valentine '92 to tune in. "I was in the first wave of kids who watched it," he said recently. "It was the show that taught me how to read and write."
The series—which turned fifty last year—made such an impression on the young Valentine that he wound up writing for it decades later. In his nine-year stint working on Sesame Street, Valentine (who went by Ed Smith while at BC; Valentine is a pen name) created beloved episodes, skits, and songs. He was also a story editor for Sesame Workshop teams in Afghanistan, India, and Bangladesh. Valentine's Sesame Street contributions earned him four Daytime Emmy Awards for Outstanding Writing in a Children's Series.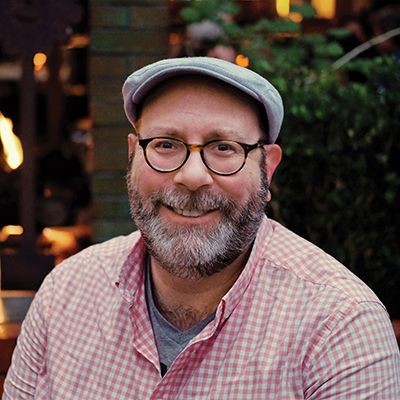 Valentine's path from Sesame Street watcher to writer wasn't direct. He double-majored in theater arts and English at BC, and then spent several years as an elementary school teacher in New York. Missing the stage, he took classes at Hunter College under playwright Tina Howe, then got an MFA in dramatic writing from NYU. A chance encounter with head Sesame Street writer Lou Berger—who had previously selected Valentine's work for Hunter College's Irv Zarkower Award for promising plays—led to an opportunity for Valentine to pitch ideas to the show. The Bert and Ernie sketches he devised won over the team, and he soon found himself in the writers' room.
Valentine vividly remembers the first time he saw the set. "It was extraordinary," he said. "To be there and see the puppeteers, Big Bird's nest, Oscar's trashcan—many people burst into tears when they step on the street for the first time, and I was definitely one of them."
Though Valentine still does some international work with Sesame Workshop, he's moved on to new creative endeavors. He writes for other kids' shows, acts, and writes plays. Here, Valentine looks back on some of the standout Sesame Street episodes he penned. 
"Sesame Street-O-Saurus"
(season 43, episode 14)
Valentine's first Sesame Street episode aired during a STEM-focused time at the show. He dreamed up a storyline that features Grover discovering what he believes is a set of dinosaur fossils—but ends up being just a pile of old junk. Valentine scripted the song "Paleontologist Calypso" to be performed on the regular set, but just before filming, the team built a special backdrop that included muppet paleontologists. "I was like, wow, this is even better than what I wrote," he said. "It's a great example of the collaborative way television gets made."
"Trashgiving Day"
(season 43, episode 24)
Tasked with coming up with a Thanksgiving theme, Valentine landed on a holiday for grouches, replete with a Macy's-inspired parade that featured a giant stink bug balloon. How the show and its characters treated the prickly Oscar the Grouch was especially formative for Valentine: "They love him not despite his faults but because of who he is. Sesame Street was a vision of an integrated, accepting, and loving world."
"Grover Does It All"
(season 45, episode 25)
"I love Grover a lot. He is really close to my heart," Valentine said. This episode finds the blue monster trying to take on too much. At one point, Grover is painting and dribbling a basketball and being a chef and cooking spaghetti—all at the same time. "That was more of a social-emotional curriculum piece, teaching that you can love all of those things, but maybe just try and do one at a time," Valentine said. "Which is perhaps a lesson I have never learned myself."
---
Molly McDonough | Boston College Magazine | Spring 2020
Share your thoughts: bcm@bc.edu