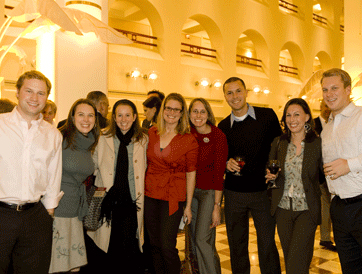 Photograph: Rose Lincoln
Kicking Off Reunion 2009. While Reunion Weekend 2009 won't be here until the end of May, the celebration has started in two alumni bastions: New York City and Boston. Pictured above (l-r), Daniel Finkle, Julia Tyler, Margot Danzig, Sara Farnan Colleary, Katharine Rocco, Matthew Bonavita, Kristen Farrell, and Eric Nelson – all members of the Class of 1999 – were among nearly 300 alumni who attended the Reunion 2009 Kickoff in Boston on November 19 at the Marriott Long Wharf.
On October 22, some 300 alumni turned out for the New York Reunion Kickoff at The Pierre in New Yok City. Reunion Weekend 2009 will be May 28–31, 2009. View photos from the Reunion 2009 Kickoff in New York City.
Ready for a Challenge?
The Neenan Challenge is Underway
Recently, Father William Neenan, a beloved BC icon, received wonderful news from good friends who plan to contribute $500,000 to Boston College to help meet the pressing need of financial aid to deserving students. In return, these generous donors have asked for only one thing—5,000 alumni donors to join BC's honor roll of donors this year. Fr. Neenan's friends will give Boston College $100 for every new gift it receives. In the first two weeks, more than 1,633 have taken the challenge. Will you help Fr. Neenan and BC reach this important goal?
Give here through a secure online giving form.
Two Perfect Holiday Reads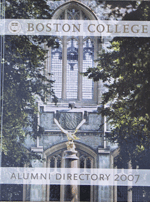 Looking for an old-fashioned way to get in touch with your alumni friends? The Alumni Association has a limited number of Alumni Directories for sale. This 1,482-page, hard-cover volume is beautifully bound and contains all the contact information you'll need to stay connected with classmates and friends this holiday season.
Prices include:
$45/copy – pick-up at Alumni House
$50/copy – ground shipping
$55/copy – expedited shipping

To purchase an Alumni Directory, contact Fabia Denaro at 617-552-4700.
Echoes of a University Presidency Available this Week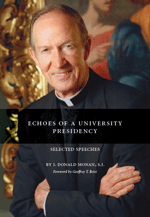 As president of Boston College through an extraordinary 24-year tenure, J. Donald Monan, S.J., led the University from the brink of bankruptcy to a period of growth and revival hailed by The Boston Globe as "the Monan Renaissance." A hands-on president both on campus and off, he was always his own speech writer.
This volume, Echoes of a University Presidency, which can be purchased later this week at the BC Bookstore, gathers together, in Fr. Monan's own words, his ideas and ideals, as well as the motivations and sensitive appreciation of colleagues. Through this lens, as Geoffrey Boisi '69, P'11, writes in the foreword, "Boston College found its authentic voice." Learn more about the book.
If you would like to be notified later this week when the book is available to purchase online, please e-mail lindenlanepress@bc.edu.
Upcoming Alumni Events
Alumni Advent Series — December 9

Back by popular demand, the Alumni Advent Series at the BC Club will be led by Daniel Harrington, S.J., who will focus on encountering Jesus in the Scriptures. This second night in the series, which is co-hosted by the Church in the 21st Century Center, will run 5:30–7:00 p.m. To reserve a seat, contact Dianne Duffin at 617-552-1171 or dianne.duffin.1@bc.edu.
Visit the Spirituality and Service website.
Winter Wonderland – A Magical BC Tradition — December 13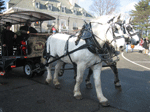 The Alumni Association invites alumni, family, and friends to Winter Wonderland, a special holiday event, on Saturday, December 13, from 12:00 to 4:00 p.m. on Newton Campus. Festivities will include strolling carolers, crafts, entertainer Johnny the K, photos with Santa, a petting zoo, and horse-drawn carriage rides through Newton Campus.
Attendees are encouraged to bring new, unwrapped toys for boys or girls (ages six to 14), which will be donated to a local organization benefiting children. Admission is $20 per family. RSVP here.
Fr. Neenan at Newton College Book Club — December 15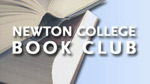 All alumni are invited to attend a Newton College Book Club meeting with guest moderator, William B. Neenan, S.J., vice president and special assistant to the president of Boston College, at Alumni House at 7 p.m. Prepare to discuss Do You Believe?: Conversations on God and Religion by Antonio Monda, a teacher and filmmaker. Fr. Neenan has published his Dean's List of recommended books since 1982, and Do You Believe?, which he calls a rewarding read, is a silver anniversary entry.
RSVP by December 11 to Julie Nuzzo, NC'74, at 617-552-4577 or julie.nuzzo@bc.edu. Contact Julie for details about participating by conference call.
Alumni Day at Men's Basketball — January 10

The Boston College Alumni Association, the Varsity Club, and the Boston Chapter invite you to Alumni Day at Men's Basketball. This special, alumni-only reception will include traditional tailgate fare, special guest speakers, an appearance by the BC cheerleaders and Baldwin, and much more! The event will include a cash bar.
The reception will be 5:00-6:30 p.m. in Power Gym, followed by BC vs. Miami at 7 p.m. in Conte Forum. The cost is $30 for the reception and game, and $20 for the game alone. Click here to purchase tickets.
Alumni in the News

Laura Moan '93
Molly Hamilton '93 started a business crafting dishes for kids. More
Professional fisherman Francis Mirarchi '65 is part of a movement to clean up the ocean near his home in Scituate, Massachusetts. More
Laura Moan '93, who coached women's lacrosse at SUNY Oneonta, has been named the head coach of Susquehanna University's women's lacrosse team. More
More news stories about alumni
BC Alumni Connections Application in Facebook

Have you clicked the 'Go to Application' button to the right? Almost 4,000 alumni have added the application for Facebook, but only 1,415 are getting the full benefits. If you are one of those who haven't clicked the button yet, here are three reasons to join:
1. You can visit the Alumni Online Community through Facebook at any time without having to remember your BC username and password for each visit.
2. You can enjoy quick and easy event registration when clicking on the event from the Facebook application. And the application will pre-fill your contact information for you when you register.
3. You can update your address information directly from Facebook and keep up-to-date on all the latest BC news and events.
Visit the BC Alumni Connections Application in Facebook today to enjoy these benefits.
Viva Italia!
A Successful Alumni Travel Experience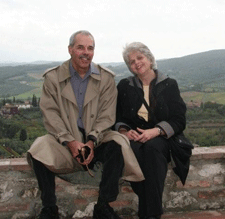 Patricia Owen '73, MA'78, and her husband Ken Owen in Volterra, Italy.
Twenty alumni and friends recently enjoyed the sights and sounds of Italy thanks to the Alumni Association's travel study program. Titled "Chianti in a Tuscan Villa," the tour took them to art galleries, ancient Etruscan ruins, and medieval squares. In 2009, many exciting destinations await alumni travelers, including the Galápagos Islands, Peru, and the Dalmatian Coast. Book now to save on most trips, and get ready to experience the joys of traveling with alumni and friends.
A View from Above:
Google Exec Visits Madrid Chapter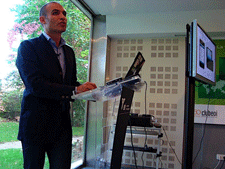 Bernardo Hernandez, MSF'95, discusses Google Maps with the Madrid Chapter.
An alumni chapter in Madrid, Spain, is a long way from the BC campus, but not if you're looking at a Google map. On October 27, more than 60 people—a mix of BC alumni, business executives, and alumni from other universities—attended a Madrid Chapter event at EOI Business School. Bernardo Hernandez, MSF'95, worldwide director of marketing for Google Maps and Google Earth, discussed the trajectory, use, and societal influence of Google Maps. Find out what's happening with your alumni chapter.
Reconnect: An AHANA Celebration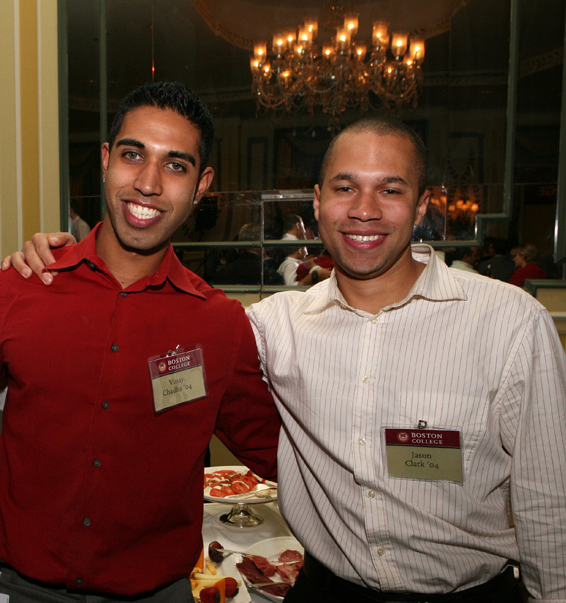 Join alumni and friends such as Vinay Chadha '04, MS'05, (left) and Jason Clark '04 at the AHANA event in July.
During July 17–19, 2009, Reconnect, which promises to be the largest-ever gathering of AHANA alumni, will serve as a celebration and an opportunity to solidify the connections among thousands of AHANA alumni and the University. All alumni, students, parents, and friends are welcome to take part in this unprecedented event.