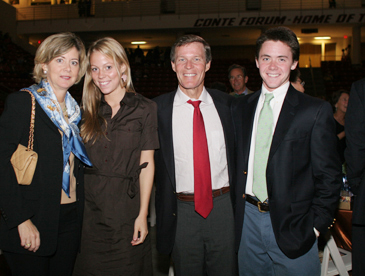 The Heights Is Alive: Pops & Football Highlight Superb September. The sound of music will once again soar to the Conte Forum rafters when John Williams conducts the 15th annual Pops on the Heights Scholarship Gala on September 28. Always a favorite among students, parents, and alumni, the celebration takes place on the Friday night of Parents' Weekend and will thrill concertgoers with selections from the Boston Pops Esplanade Orchestra. Pictured above (left to right), Linda Powers, Kaitlin Powers '10, John J. Powers '73, and John Powers '10 enjoyed last year's festivities. Tickets usually sell out and only $40 tickets remain. Purchase Pops tickets.
Elsewhere on campus, the football team kicks off its third season in the ACC amid high expectations. A full September slate includes home games against defending ACC Champion Wake Forest, North Carolina State, Army, and UMass (on Parents' Weekend). Purchase football tickets.
Stay in Touch: Alumni E-Networking Redux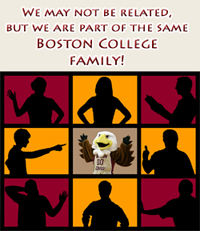 Debuting this month, the new Boston College Alumni Online Community gives BC graduates more opportunities than ever to stay in touch with fellow Eagles. Users can now create networks of classmates, send invitations for events and gatherings, and tap into extensive career services, including a database of 20 million companies worldwide, among other new features. Learn more and register.
Alumni in the News

Anne Chinoda '81
Candi Carter '91 recently produced a hip-hop sing-along video for young children. More
Anne Chinoda '81, president and CEO of Florida's Blood Centers, manages the $100-million, 920-employee nonprofit, which is the biggest community blood bank in the state and the fourth largest in the nation. More
Carmen Mariano, Ph.D.'93, became the first president of Archbishop Williams High School in Braintree, Massachusetts. More
More news stories about alumni
Featured Events
Parents' Weekend: A True Family Favorite. Memories are always made over Parents' Weekend, and this year will be no different for current students and Boston College's extended family—parents, grandparents, and other relatives. Families are invited to catch a glimpse of the BC experience over the September 28-30 weekend. They can join their sons and daughters in the classroom, attend the annual Pops on the Heights Scholarship Gala, and cheer on the Eagles football team as they battle the UMass Minutemen. Learn more and register.

McKenney Award winner Joseph Corcoran '59
Alumni Association Honors Outstanding Graduates. The Boston College Alumni Association will celebrate its 2007 Alumni Awards on September 27, honoring 10 alumni who have achieved prominence in their respective fields at a ceremony that all alumni and friends are invited to attend. The ceremony will be held in Robsham Theater at 7:00 p.m.
The night's capstone will be the presentation of the 2007 William V. McKenney Award, the highest honor bestowed by the Alumni Association, to former Trustee Joseph E. "Joe" Corcoran '59. Corcoran is chairman of the privately held real estate development firm Corcoran Jennison Co. Inc.
For more information or to RSVP, e-mail alumni.comments@bc.edu or call 800-669-8430.
A Great Reason to Return to Campus: First Year Academic Convocation. Alumni are heartily encouraged to welcome the Class of 2011 to the University community by participating in BC's new tradition: First Year Academic Convocation. Established in 2004, convocation unites the entire freshman class at the start of its BC experience, just as the class will again come together four years later at commencement. Students will gather on Linden Lane and process across campus to Conte Forum, where Jeannette Walls, author of The Glass Castle: A Memoir, will speak. The procession begins at 6:00 p.m. on Thursday, September 13, and the Alumni Association will sponsor a reception prior. If you wish to participate, please contact the Alumni Association at alumni.comments@bc.edu or 617-552-4700.
Eagles in Atlanta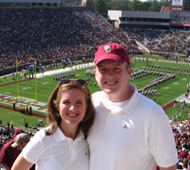 Bill Maloney '98, with wife Kerianne Maloney '98, watched BC beat Florida State 24-19 last October in Doak Campbell Stadium—and then dutifully blogged about the victory.
When a Boston College sports moment happens, you can trust that Bill Maloney '98 is already on the case—writing editorials, posting photos, relaying stats, and getting word out to the BC community. Maloney is the one-man juggernaut behind Eagle in Atlanta, a blog he created in December 2004 dedicated to Boston College athletics. He says he spends over 10 hours a week updating the latest news. "My wife tells me I'm spending too much time on it," jokes Maloney, "but we both know that nothing is too much when it comes to the Eagles." While the blog is a true labor of love for Maloney, it's also become a popular source for the latest football game breakdown—or a quick Eagles fix. The site receives 1,000 hits a day, and usually spikes to 5,000 hits the day before and after big games. Visit Eagle in Atlanta.

Alumni Service Trips
New Orleans
Join fellow BC graduates on a weeklong alumni service trip to New Orleans from January 13-19, 2008. Alumni will work with the St. Bernard Project, founded by Liz McCartney '94, to help rebuild homes in flood-ravaged neighborhoods. For more information, call Dianne Duffin at 617-552-1171 or e-mail her at duffindi@bc.edu.
Jamaica Immersion
Also in the spirit of service, alumni will travel to Jamaica from January 26-February 2, 2008. The group will spend the majority of the time serving the needs of orphaned children in the care of Fr. Gregory Ramkissoon, MA'81, '82, and the Catholic ministry of the Mustard Seed Communities. For additional information, contact Dan Leahy at 617-552-3478 or e-mail him at leahyd@bc.edu.
Coach Jags On Air
Throughout the 2007 BC football season, the Jeff Jagodzinski Show, a weekly half-hour radio show, will air each Tuesday on WEEI 850AM Sports Radio from 11:00 to 11:30 p.m.
Alumni Programs
Career Services
Chapters
Classes / Reunions
Lifelong Learning
Newton College
Travel / Study
Service & Spirituality
Got ideas for programs or services you'd like us to consider? Contact a member of our staff.
Alumni Services
As a Boston College graduate, you are able to take advantage of a whole range of benefits, including discounted auto insurance, life insurance, and medical insurance, as well as the BC Rewards Platinum MasterCard.