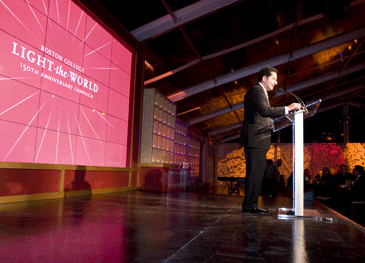 Photograph: Rose Lincoln
Illuminating Times: BC Ushers in $1.5 Billion Campaign. Pictured above, Bill Geary '80, chair of the Board of Trustees and campaign co-chair, addresses approximately 400 benefactors at a gala event October 11 on the Brighton Campus that kicked off BC's seven-year $1.5 billion capital campaign. Light the World: The 150th Anniversary Campaign for Boston College will raise funds for financial aid, student formation programs, and campus construction projects, among other initiatives delineated in the University's Strategic Plan. Read more.
Upcoming Alumni Events

The Kennedy Legacy — November 6
William Noonan, author of the best seller, Forever Young: My Friendship with John F Kennedy, Jr., will discuss the Kennedy Legacy in context of the 2008 elections, the role JFK, Jr. might have played if he were alive today, and the future of the Kennedy political dynasty. The cost is $15. Register now.
Veterans Memorial Mass — November 11

The annual Veterans Remembrance Mass and Ceremony will be held on Veterans Day, November 11, at 10:00 a.m. in Gasson 100. The event honors those Boston College veterans who gave their lives in the line of duty. The guest speaker will be General John J. Sheehan '62, USMC (Ret). An update on the Boston College Veterans Memorial will follow the Mass and ceremony. The Mass is open to the public, and all are welcome.
A Healthier, Happier Holiday — November 19
The Alumni Association invites you to join Terri Trespicio '95, senior editor for Martha Stewart's Body+Soul magazine, in an evening seminar designed to prepare you physically, mentally, and spiritually for the upcoming holiday season. The cost is $25. Register now.
Alumni Night at Chorale — December 5
The University Chorale and the Boston College Symphony Orchestra will present their annual Christmas concert on December 5 at 8 p.m. at Trinity Chapel on Newton Campus. Following the concert, the Alumni Association will host a reception at Alumni House. Admission is $10 for the concert and $15 for the reception. Space is limited. To purchase tickets, call the box office at 617-552-4002.
Winter Wonderland—A Magical BC Tradition — December 13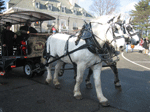 The Alumni Association invites alumni, family, and friends to Winter Wonderland, a special holiday event, on Saturday, December 13, from 12:00 to 4:00 p.m. on Newton Campus. Festivities will include strolling carolers, crafts, entertainer Johnny the K, photos with Santa, a live petting zoo, and horse-drawn carriage rides through Newton Campus.
Attendees are encouraged to bring new, unwrapped toys for boys or girls (ages six to 14), which will be donated to a local organization benefiting children. Admission is $20 per family. RSVP here.
Fr. Neenan at Newton College Book Club — December 15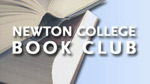 Alumni are invited to attend a Newton College Book Club meeting with guest moderator, William B. Neenan, S.J., vice president and special assistant to the president of Boston College, at Alumni House at 7 p.m. Prepare to discuss Do You Believe?: Conversations on God and Religion by Antonio Monda, a teacher and filmmaker. Fr. Neenan has published his Dean's List of recommended books since 1982, and Do You Believe?, which he calls a rewarding read, is a silver anniversary entry.
RSVP by December 11 to Julie Nuzzo, NC'74, at 617-552-4577 or julie.nuzzo@bc.edu. Contact Julie for details about participating by conference call.
Alumni in the News

Daniel O'Sullivan, Ph.D.'00
Matthew Carroll '08, Shelagh O'Donnell '08, and Christine Zosche '08 are among the 11 recent graduates in the Jesuit Volunteer Corps. More
Tiffany Gueye '00, Ph.D.'07, is the new CEO of BELL, a leading provider of after-school and summer educational programs, serving more than 12,000 children nationally. More
Daniel O'Sullivan, Ph.D.'00, is the 2008 Humanities Teacher of the Year at the University of Mississippi. More
More news stories about alumni
Upcoming Spirituality and Service Events
Help Feed the Hungry — November 7
Come join other BC alums serve meals to needy families in Lawrence, Massachusetts, on November 7 from 4 to 7 p.m. at the Cor Unum ("One Heart") Meal Center. To volunteer, contact Dianne Duffin at 617-552-1171 or dianne.duffin.1@bc.edu.
Jesuit Connection Pizza and a Pint — November 13

Cosponsored by the New England Province of Jesuits and the Office of Spirituality and Service, the program features Chris Korzen, co-author of A Nation for All, who will examine the essential Catholic and Christian belief in promoting the common good. RSVP by November 6 to Dianne Duffin at 617-552-1171 or dianne.duffin.1@bc.edu. The event will occur at Alumni House on November 13 at 6 p.m.
Advent Day of Recollection — December 6

Casey Beaumier, S.J., will lead alumni in prayer and reflection at the annual Advent Day of Recollection from 9 a.m. to 3 p.m. at the Jesuit Campion Renewal Center in Weston, Massachusetts. The program is $40 per person and includes a continental breakfast and lunch. RSVP by November 17 to Carol Quintiliani at 617-552-4753 or carol.quintiliani.1@bc.edu.
Alumni Advent Series — December 2 and 9

Back by popular demand, the Alumni Advent Series at the BC Club will be led by Daniel Harrington, S.J., who will focus on encountering Jesus in the Scriptures. Co-hosted by the Church in the 21st Century Center, the event will run 5:30–7:00 p.m. To reserve a seat, contact Dianne Duffin at 617-552-1171 or dianne.duffin.1@bc.edu.
Visit the Spirituality and Service website.
Externship Program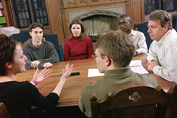 Last year, the Boston College Career Center introduced an Externship Program designed to let students job-shadow and learn from alumni mentors. Alumni are again invited to participate as student sponsors. An externship is a one- to five-day job-shadowing and mentoring experience, which allows students to gain an understanding of a job function, company, or industry.
The program is only open to employers in the Boston and New York City areas. The sponsor application deadline is November 9, and the externship period will occur January 5–13, 2009.
For more information, contact Alex Faklis '08 at 617-552-0193 or alexandra.faklis.1@bc.edu .
Reconnect: An AHANA Celebration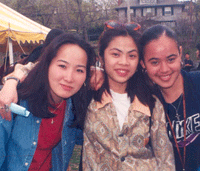 Join alumni and friends such as (from left) Nguyet T. Le '99, Mary Nguyen '99, M.Ed.'00, and Karla Rodriguez '99, M.Ed.'07, at the AHANA event in July.
Boston College has been dedicated to enriching the undergraduate experience by ever-increasing efforts to recruit and retain AHANA students. As a result, there are currently approximately 10,000 AHANA alumni. The year 2009 also marks the 30th anniversary of the University's decision to adopt the acronym AHANA, which stands for African American, Hispanic, Asian, and Native American. On July 17-19, 2009, Reconnect, which promises to be the largest ever gathering of AHANA alumni, will serve as a celebration and an opportunity to solidify the connections among thousands of AHANA alumni and the University. All alumni, students, parents, and friends are welcome to take part in this unprecedented event.
2009 Travel Study Programs

Several exciting destinations await alumni travelers in 2009, including the Galápagos Islands, Peru, and the Dalmatian Islands. Book now to save on most trips, and get ready to experience the joys of traveling with fellow alumni and friends. Discover more.
Save the Date!
Fourth Annual National Day of Service
On Saturday, April 18, 2009, join fellow BC grads, family, and friends for the Fourth Annual National Day of Service, when thousands of Eagles throughout the country will participate in volunteer projects to benefit their local communities. More details will follow in the coming months.
BC Marching Band at Fenway Park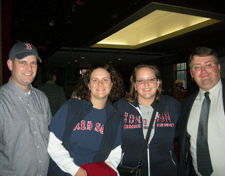 (From left) Craig Kowalski '99, JD'02, Becky Kowalski '98, Lisa Tulipani '00, and Chuck Keefe '97 gathered at the Baseball Tavern before heading to Fenway Park.
On September 23, the night the Red Sox clinched a playoff berth, several alumni, former members of the Screaming Eagles Marching Band, were at Fenway Park to cheer on the current band play the national anthem. Prior to the game, more than 50 alumni band members reconnected at The Baseball Tavern for a mini reunion.