Parents Weekend: A Family Tradition. More than 1,500 families attended Parents' Weekend on the Heights this past weekend to experience a sold-out performance by the Boston Pops Esplanade Orchestra in Conte Forum and watch the Eagles defeat ACC rival Wake Forest 27-24 in Alumni Stadium. Off the gridiron, Eagles running back Montel Harris '12 (above) spent time on campus with his parents, Tonesia and Norman.
Favorite Places on Campus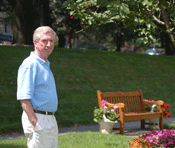 Do you have a favorite place on campus? Somewhere you went to study? To relax? To be with friends? Bernard O'Kane '70, M.Ed.'72, MA'05, is director of employee development at BC and has seen the campus go through several changes. In this short audio slideshow, Bernie cites just two of his favorite places on the Heights. Share your stories, photos, or videos of the places on campus that bring back special memories for you to uacommunications@bc.edu.
Upcoming Alumni Events
Council for Women of Boston College Networking Event — October 7
The Council for Women of Boston College (CWBC) invites all young alumnae in the Boston area to a thought-provoking panel discussion and networking opportunity with accomplished Boston College alumnae. Learn more.
Tech Council Breakfast Panel — October 8

The Technology Council is hosting a breakfast panel on "Social Media and Marketing" at 8:00 a.m. at the Sheraton in Needham. Visit the website for more information.
University President William P. Leahy, S.J., Visits London and Dublin — October 10–12

Alumni, family, and friends in Ireland and the UK are invited to events featuring Father Leahy. In Dublin, Father Leahy will attend a reception on Saturday evening, October 10, and celebrate Mass the following day. On Monday, October 12, he will attend a reception in London. Please e-mail alumnichapters@bc.edu with any questions.
Liz McCartney at Winston Center for Leadership — October 21


Alumni are invited to hear Liz McCartney '94, 2008 CNN "Hero of the Year," speak at this Winston Center for Leadership and Ethics event, co-sponsored by the Alumni Association. Murray Room, Yawkey Center, 4:30-6:00 p.m. Learn more about the Winston Center.
Wall Street Council Market Perspectives Panel — October 27

The Boston College Wall Street Council cordially invites alumni to a panel discussion, "The Economic and Market Outlook: Where Are We Headed?," moderated by David P. O'Connor '86, senior managing partner at High Rise Capital Management, at the Yale Club in New York City. RSVP to Nicole Huard-Daly at 617-552-9175 or e-mail wsc@bc.edu.
Ignatian Family Teach-In for Justice — November 20–22

Join fellow alumni for the Ignatian Family Teach-In for Justice (IFTJ) in Columbus, Georgia. The annual event's goals are threefold: to commemorate the Jesuits and laywomen who were martyred in El Salvador in 1989, to call for an end to unjust institutions, and to reflect on the Jesuit commitment to justice. To join the BC alumni contingent, contact John Moynihan '64 at 781-598-8981 or moynihan_john@hotmail.com. For more information, visit the website.
Calls for Reunion 2010 Volunteers
If you are a graduate celebrating your reunion in 2010, we want to hear from you! Join your Reunion 2010 planning or gift committee today and reconnect to Boston College during this milestone year. Happy reunion year—Go Eagles!
Alumni Service Trip to Jamaica
Alumni are invited on a service trip to Jamaica January 23-30, 2010, to help abandoned and physically disabled children at the Mustard Seed Communities founded by Fr. Gregory Ramkissoon, MA'81,'82. For over 25 years, Mustard Seed has served these children and those with HIV/AIDS and expanded its outreach to children in the Dominican Republic, Nicaragua, and Zimbabwe. Learn more (PDF).
Alumni Travel: Great Deal to Provence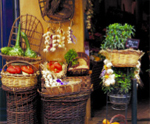 The Alumni Travel program is offering a savings of $500 per couple if you book the April 13-15 trip to Provence (PDF) by December 1. A trip to the Aegean and Greek Isles is one of three new programs recently added for next year. Visit the website for the full listing of 2010 programs.
Alumni in the News

Lee Morrissey '86
Lee Morrissey '86, professor and chairman of the English department at Clemson University, has been named Alumni Distinguished Professor. More
Richard McNamara '72, JD'75, was nominated to the New Hampshire Superior Court by Governor John Lynch. More
Debra Wong Yang, JD'85,, was nominated to the Los Angeles Board of Police Commissioners by Mayor Antonio Villaraigosa. More
More news stories about alumni
BC Athletics Roundup
Football FanFest on The Road

Please join the Eagles on the road this fall by registering for the official Boston College tours and tailgates. Our tours include accommodations, game tickets, exclusive Boston College events, and more! Learn more.
BC vs ND Football Packages

The Alumni Association and BC Athletics are pleased to offer all alumni and fans the chance to visit South Bend to cheer on the Eagles as they go for lucky #7 in a row over the Fighting Irish! Learn more.
Varsity Club Hall of Fame to Induct Eight Eagles


Eight of the finest athletes in BC history comprise the Class of 2009 to be inducted into the Varsity Club Hall of Fame. They include: Danya Abrams '97 (basketball), Gordon Farkouh '83 (soccer), Antonio Garay '02 (wrestling/football), Becky Gottstein '02, MS'04 (basketball), Gerry Hamel '61 (baseball), Craig Janney (hockey), Tom McManus '92 (football), and Tom Nalen '93 (football). The honorees also will be recognized at halftime of the Eagles' football game against Central Michigan on October 31. For ticket information to the induction ceremony on Sunday, November 1, at the Sheraton Needham Hotel in Needham, Mass, please contact 617-552-9280 or varsity.club@bc.edu.
Externship Program at BC
The Boston College Career Center invites alumni to participate in the Boston College Externship Program, a one-day job-shadowing and mentoring experience during the week of January 11-15, 2010. Learn more (PDF).