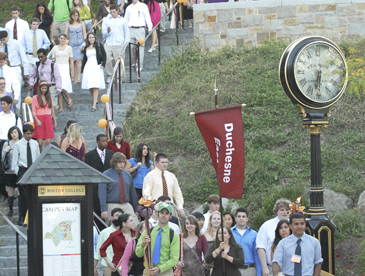 First Year Convocation Heralds Start of the BC Experience. More than 100 alumni spanning 60 class years returned to campus on September 13 to welcome the Class of 2011 to the University community during First Year Academic Convocation. Established in 2004, convocation unites the entire freshman class at the start of its BC experience, just as the class will come together again four years later at commencement. Carrying flags that represented their residence halls, the Class of 2011 processed from Linden Lane across campus to Conte Forum to hear a speech by Jeannette Walls, author of The Glass Castle: A Memoir.
The Golden Eagle Class of 1958 led the alumni procession, toting the alumni banner and two torches. Prior to the procession, alumni gathered on the quad outside Lyons Hall for a reception.
Featured Events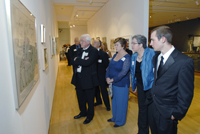 Un-Pollocked: McMullen Exhibit Provides Creative Key to Famed Painter. The highly anticipated art exhibit Pollock Matters, which showcases the artistic connection between abstract expressionist painter Jackson Pollock and acclaimed photographer Herbert Matter, opened at the McMullen Museum on Labor Day weekend. The exhibit, which has received national attention, runs through December 9. More

The late Welles Remy Crowther '99
Running to Remember: The Welles Remy Crowther 5K. The 3rd annual Welles Remy Crowther Red Bandanna Run will take place Saturday, October 20. The race honors Welles Remy Crowther '99, an equity trader who gave his life saving others at the World Trade Center on September 11, 2001. Registration and check-in will take place at 7:30 a.m. in Gasson Hall. To discover more of Welles's story and register, visit the website.
Alumni in the News

Lisa Ferrari '92
Marybeth Duffy, MSW'80, became director of the Council on Aging for the city of Waltham, Massachusetts. More
Lisa Ferrari '92 is a television reporter for WCAV in Charlottesville, Virginia. More
Vincent McKay, Ph.D.'98, oversees curriculum, instruction, and assessment for the Somerville, Massachusetts, public school system. More
More news stories about alumni
New Angle for BC Alumni:
Triangle Chapter Takes Shape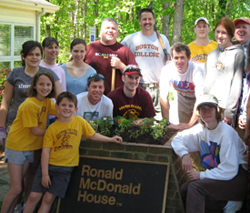 Members of the new Triangle Chapter gathered this summer in Durham, North Carolina, for a service event that provided landscaping for the local Ronald McDonald House.
In the heart of ACC country, the BC Triangle Chapter is taking shape and taking off. The latest Alumni Association chapter, named for the North Carolina region surrounding Raleigh and Durham, has grown out of BC's increased alumni presence in the South.
In June, the chapter hosted its first event, a special reception featuring Athletic Director Gene DeFilippo, which attracted more than 60 alumni and friends. With the football season now in full swing, the chapter has also held game watches at several local venues. "Excitement is high among our local alumni," says chapter leader Tom Buckley '87. "We're hoping our enthusiasm and fan support can help propel us to an ACC championship."
Update your contact information for the Triangle Chapter in the new Alumni Online Community and learn more about the latest chapter events.
Ignatian Family Teach-In for Justice
Join fellow BC alumni for the Ignatian Family Teach-In for Justice, to be held November 16–18 in Columbus, Georgia. The annual event's goals are trifold: to commemorate the lives of the Jesuits and laywomen martyred in El Salvador in 1989, to call for an end to unjust institutions, and to reflect on the Jesuit commitment to justice.
This year, for the first time, the Boston College Alumni Association will send a delegation. For more information, visit the event website. If you are interested in joining the BC contingent, contact John Moynihan '64 at moynihan_john@hotmail.com or 617-558-5252.
Are You Vain About Your BC Vanity Plate?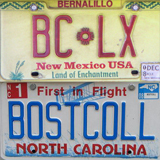 Thanks to those who have already sent photos of their fantastic BC vanity plates. Keep them coming! We want to collect license plate photos from every state. If you missed the call to action in last month's Alumni Connections, there's still time to send your photos to uacommunications@bc.edu.


Good Sports: "We Are BC" Initiative Kicks Off
Being a good sport has never been easier at Boston College since the campus-wide sportsmanship initiative "We Are BC" launched this fall. The campaign's main goal is to create a positive game-day atmosphere, and the campaign's four tenets—pride, passion, respect, and responsibility—serve as a reminder that it's everyone's job to ensure a fun, safe environment. Read more.
Also this season, the football team inaugurated a new BC tradition: the Eagle Walk. Based on rituals nationwide, the football team now proudly walks as one toward Alumni Stadium before each home game. Students and other fans line the entire length of Campanella Way from Corcoran Commons to the Yawkey Center during the walk, which is led by the BC band and cheerleading squad. The Eagle Walk occurs approximately two hours and 15 minutes prior to kickoff.
Coach Jags Show Invites Live Audience
Continuing throughout the 2007 BC football season, the Jeff Jagodzinski Show, a weekly half-hour radio show, will be taped each Monday from 6:00 to 6:30 p.m. at Hillside Café on the BC campus. Note: Coach Jagodzinski will not be answering questions from the audience. The show will air each Tuesday on WEEI 850 AM Sports Radio from 11:00 to 11:30 p.m. If you miss the broadcast, you can always visit www.bceagles.com and click on Eagles All Access to listen to the show.
Basketball and Hockey Tickets Now Available
Come out and support your Eagles as they take to the courts and the ice this winter. Individual and season tickets are available for men's and women's basketball and men's ice hockey. Please visit www.bceagles.com or call 617-552-GOBC for more information.
C21 Online: Spirituality for the Internet Age
C21 Online is offering a new course, Christian Faith and Moral Character, which features downloadable articles by Professor Kenneth Himes. The four-week course begins October 22 and includes discussions on character, moral freedom, human sinfulness, and conversion. A second course will also be available, entitled The Creed: What We Believe. Visit C21 Online.
Alumni Programs
Career Services
Chapters
Classes / Reunions
Lifelong Learning
Newton College
Travel / Study
Service and Spirituality
Got ideas for programs or services you'd like us to consider? Contact a member of our staff.
Alumni Services
As a Boston College graduate, you are able to take advantage of a whole range of benefits, including discounted auto insurance, life insurance, and medical insurance, as well as the BC Rewards Platinum MasterCard.