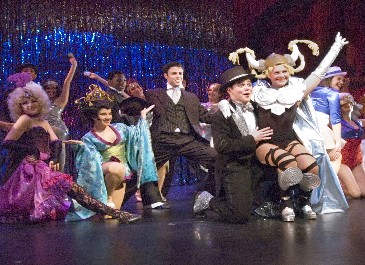 Artists in action. The 9th Annual Arts Festival will showcase the diversity of student and faculty talent across campus. This year's Arts Council Alumni Award goes to Paul Daigneault '87, the director of Boston's SpeakEasy Stage Company. More
Alumni Association News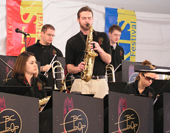 BC bOp! celebrates its 20th anniversary this year.
Anniversary for the Arts. On the last weekend in April, alumni from BC bOp!, a student jazz ensemble, and Robsham Theater will gather to celebrate their respective 20th and 25th anniversaries. The celebration will occur in conjunction with the annual Arts Festival on campus. More
Clough Colloquium Address.
R. Nicholas Burns '78, U.S. undersecretary of state for political affairs and the third-ranking official in the State Department, will address alumni and friends in Robsham Theater on Wednesday, April 11, 4:00 p.m. The public is invited to attend. More
Nomination Deadline Extended. Nominations for the 2007 Alumni Awards of Excellence are now due April 16. Each year, the Alumni Association honors 10 alumni who embody the University's motto Ever to Excel. To make a nomination, visit the Website.
Alumni in the News

Alexis Silver MSW'89
Paul LaMarche '75 has been named vice provost for space programming and planning at Princeton University. More
Annupam Mittal MBA'97 is expanding the reach of his matchmaking Website, shaadi.com, already the largest in India. More
Alexis Silver MSW'89 is the new human services coordinator for Framingham, Massachusetts. More
More news stories about alumni
My Favorite Professor

The late William Daly.
Photo courtesy of Sub Turri 1942, University Archives
By Professor Jim O'Reilly '69
College of Law, University of Cincinnati
Being shot out of a bomber by German flak cannons was a harsh way to first visit the continent of Europe, but the late Professor Bill Daly, medieval historian and caring mentor, spent much of the rest of his life bringing the beauty of European history to life for his BC students. Prof. Daly combined a reflective listening mode with an ability to ask the right question at the right time. Charlemagne came through the pages when Daly lectured, and Irish monks awoke from sleepy scribing to save civilization. Questions followed by insightful critiques made us think more deeply and grow in our eager pursuit of knowledge.
Prof. Daly once told me that a paper of mine that received an A-plus from another history faculty member was instead an indicator that my historical methods would never survive as a history teacher. As a suggestion, he proposed law school, and the alternative worked well: I have taught law students for 26 years. I cherish memories of the evening when I flew back to Boston to present Prof. Daly a copy of my 12th book, which I had dedicated to him. Prof. Daly lives on in my daily prayers as a person whose depth and caring touched souls, not just the minds of those who ventured into his ancient realms.
Share a tribute to your favorite faculty member
Read stories about other alumni in Class Notes Online
Regional Masses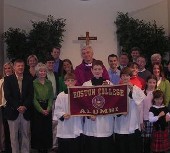 The Baltimore Chapter of the BC Alumni Association celebrated Mass on Saint Patrick's Day on the campus of Loyola Blakefield.
During the Lenten month of March, Boston College alumni chapters across the country celebrated Masses that witnessed a groundswell of alumni support.
On March 4, University President William P. Leahy, SJ, was the celebrant and Vice President William B. Neenan, SJ, the homilist at a Mass in Naples, Florida, to which nearly 300 alumni came. The Mass, held at the Strand Country Club, was followed by a brunch for alumni, friends, and family.
On March 25, the Los Angeles Chapter and Robert Winston '60 hosted a Mass at the Sacred Heart Chapel on the campus of Loyola Marymount University. The service drew about 200 alumni attendees and was followed by a reception at St. Robert's Auditorium.
The preceding Sunday, a Mass at the chapel at St. Thomas Seminary and Archdiocesan Center in Hartford, Connecticut, also had a great turnout. Bishop Daniel Anthony Hart '56 was the celebrant, and Kerry Cronin '87, director of BC's Lonergan Center, spoke at the reception following.

Learn more about Boston College service and spirituality initiatives nationwide
Learn more about your local alumni chapter
Alumni Services
As a Boston College graduate, you are able to take advantage of a whole range of benefits, including discounted auto insurance, life insurance, and medical insurance, as well as loan consolidation, the BC Rewards Platinum MasterCard, and satellite radio services.
Alumni Programs
Career Services
Chapters
Classes / Reunions
Lifelong Learning
Newton College
Travel / Study
Service & Spirituality
Got ideas for programs or services you'd like us to consider? Contact a member of our staff.
Call for Volunteers
Join your fellow alumni around the country for the second annual National Day of Service on April 21, 2007. The event promises to be a memorable grassroots gathering of BC alumni working through their local chapters in communities nationwide. Contact the local BC alumni chapter nearest you, or call the Alumni Association office for details at 617-552-4700.