Campus Digest: Winter 2023

News and happenings from around Boston College.
BC Announces New Global Public Health Major
Boston College will offer a new major in Global Public Health and the Common Good beginning in the Fall semester. The degree will expand on a popular course of study—one hundred students are already pursuing a minor or an independent degree in public health. The program, to be administered by the Connell School of Nursing in partnership with the Schiller Institute for Integrated Science and Society, will be led by its founding director, biology Professor Philip J. Landrigan. "In the aftermath of Covid," Landrigan said, "we can all see that understanding how disease moves through populations is just incredibly important."  —Elizabeth Clemente
---
Campus News

Biology Professor Philip J. Landrigan, MD, was honored by The National Institute of Social Sciences in December with the Gold Honor Medal alongside astrophysicist Neil deGrasse Tyson and Hunter College President Jennifer J. Raab. Landrigan was recognized for his efforts to improve public health worldwide. He accepted the medal "on behalf of all the many friends and good colleagues with whom I have worked in public health."
Yvonne McBarnett, former director of BC's Montserrat Coalition, has been named the new director of the Thea Bowman AHANA and Intercultural Center (BAIC). McBarnett came to BC in 2002 and worked in several roles over her years at the BAIC. Michael Davidson, SJ, who previously held the post, has been named the Montserrat Coalition's new director.
George Mohler has been named the University's inaugural Daniel J. Fitzgerald Professor in data science. Mohler comes to BC from Indiana University–Purdue University Indianapolis, where he taught computer information. His research on data science and criminology has also been featured in several national and international news outlets, including the New York Times and TIME.
BC Law Professor Ingrid Hillinger was honored with the 2022 Excellence in Education Award by The National Conference of Bankruptcy Judges last fall. In 2013, Hillinger created The Ingrid Michelsen Hillinger Public Interest Legacy Fund, which has evolved into a $2.6 million endowment to fund BC law students' summer internships in public interest law.
Graduate Student Life Director Carole Hughes was named a Pillar of the Profession by the National Association of Student Personnel Administrators last fall for her thirty-five years of service to BC. The awards honor people who have held national leadership roles within the organization, and created a lasting impact on their institutions.
---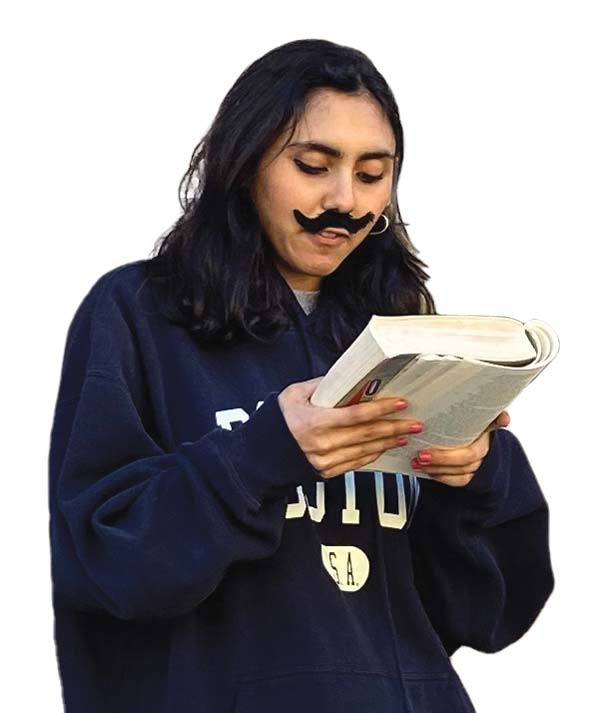 "Bloomsday" by the Numbers
Nina Khagany '24 (pictured here) capped Professor Joseph Nugent's semester-long Ulysses class last fall by organizing a special Bloomsday event. The James Joyce classic, which takes place over the course of a single day, was read aloud in its entirety by Khagany, her classmates, and a variety of instructors as they raced across campus, powering through chapters along the way while sporting the iconic mustache and bowler of main character Leopold Bloom.  —Lisa Weidenfeld
18


Locations on campus where the reading was held.
26


Hours the reading took overall.
250


Stickers reading "I've been Bloom'd" that were handed out.
24


Hats and mustaches worn.
---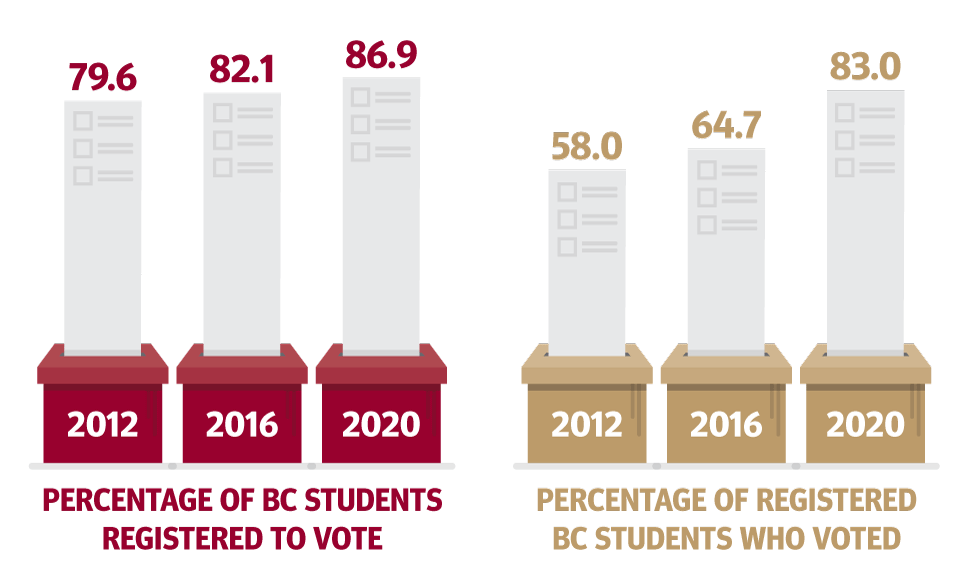 More Students Casting Ballots
Are more students voting? The answer is a resounding "yes," according to a new report from the Institute for Democracy & Higher Education at Tufts University. Nationally, student participation in the 2020 election was a "stunning" 14 percent higher than in the 2016 election, according to the report, the National Study of Learning, Voting, and Engagement. And Boston College was no exception. Over the last three presidential elections, not only did students register at higher rates in each election year, but the percentage of registered students who actually cast a ballot has been on a steady climb. Unsurprisingly, those studying education and history voted at some of the highest rates. But who were the BC students most likely to vote? Those in majors related to public administration and social services.
---